Report Back: Demonstration at Byron Burgers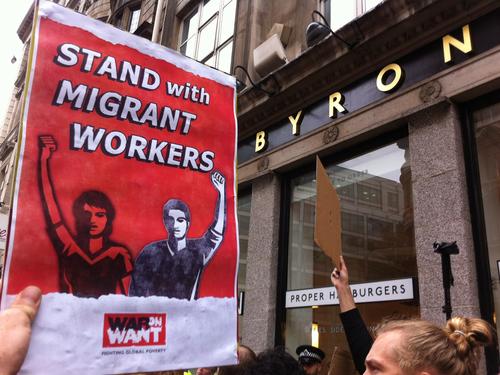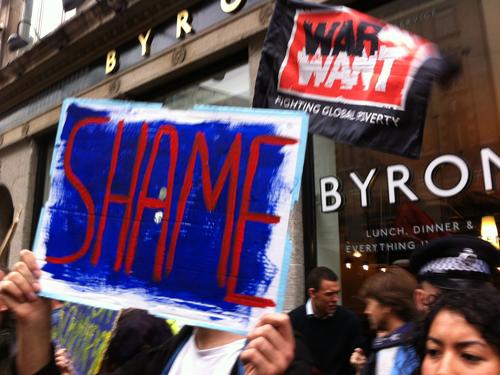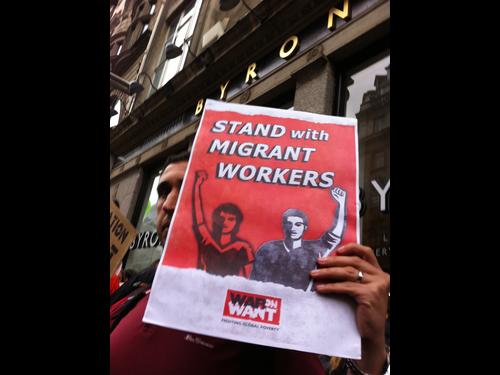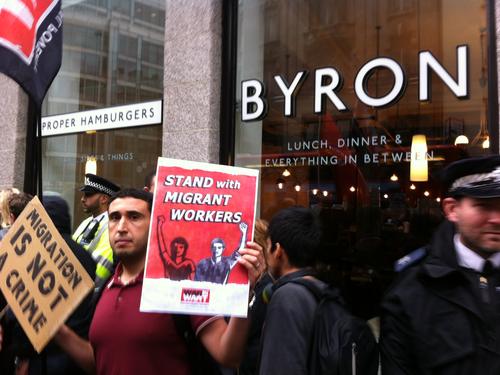 On Monday 1st August 2016, War on Want and supporters attended a noisy demonstration outside Byron Burger restaurant in the centre of London. The demonstration was called to protest media reports of Byron Burgers entrapping members of their staff, who were subsequently deported by immigration officials. Hunrdreds of people gathered in the rain to express their anger. Speeches were made by migrant workers and colleagues who testified to the impact of immigration raids and detention: depriving families already struggling to survive of their breadwinner and ripping families apart. Demonstraters called for an end to detention, against the border regime and for migrant rights.
Owen Espley, labour rights campaigner at War on Want, said:
"Byron Burgers should be ashamed of its two-faced behaviour. Byron has been all too happy to make money from migrant workers for years, but now betrays them in a stitch up with the Home Office.
"When bosses act as border guards, exploitation and abuse are round the corner. Workers with the threat of deportation hanging over them struggle to challenge poor pay and appalling conditions.  Everyone should be entitled to basic rights at work irrespective of their immigration status."
The demonstatation was called by Unite Hotel and Restaurant Workers Branches, the United Voices of the World Union, London Latinxs, Black Dissidents, London IWW, Lesbians and Gays Support the Migrants, South London Solfed, War On Want and Global Justice Now.
War on Want's Stand With Migrant Workers campaign is calling for the right to work, equal social and labour protection and an end to the criminalisation of communities.
If you or someone you know is affected by the issues raised, the following resources may be useful:
Work in Hospitality: Know Your Workplace Rights:  
An advice portal from the UNite Hotel and Hospitality Workers Branch with information on your rights and how to organise into a union: 
http://www.restaurantworkers.co.uk/424674561
Not Getting the Wages You're Owed: Wage Theft: 
The IWW have made this really easy-to-read (epecially for people for whom English is not their first language) guide to unlawful deductions from wages (bosses not paying you):
Immigration Raids: 
Anti-Raids Network have guides in all different languages about your rights if you are subjected to or witness a deportation raid:
https://network23.org/antirai…/what-to-do-if-you-see-a-raid/
Join the conversation
Israel's new nation state law reiterates key elements of apartheid as defined by international law. See our factshe… https://t.co/Hxsk8UlhUC
—
7 hours 5 min ago