Concrete actions you can take to stand up for Palestinian rights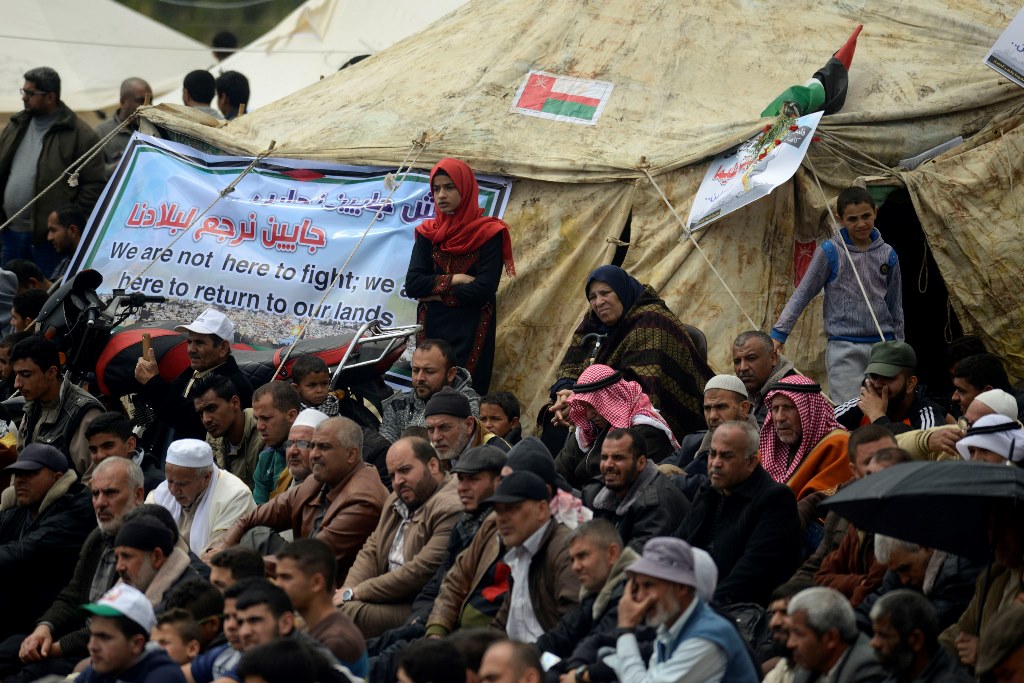 Photo: Mohammed Zaanoun / activestills.org
Over the past seven weeks (March-May 2018), Palestinians in the Gaza Strip have been taking part in the Great Return March, a demonstration of hundreds of thousands of people protesting over Israel's illegal blockade of the Gaza Strip, and demanding their right of return to the homes and properties from which they were forcibly displaced in 1948.
The Israeli military has opened fire on this peaceful protest week on week, escalating dramatically on 14 May, Nakba Day, making it the bloodiest day in Palestine since Israel's horrific bombing campaign of 2014. At least 58 unarmed Palestinians were killed by Israeli soldiers in a single day, and thousands were injured. These numbers were added on to the already high casualty rate from the weeks before, bringing the cumulative casualty rate up to over 130 killed, including children, and over 13,000 injured, thousands of whom were injured by live fire.
This violence is unfortunately not exceptional; it is a part of Israel's systematic use of armed force against Palestinians in the West Bank, Gaza Strip, and inside Israel itself. Israel's militarised repression is one of the key ways in which it maintains its apartheid regime of control over Palestinians, denying them their basic rights enshrined in international law, and attempting to choke their struggle for freedom and justice.
The UK Government is not just a neutral onlooker, it is directly complicit in Israel's violence against Palestinians. Since 2014, the UK Government has approved over £490 million worth of arms exports to Israel, including millions of pounds worth of small arms such as sniper rifles, assault rifles, surveillance and armed drones, and other items precisely like those being used to attack unarmed Palestinians as we write this. The UK Government knows that these weapons are being used for this brutal violence and for grave breaches of international law, and yet it allows this arms trade to continue.
Grassroots civil society, individual people of conscience, trade unions, student unions, charities, and activist groups have a key role to play in pressuring our government and our institutions to end their complicity in Israel's war crimes against the Palestinian people. As we watch the horrible news stream through on our televisions, we have a responsibility not just to mourn the dead, but to take action to force the violence to stop, and to hasten the day when justice, human rights, and peace will prevail for all people.
Here are some key things for you to do:
1. Talk to your friends, family, and colleagues about why Palestinians are protesting in the first place. While it's important to focus on UK complicity in the violence, it's also important to understand the Palestinian demand for their rights. Here's an explainer video about the Right of Return that you can use to start.
2. Educate yourself and others about the UK-Israel arms trade, and why it's so imperative that we put an end to it. Here's a short briefing/primer on the topic relevant to what's happening now. You can also read our reports Arming Apartheid and Deadly Investments when you have a bit more time.
3. Email your MP and ask them to press the Government for a military embargo on Israel. Some MPs have already called on the UK Government to suspend arms export licences to Israel with Early Day Motion 1305, so now is the time to really push as there is a specific action your MP can take. Ask your MP to support the motion: you can email your MP using this e-action form.
Join the conversation
Post-Brexit, the UK will decide how we do trade. Under #ISDS, Anglian Water successfully sued Argentina for refusin… https://t.co/HdQzyB6JKn
—
3 hours 10 min ago
In 2001, Argentina's financial crisis led the gov to freeze utilities prices…so three private companies sued the st… https://t.co/B445gkcORv
—
3 hours 10 min ago