Beyond BHP: breaking free from the world's biggest mining giant
Join us 13-20 October for a week of art, discussion and protest with leading environmental human rights defenders visiting London from the Americas to share their experiences resisting the world's largest mining company, which has been devastating communities with impunity for decades. We will also come together to call for the UK government to commit to a Binding Treaty on Business and Human Rights to end corporate impunity for good.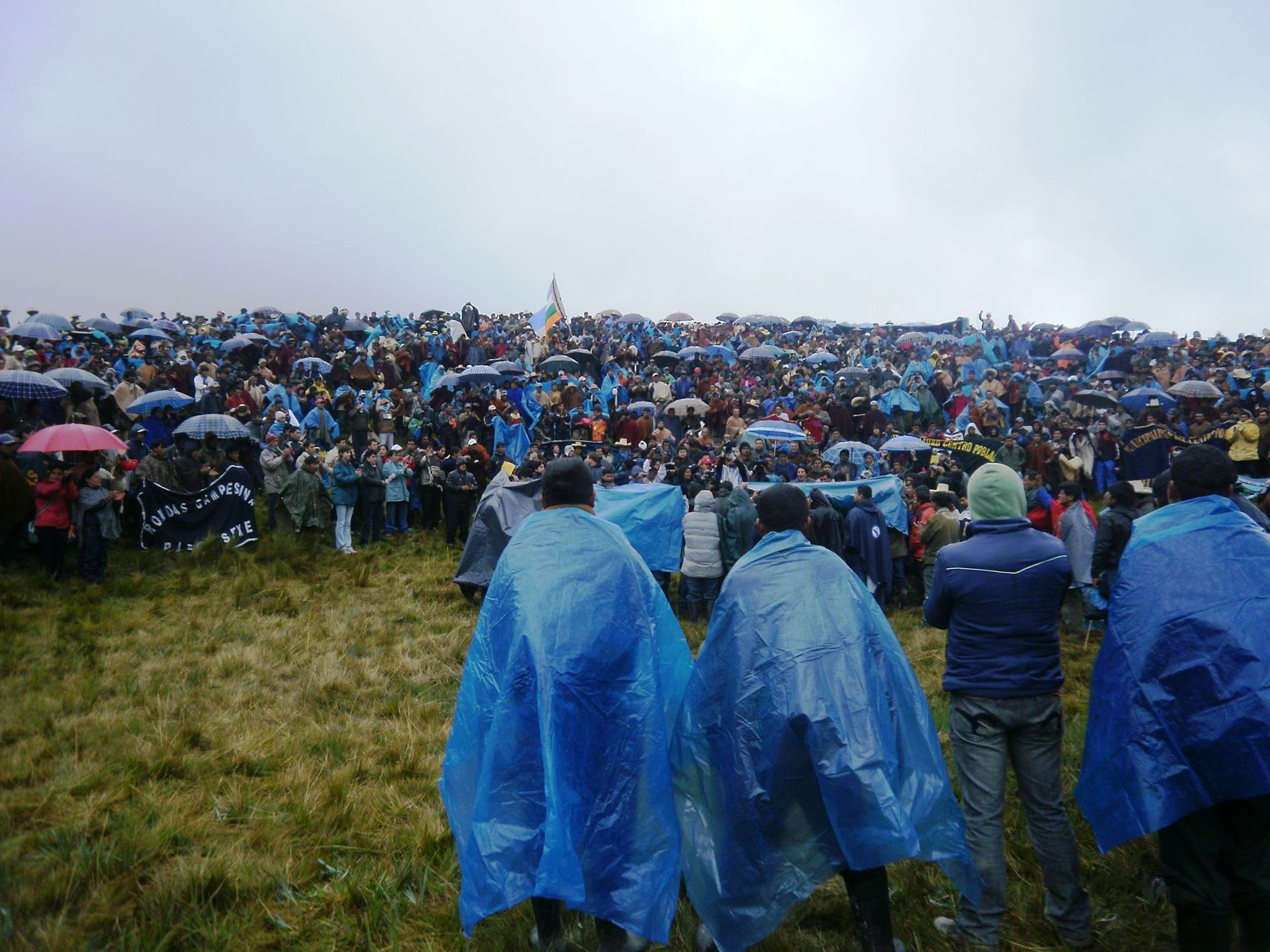 What's it all about? 
Communities all over the world are rising against mining violence and building real alternatives and Anglo-Australian owned BHP is the world's largest multinational mining corporation. Its record of forced displacement, dispossession and catastrophic environmental damage stretches back decades. It is so powerful it is seldom held to account for this devastation, while indigenous, afro-descendant and peasant communities are hardest hit.
BHP is a clear example of how corporate impunity denies justice to workers and affected communities while it makes massive profits at their expense. This is why we need binding legislation that can put an end to corporate impunity worldwide.
Marking 10 years of international austerity since the financial crisis, we will also question the cosy relationship between the City of London and multinational corporations around the world. The effects of this are being felt today in a global crisis of inequality that connects mining violence in the global South to the collapse of social welfare and the rise of the far-right closer to home.
The system of corporate impunity that allows BHP to devastate territories and communities and escape accountability, is the very same system that let the banks off the hook for the financial crash ten years ago and condemned UK families to a decade of austerity and falling wages while fueling the rise of the far-right.
This is why we need binding legislation that can put an end to corporate impunity worldwide.
Who's Coming? 
From Brazil, Leticia Oliveira from Movement of People affected by Dams (MAB), a grasroots organisation that works with people affected by 2015's catastrophic Samarco mining waste dam collapse in Mariana
From Colombia, Misael Socarras, an indigenous Wayuu activist from Wayuu Women's Force and Rosa Mateus from lawyers' collective CAJAR
From Chile, Lucio Cuenca of the Latin American Observatory of Environmental Conflicts (OLCA) will expose BHP's impacts at the world's biggest copper mine, Escondida
From the United States, Roger Featherstone of the Arizona Mining Reform Coalition which is fighting back against BHP's Resolution Copper project
Find out more about the human rights defenders coming to the UK.
If you're in London, join us. If you can't be there, follow us on social media and watch this space as we platform the voices of the defenders via social media or just search #BeyondBHP
#BeyondBHP is organised by War on Want London Mining Network The Gaia Foundation Coal Action Network, Colombia Solidarity Campaign and Threepenny Festival Association.
Events 
Celebrating 516 years of Indigenous Resistance
Saturday 13 October, 2pm  to 7pm
@ SOAS, University of London
organised by Plataforma 12 de Octubre
Coal & Colombia (NEWCASTLE)
Monday 15 October, 6pm to 8pm 
@George Street Social, Newcastle, NE4 7JL
organised by Coal Action Network
PROTEST @ BHP's annual general meeting
Wednesday 17 October, 10am to 11am
@ Queen Elizabeth II Conference Centre, Westminster, London SW1
Please show your support by sharing the facebook event
Public Meeting: Protecting lives from the world's largest mining giant
Wednesday 17 October, 6pm to 9pm
@ UCL Institute of Education, University of London
On the Frontlines of Mining Conflict in the Americas
Friday 19 October, 4pm to 8pm
@ UCL, Institute of the Americas, University of London
Extractivism, resistance and alternatives: all day event as part of the Gaia Foundation's We Feed the World Exhibition
Saturday 20 October, 11am to 6pm
@ Bargehouse Gallery, Southbank, London
*** Some events may be ticketed but all are free of charge ***
Accessibility: The university events are accessible via lifts or will be on the ground floor (TBC). The Bargehouse Gallery is also accessible via a lift. The demonstration will be outside and is wheelchair accessible. Please see individual event pages for more details or email contact@londonminingnetwork.org with any questions or requests.
Join the conversation
Tell hospitality and fast food companies to stand with their workers during the Covid-19 crisis. Workers deserve… https://t.co/oC21ooaVPa
—
10 hours 9 min ago
Stand in solidarity with the shack dwellers: sign the petition to end the evictions! https://t.co/nMWzYIBk7c
—
15 hours 30 min ago
There was another eviction late yesterday, with live ammunition used. Durban's city authority is continuing to vio… https://t.co/74VuHIhKjL
—
15 hours 42 min ago