War on Want and Israel's BDS Travel Ban: FAQs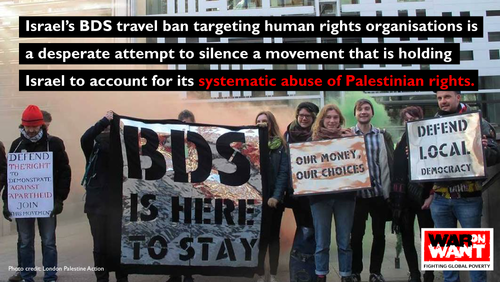 Israel's BDS travel ban prevents 20 charities and human rights groups from entering the country because of their outspoken support for Palestinian rights. This repressive move is taken straight from the playbook of South Africa's apartheid regime.
These FAQs will help you to understand the BDS travel ban and what it means for War on Want.
What is Israel's BDS travel ban?

On Sunday 7 January 2018, Israel's Strategic Affairs Ministry released a list of banned organisation to the Israeli press with a list of 20 organisations, barring their senior representatives from entering the country. War on Want is one of 20 charities and international human rights organisations on the list. This followed an announcement in March 2017 that Israel would deny entry to BDS (Boycott Divestment and Sanctions) activists.

Who else is on the travel ban list?

The list primarily targets European and American organisations as well as groups from Latin America.  They include a Nobel Peace Prize winning Quaker charity in the US as well as Jewish Voice for Peace. Other groups that support Boycott, Divestment and Sanctions are on there too as well as some other UK campaigning groups. The full list can be found here.

Can groups or individuals not on the list be denied entry to Israeli borders?

Yes, but this is nothing new. For decades Israel has routinely been denying entry to people it considers objectionable, often with no stated reasons why.

The people most often denied entry to Israeli borders are Palestinians. This is one of the invisible ways in which Israel targets Palestinians even outside of its own borders, by harassing them if they try to enter and refusing them their internationally recognised right of return.

(That said, Israel thrives on its tourism industry, and allows millions of people to enter on tourist visas every year, so don't let this new development keep you from your travels.)

What is the ban about?

This BDS ban is a piece of a much larger system of repression against human rights defenders. This repression primarily targets Palestinians, and secondarily, others who stand up in support of Palestinian rights. Israel has always conducted intense surveillance, harassment, arbitrary arrest and detention, and militarised repression against Palestinians who protest the oppression that they face. Palestinians identified with the BDS movement, including our patron Omar Barghouti, have been recently targeted with smears, travel bans, and threats.

Israel has dedicated millions of pounds into its campaign to thwart the BDS movement, after identifying it as a 'strategic threat'. These measures become more desperate as the BDS movement continues to win campaign victories and expand around the globe.

Israel rightly assumes that the Palestinian movement for justice benefits from support of charities, human rights organisations, and solidarity groups around the globe, who echo the Palestinian-led call for accountability. Attacking those who stand up for human rights is a way Israel tries to isolate Palestinians and to keep others from supporting them. This tactic is used by other regimes as well, and it invariably backfires as grassroots movements for justice refuse to be silenced. 

What is BDS?

Boycott, Divestment and Sanctions is a set of tactics providing a peaceful way for people to campaign for human rights, justice and accountability. These tactics have been used effectively in a wide range of situations, notably during the apartheid era in South Africa when they were used to help bring about the end to apartheid.

In 2005, Palestinian civil society organisations called on people of conscience around the world to use these tactics to pressure governments and institutions to end their complicity in Israel's crimes against the Palestinian people. Since then, thousands of BDS campaigns have been started in universities, trade unions, municipalities, and cooperatives to end international support for Israel's criminal regime.

Israel's oppression of Palestinians depends on support from governments around the world and business deals and contracts from corporations such as banks, telecom companies, arms companies and more. This ongoing support for Israel, even in the face of blatant violations of international law, gives Israel's regime a sense of impunity, like it can continue its oppression and still be awarded contracts, trade deals, and other perks.

BDS campaigns are used to push Israel to comply with international law by making visible the chain of complicity in its violations, and to make it so there is a "cost" to this oppression.

Boycotts can be: sporting, cultural, academic or consumer, for example boycotting goods produced in Israel's illegal West Bank settlements.

Divestment campaigns target companies complicit in Israel's oppression of Palestinians, including those supplying Israel with arms and equipment used in Israel's militarised repression of Palestinians. Sometimes divestment campaigns target institutions such as universities or churches, to ensure that investments or pensions funds are not invested in such companies.

Sanctions campaigns are designed to pressure governments to fulfil their legal obligations to hold human rights abusing countries to account through military embargoes or by suspending trade deals. War on Want's call for a two-way arms embargo on Israel is an example of a sanctions campaign.

Hundreds of trade unions, universities, charities and other institutions around the world have committed to stop investing or doing business with companies profiting from Israel's oppression of Palestinians, and that has a real effect on Israel's attempts to whitewash its violations of international law. 

What is War on Want going to do to challenge the travel ban?

War on Want, along with others on the list, will continue to stand up for human rights and justice for all, including Palestinians. We will not be deterred by threats, travel bans or attempts to silence us. When we stood up against apartheid in South Africa, our work was threatened in similar ways, and we insisted on continuing then to work in active solidarity with South Africans seeking justice. We were on the right side of history then, and we know we are this time as well.

We're calling on the UK government to condemn Israel's repressive actions. Add your voice to the call. Act now: demand that the UK government condemns Israel's BDS ban list and ends its complicity with Israel's violations of international law!
Join the conversation
117 people including pregnant women & children drown in the Mediterranean - whilst the far right govt of Italy bans… https://t.co/ZxELhQrZij
—
2 hours 30 min ago
"Jeremy Hunt has been accused of misleading parliament about UK weapons sales to repressive regimes, amid growing p… https://t.co/07z5ZQ4sWh
—
1 day 21 hours ago