Justice for Marikana
During the month of August in 2012, 37 miners were killed – 34 were shot down by the South African police on a single day. The miners were demanding that British mining company Lonmin pay them a living wage.
That day – August 16 2012  shook South Africa's fragile, new democracy to the core. In as much as the massacre was traumatic for the country and the community of Marikana, what followed was shocking. Despite police investigations and a public commission of inquiry conducted by the state, no-one has been held accountable for the killings.
No one has been brought to justice.
As a result, no reparations have been paid to the families of the dead miners. No public apology has been issued. No trauma counselling has been offered to the community of Marikana.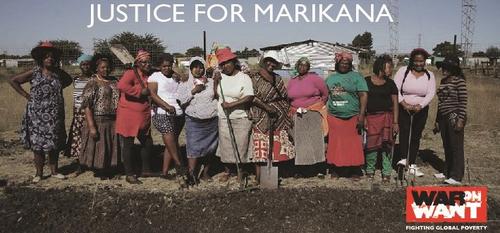 Join the conversation
Post-Brexit, the UK will decide how we do trade. Under #ISDS, Anglian Water successfully sued Argentina for refusin… https://t.co/HdQzyB6JKn
—
1 hour 53 min ago
In 2001, Argentina's financial crisis led the gov to freeze utilities prices…so three private companies sued the st… https://t.co/B445gkcORv
—
1 hour 53 min ago