An amazing week of trade democracy action!
9 February 2018 - 11:00am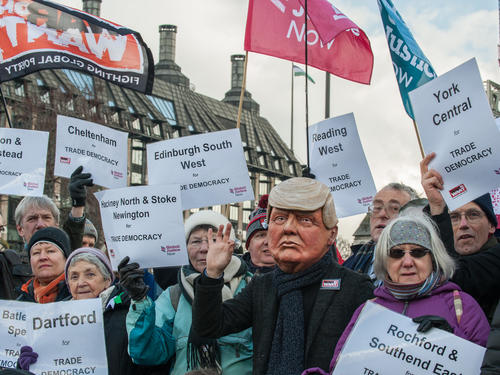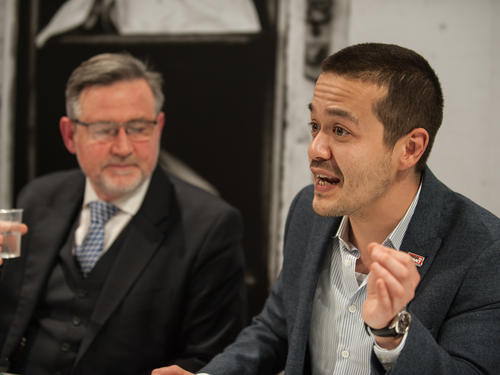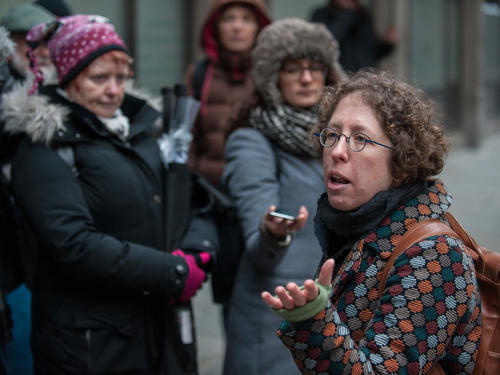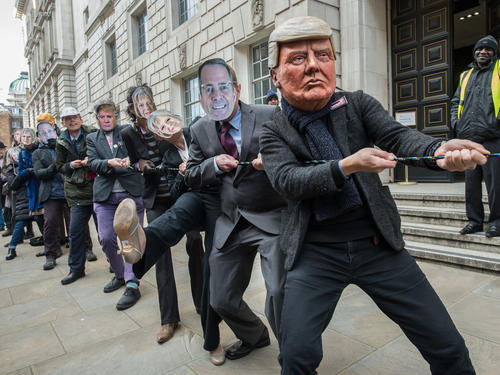 It's been quite a week in our ongoing campaign for UK trade democracy – we've lobbied MPs, demonstrated and discussed, all while trade has yet again hogged the media spotlight. And we even provoked an attack from a clearly rattled Secretary of State for International Trade, Liam Fox MP!
Working with our allies Global Justice Now, we brought almost 100 activists from across the country to London.
***JOIN THE THOUSANDS OF PEOPLE CALLING ON THEIR MPS TO GUARANTEE TRADE DEMOCRACY***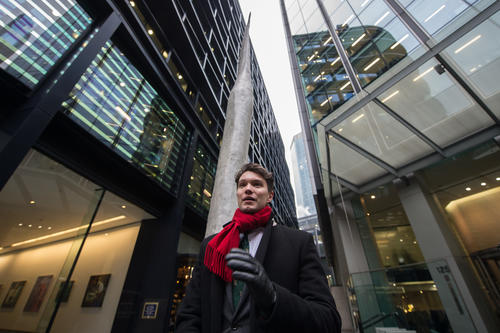 Lawyer Sam Fowles explains the perils of ISDS 'corporate courts'
On Monday afternoon, we held a corporate walking tour of the City of London, where activists learned about the City's ties to financialisation, colonial-era trade imperialism and new, progressive approaches to reform big finance, like the Robin Hood Tax.
On Monday evening, we ran an evening event on trade democracy, with speakers including Shadow Secretary of State for International Trade, Barry Gardiner MP, Green Party Co-Leader Caroline Lucas MP and Brussels-based campaigner Cécile Toubeau.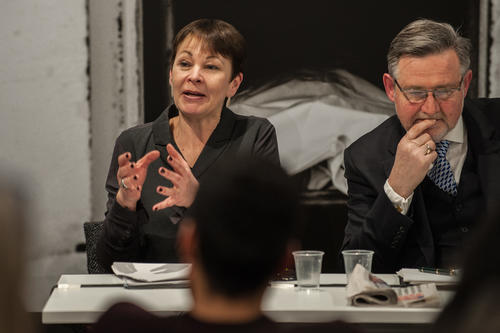 Green Party Co-Leader Caroline Lucas MP calls for trade democracy at our Monday evening event
Trade Secretary Liam Fox MP was so affronted by our calls for trade democracy that he wrote in the Independent on Wednesday to directly attack Lucas, Gardiner and War on Want with a revisionist history of free trade, and a call for democracy – conveniently forgetting his own disdain for British democracy, seen so clearly in his disregard for a public 'consultation' on the trade bill, his intentional side-stepping of parliament over the controversial CETA deal, his commitment to keep ongoing US trade talks secret for four years, and his total lack of reply to a 265,000 signature petition on trade democracy.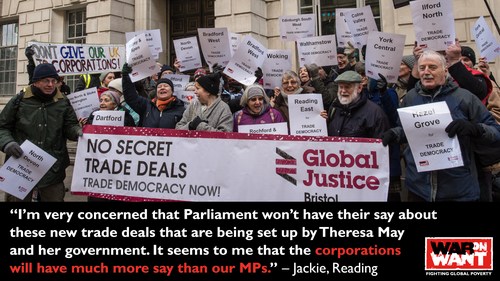 However, trade activists themselves decided to write to the Independent to attack Fox's false arguments – and to defend War on Want's trade democracy campaign.
As Lynn Lambert from Derby said: "If Liam Fox is so sure of the benefits of the deals he is currently in talks over, presumably he has no problem with telling the public exactly what is in those deals, and allow the deals to be properly and thoroughly scrutinised by Parliament, who are our democratically elected representatives."
Fox may have been equally upset by the scene outside his department on Tuesday morning – activists gathered outside the offices of the Department for International Trade to protest Fox's antidemocratic trade agenda. However, he can't have missed some familiar faces, including his friends Donald Trump, Theresa May and…Liam Fox himself!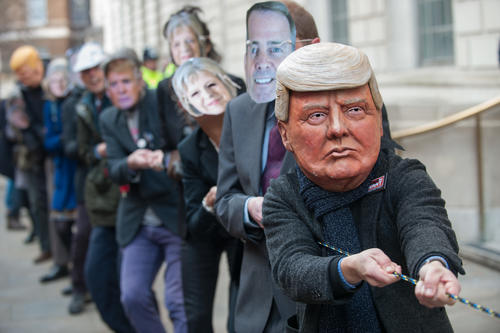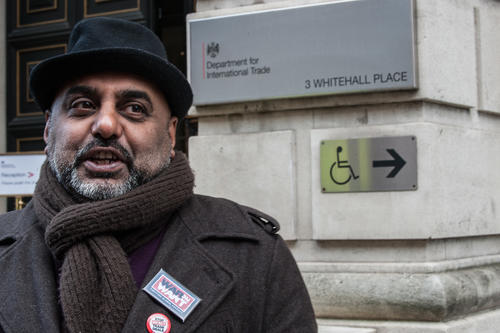 War on Want Executive Director Asad Rehman speaks to activists outside the Department for International Trade
As we protested outside the Department for International Trade, our Senior Campaigner Mark Dearn explained that two of the key reasons for us taking to the streets were to safeguard the NHS and our food safety standards from a secretly negotiated US trade deal. 
Then, low and behold, the news this week proved our fears to be correct. First, the Guardian reported that the much higher levels of antibiotic use in US farming – a key driver of the crisis in which antibiotics are no longer working as effectively – raise serious questions for a UK-US trade deal. As under TTIP, food and agriculture remains a key interest for the USA.
Then, on the same day that Liam Fox masqueraded as a trade democrat, news coverage highlighted Prime Minister Theresa May yet again refusing to rule out the NHS from a US trade deal.
War on Want is continuing its campaign on the UK trade bill, which, at present, remains the only means for ensuring that MPs can have a say over trade deals which the government has already begun informally negotiating. 
We know that grassroots campaigning for trade transparency works! Just today, The Economist noted that the "mischief" raised by UK campaigners has been instrumental in the fights against deals such as TTIP and CETA. 
And whether or not Fox decides to maintain his attacks on us and anyone who dares criticise his anti-democratic agenda, we will continue our campaign for trade justice until we believe it has been achieved – for the UK and the rest of the world.
Join the conversation
Aminatou Haidar, one of African's most prominent human rights activists speaking tonight about the ongoing Western… https://t.co/gR2jSHKBZ5
—
6 hours 41 min ago