BBC's The Big Questions: Should Britain be proud of its arms trade?
Ryvka Barnard, War on Want's Senior Campaigns Officer (Militarism and Security), appeared on BBC's The Big Questions on 12 March 2018, in a debate on whether Britain should be proud of its arms trade. She argued that the UK must stop trading arms with some of the world's most repressive regimes, including Saudi Arabia. So long as the UK is selling weapons to Saudi Arabia, it is complicit in the violence. 
Here are some highlights from the debate:
Ryvka campaigns against human rights abuses associated with the growing power of the military and security industry.
Watch the full show on BBC iPlayer.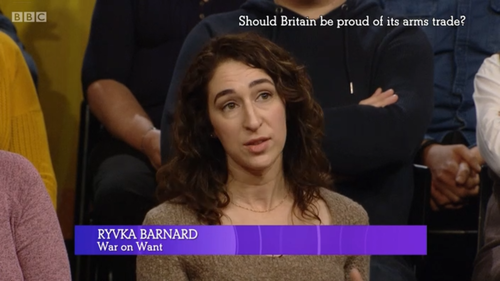 Join the conversation
"When we talk about how we tackle Islamophobia and fascism, we have to talk about how we make an anti-racist societ… https://t.co/yqImebF9z7
—
1 hour 54 min ago
McDonald's has a sexual harassment problem. But unionised workers are standing up to say #MeToo "McDonald's must re… https://t.co/ls52268SeM
—
4 hours 54 min ago