The Ecologist: President Santos: environmental saint or sinner?
21 November 2017 - 11:00am
President Santos of Colombia recently won two international awards for championing peace and biodiversity despite criticism from campaigners who say he is "encouraging agro-industrial projects that displace local communities", writes Catherine Early at The Ecologist (20 November 2017).
Quoting War on Want's Seb Muñoz, Early writes about the controversies around Santos' contributions, including the issue of displacing indigenous people through destructive extraction industries:
Germany, Norway and the UK have pledged around €200 million to Colombia if it successfully reduces emissions from deforestation through REDD+ schemes. Santos' government has also encouraged mining of coal, gold and silver, which has caused environmental destruction and displaced communities, according to War on Want.
"It's beyond cynical that he should receive a prize at this moment when he is deepening this particular model that has wreaked havoc historically," said Muñoz.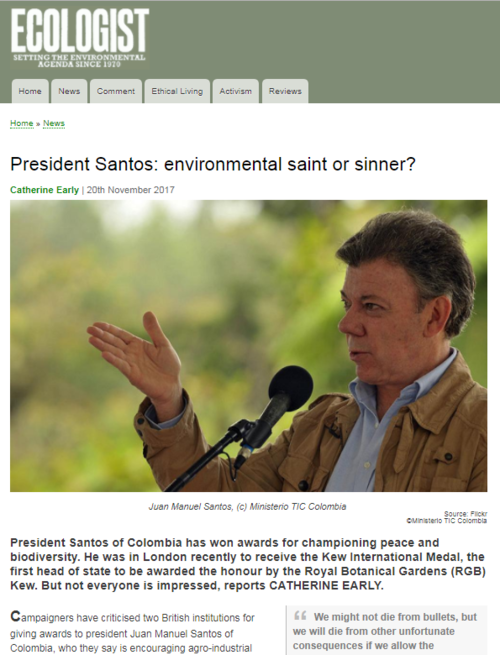 Join the conversation
"When we talk about how we tackle Islamophobia and fascism, we have to talk about how we make an anti-racist societ… https://t.co/yqImebF9z7
—
1 hour 31 min ago
McDonald's has a sexual harassment problem. But unionised workers are standing up to say #MeToo "McDonald's must re… https://t.co/ls52268SeM
—
4 hours 30 min ago