Government Response to Taylor Review is Green light to Abusive Employers
Responding to the government's response to the Taylor Review, released today, Owen Espley Labour Rights campaigner at War on Want said:
"The Government's response to the Taylor review is a green light to abusive gig economy employers to continue bending the rules, and abusing their staff. As long as workers live in fear of losing future hours, and have to make themselves available with no guarantee of hours, abuse will continue. 
"If the government fails to adequately legislate against these abusive practices, workers will inevitably respond by organising together and taking collective action against abusive bosses. The time to end precarious contracts is long overdue." 
Notes to editors:
For more information and interviews contact Marienna Pope-Weiderman on +44 7983 550 728
War on Want's Stand With Migrant Workers: End Precarious Contracts campaign seeks equal rights for migrant and precarious workers. It calls for the right to work regardless of immigration status, equal social and labour rights for all workers, and an end to precarious contracts.
For more info:  www.waronwant.org/StandWithMigrantWorkers.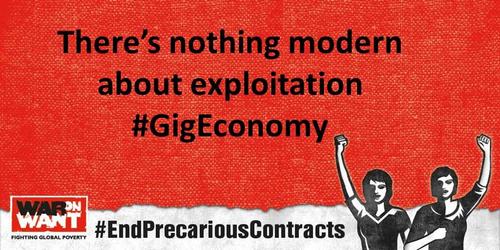 Join the conversation
Aminatou Haidar, one of African's most prominent human rights activists speaking tonight about the ongoing Western… https://t.co/gR2jSHKBZ5
—
8 hours 24 min ago