Celebrating the Grunwick strike 40 years on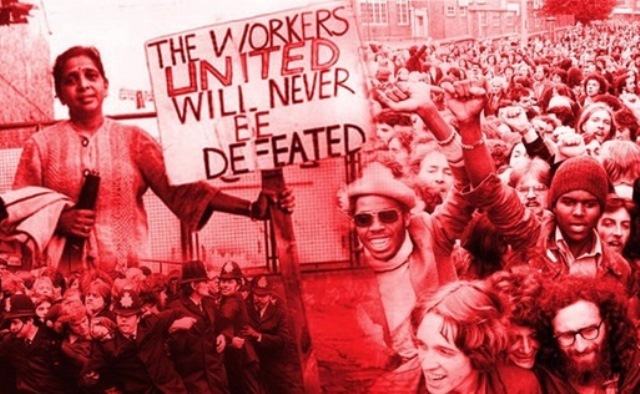 It's been 40 years since the Grunwick strike ended. On this day in 1976, six Asian women workers at Grunwick factory walked out in protest over the sacking of a fellow worker. The strikers were challenging racist and sexist abuse, and poverty wages.
By 2nd September, 137 workers were out on strike from their jobs at Grunwick, a photo processing plant in Willesden, North-West London. They demanded the right to form a trade union and have it recognised by their employer. They were sacked for doing so.
Led by Jayaben Desai, for the next two years, the workers – mainly Asian women from East Africa – turned the strike into a national movement for human rights and dignity.
The strike was also the first time that the Special Patrol Group (SPG), a notorious paramilitary police unit, had been deployed in an industrial dispute. The SPG had previously been the focus of many black community campaigns around police racism.
War on Want was proud to have supported the struggle of the Grunwick strikers, alongside workers and trade unionists from across the country, in what was one of the longest and most bitter labour struggles in British history.
The Grunwick dispute was also the first black and migrant worker struggle that won widespread support from the labour movement and beyond. Previous disputes involving black workers had been ignored by the trade union movement, or faced open racism from white union members and their leaders.
The lessons of that strike were as relevant then as they are now:
1) The labour movement must work with black and migrant workers in an intersectional response to tackle race, class and gender injustices.
2) We must stand in solidarity against the racists who blame black and migrant workers for the failures of free market economics.
3) Poverty wages, caused by the deregulation of the labour market and the weakening of trade unions, continue to disproportionately affect black and migrant workers.
The solution then and now is active solidarity with black and migrant workers, such as those in todays 'gig economy'. Like the Grunwick strikers, black and migrant workers today are at the forefront of struggles to tackle precarious work, outsourcing and privatisation – the drivers of low pay and insecurity across the economy. Only by standing with migrant workers and ending precarious contracts can we win rights at work for every worker.
Learn more about the Grunwick dispute.
Find out about the latest victory in the fight for migrant workers' rights in the UK.
Join the conversation
8. Palestinians have never stopped demanding their full political, civil, and human rights. Here in the UK, we have… https://t.co/9JdFMSA5kV
—
20 hours 42 min ago
7. Israel's apartheid rule is possible because of support from states and companies worldwide, including the UK – w… https://t.co/PnvJbxpnwx
—
20 hours 53 min ago
5. Palestinians in Gaza under full military blockade are still impacted by land grabs of the past: most are refugee… https://t.co/nOFpnvOBe7
—
20 hours 53 min ago