War on Want letter to HSBC over its business ties with Caterpillar Inc.
War on Want has written a letter to HSBC raising concern over its shareholdings in Caterpillar Ltd., and calling for HSBC to follow its own policies and divest from the company.
Take action! Write to HSBC and tell it to divest from Caterpillar and other companies complicit in abuse of Palestinians' human rights.
---
24 April 2019
XXXXXXXXXXX
Head of Global NGO Engagement | Corporate Sustainability
HSBC Holdings plc, Level 41,
8 Canada Square
London E14 5HQ
Dear XXXXXXXXXX,
I am writing with regard to our ongoing discussions about HSBC's business relationships with companies selling weapons and military technology to Israel, used by the Israeli military in systematic violations of international law, and in some cases, war crimes.
I was pleased to receive your communication dated 23 December 2018 in which you stated that HSBC Asset Management has fully divested from Elbit Systems. As you know, Elbit Systems has had continual involvement in the manufacture of technology for weapons banned in international treaties, including white phosphorous and artillery systems compatible with cluster munitions. In addition, Elbit continues to provide technology used to fortify illegal Israeli settlements in the occupied Palestinian territory (oPt). This contributes to maintaining and expanding the settlement enterprise in the oPt, which is illegal according to international law, amounting to a war crime under the Fourth Geneva Convention, a fact reiterated in the International Court of Justice ruling on the Separation Wall (2004).[1]
For these reasons, HSBC's divestment from Elbit was the only moral decision for the bank to take, and it was the only legal option, as well. As a follow up to our discussion, I'd like to ask: Has HSBC named Elbit Systems on a list of excluded companies, as several other banks and pension funds have, including the Dutch bank ABN AMRO[2] and the Swedish pension fund AP4[3]?
In our research report 'Deadly Investments' (2017), we identified fifteen companies with which HSBC maintains business ties, that sell weapons and/or military technology to Israel, despite knowledge of what said weapons and military technology are used for.[4] Elbit was only one of these fifteen. We remain concerned that HSBC still holds shares in companies such as BAE Systems, which sells weapons and components to Israel, used in attacks on Palestinian civilians. BAE Systems is also a major weapon supplier to Saudi Arabia, which uses the weapons in attacks on civilians in Yemen.
Another company flagged in our 'Deadly Investments' report is Caterpillar. At the time of the publication of our report, HSBC held £99.5 million worth of shares in Caterpillar, either for the bank itself or on behalf of clients. In addition, HSBC was involved in syndicated loans to the company. Campaigners around the country and HSBC shareholders have also voiced concern, including at the AGM in Birmingham this year, about HSBC's substantial ties to this particular company.
War on Want conducted extensive research on Caterpillar's involvement in illegal activities in the oPt in a report published in 2005[5], and we have updated our research since then, summarised below for your convenience.
I'd like to make you aware of the following illegal activities that Caterpillar machinery is used for, both historically and currently:
Demolition of homes and other properties
Caterpillar track excavators and wheel loaders are used regularly by Israel's military and security forces for the demolition of Palestinian homes, schools, orchards, olive groves and other agricultural lands.
The UN Office of Coordination of Humanitarian Affairs (UNOCHA) in the oPt documents the demolition of Palestinian property carried out by the Israeli military on an almost daily basis. For example, in February 2019, 53 Palestinian-owned structures were demolished or seized by the Israeli military, directly displacing 105 people, and impacting an additional 19,300 living in communities affected by demolition of parts of water distribution systems in three different areas. Demolished structures included agricultural structures, retaining walls, water wells, and a road. [6]
These are only the numbers for February 2019, and the UN has warned that they are already higher than the averages for the past two years, and the Israeli government has given no indication that it intends to stop this illegal activity. On the contrary, the recently re-elected Prime Minister Benjamin Netanyahu indicated in his election campaign that he is planning the evacuation of Khan al-Ahmar, a Palestinian Bedouin village.[7] Now that Netanyahu has been re-elected, the residents of the village wonder when the bulldozers will arrive.
The United Nations, as well as Palestinian, Israeli and international human rights organisations have all raised alarm about Israel's frequent demolition of Palestinian homes and properties. The demolition of properties in occupied territory, with the exception of particular rare circumstances, is not only illegal under international law, it is considered a war crime according to the Fourth Geneva Convention. The forcible displacement of people which results from demolition of their homes and properties is also a war crime.
In October 2018, Prosecutor of the International Criminal Court (ICC) Fatou Bensouda was compelled to issue a public statement about Israel's threats to demolish the Palestinian Bedouin village of Khan al-Ahmar, reminding Israel that "the destruction of property without military necessity and population transfers in an occupied territory constitute war crimes under the Rome Statute," and that the ICC will "keep a close eye on the developments on the ground and will not hesitate to take any appropriate action."[8]
Caterpillar machinery was documented as present on site at Khan al-Ahmar, and documented in action in demolitions of other villages throughout the oPt.
Weapon of war used against civilians
The infamous D9 Caterpillar bulldozers are retrofitted with weapon-mounts upon arrival in Israel, listed in 2014 as 'the most armoured bulldozer in the world'.[9] It is used as a weapon of war in operations against Palestinian civilians in the oPt, and was specifically noted for use in Operation Protective Edge in Gaza in 2014, when Israeli soldiers reported using Caterpillar's D9 for flattening houses and agricultural structures, including coops with live chickens in them.[10] In a testimony in the report of the Office of the United Nations High Commissioner for Human Rights (OHCHR) on Operation Protective Edge, Israeli soldiers reported having 'cleared' civilian areas, specifically mentioning their use of the D9. In the same testimony, the soldier reported that "the rules of engagement were very, very lax. There was no such thing as requesting authorization. Just fire."[11] The OHCHR determined that such "wanton destruction" of property not justified by military necessity could amount to a war crime as well as a violation of Article 23 of the 1907 Hague Regulations.[12]
According to Israeli human rights organisation Who Profits, the D9 models are also used by the Israeli military in extra-judicial killings, through the "pressure-cooker" tactic in which a bulldozer is used to destroy a house with a person or people inside.[13] In addition, they have been used by the military against unarmed protestors, as a 'crowd control' mechanism in Palestinian villages.
In 2005, a federal lawsuit against Caterpillar was filed in the US by the families of five people killed by the Israeli military using Caterpillar bulldozers.[14] The case was initiated by the family of Rachel Corrie, an American human rights defender who, at age 23, was crushed to death by a Caterpillar D9 bulldozer in 2003 as she attempted to defend a Palestinian family's home from being demolished by the Israeli military while the family was inside.
Construction of the illegal Separation Wall and settlements
Caterpillar models 330C, 330CL, 345B, 345D, 936 and D10N have been used in the construction of Israel's illegal Separation Wall, as well as the checkpoints along the path of the wall and internal to the occupied West Bank.[15] For this reason and others, the company has been flagged as 'recommended for divestment' by the American Friends Service Committee of the Quakers. 
Caterpillar machinery is also used by civilian companies for the construction of illegal settlements in the oPt, including (but not limited to) the settlements of Revava, Maskiot, Oranit, Carmel, Elkana, Beitar Illit and Har Homa. In addition, Caterpillar machinery including models 330B, 330BL and 936 have been used in various projects serving the illegal settlements, for example, in the Ariel West and Barkan industrial zones.
The Fourth Geneva Convention prohibits an occupying power (Israel, in this case) from transferring its own civilian population into occupied territory. The UK in turn recognises Israeli settlements in the oPt as illegal. In 2004, the International Court of Justice declared that the construction of the Wall and its associated regime (including checkpoints along the Wall, the settlements, settlement roads, settlement infrastructure such as checkpoints) are contrary to international law, and ordered Israel to dismantle the Wall, make reparations to communities and individuals impacted by it, and ordered third parties not to "render aid or assistance" to it.[16]  
In 2012, the UN Special Rapporteur on the situation of human rights in the oPt wrote a report investigating the extent to which businesses aid and abet war crimes through involvement in facilitating illegal settlements. Caterpillar was featured as a case study.[17]
Further to this, the United Nations Human Rights Council is currently compiling a database of companies found to be complicit in illegal activity relating to the maintenance and development of Israel's settlement enterprise in the oPt, as it was mandated to do in a resolution adopted by the UN Human Rights Council in March 2016.[18] While the names of the companies to appear on the list haven't been published yet, Caterpillar is one of a handful that is reported to be on the list.[19]
Institutional divestments from Caterpillar
Many institutions around the world have already taken steps to divest from Caterpillar, or to mark it on an exclusions list because of its implication in human rights abuse and war crimes.
In addition, Caterpillar has been singled out for divestment at over 25 universities around the world, many of them in the past three years, including University of Cambridge and University of Manchester here in the UK.
As you can see, other corporate and non-profit institutions have already elected to divest from Caterpillar over its complicity. HSBC must follow suit.
HSBC policy and business and human rights
HSBC has expressed pride in its human rights policy and socially responsible investment, and yet the issues raised in this letter, and in our research report preceding it, cast a dark shadow over HSBC's actual record.
As we have discussed before, the UN Guiding Principles on Business and Human Rights (UNGPs) require businesses, including banks, to "avoid causing or contributing to adverse human rights impacts" and specifies further that they have a duty "to prevent or mitigate adverse human rights impacts that are directly linked to their operations, products or services by their business relationships."[20]
In the case of companies selling technology or weapons to the Israeli military, it would be impossible for HSBC to prevent human rights impacts, as the core activity of the Israeli military is to administer and enforce the illegal occupation and blockade on the Gaza Strip. The illegal settlements and the unlawful use of force against Palestinians facilitated by these companies are anchored in Israeli law and military orders, and are a matter of Israeli governmental policy. Until Israel itself adjusts its laws and practices to be in line with international law, companies selling weapons to its military are implicated in its unlawful activities.
Summary and further questions
To summarise, War on Want and our allied organisations still have significant concerns over HSBC's maintenance of business ties with companies implicated in grave abuse of human rights.
We have the following questions that I hope you will respond to promptly:
1. Has HSBC named Elbit Systems on a list of excluded companies, as several other banks and pension funds have?
2. If HSBC has named Elbit on an exclusions list, on what grounds has Elbit Systems been excluded?
3. In light of the Defence Equipment Sector Policy, how does HSBC justify its ongoing relationship with BAE Systems, Raytheon, and other companies that are primarily involved in the manufacture of weapons?
4. Given that Caterpillar has been identified as a company complicit in human rights abuse by the United Nations, pension and investment funds, as well as faith organisations, universities, and numerous other bodies around the world, when will HSBC begin its process of divesting from Caterpillar?
I look forward to your response.
Regards,
Ryvka Barnard
Senior Militarism and Security Campaigns Officer
War on Want
---
---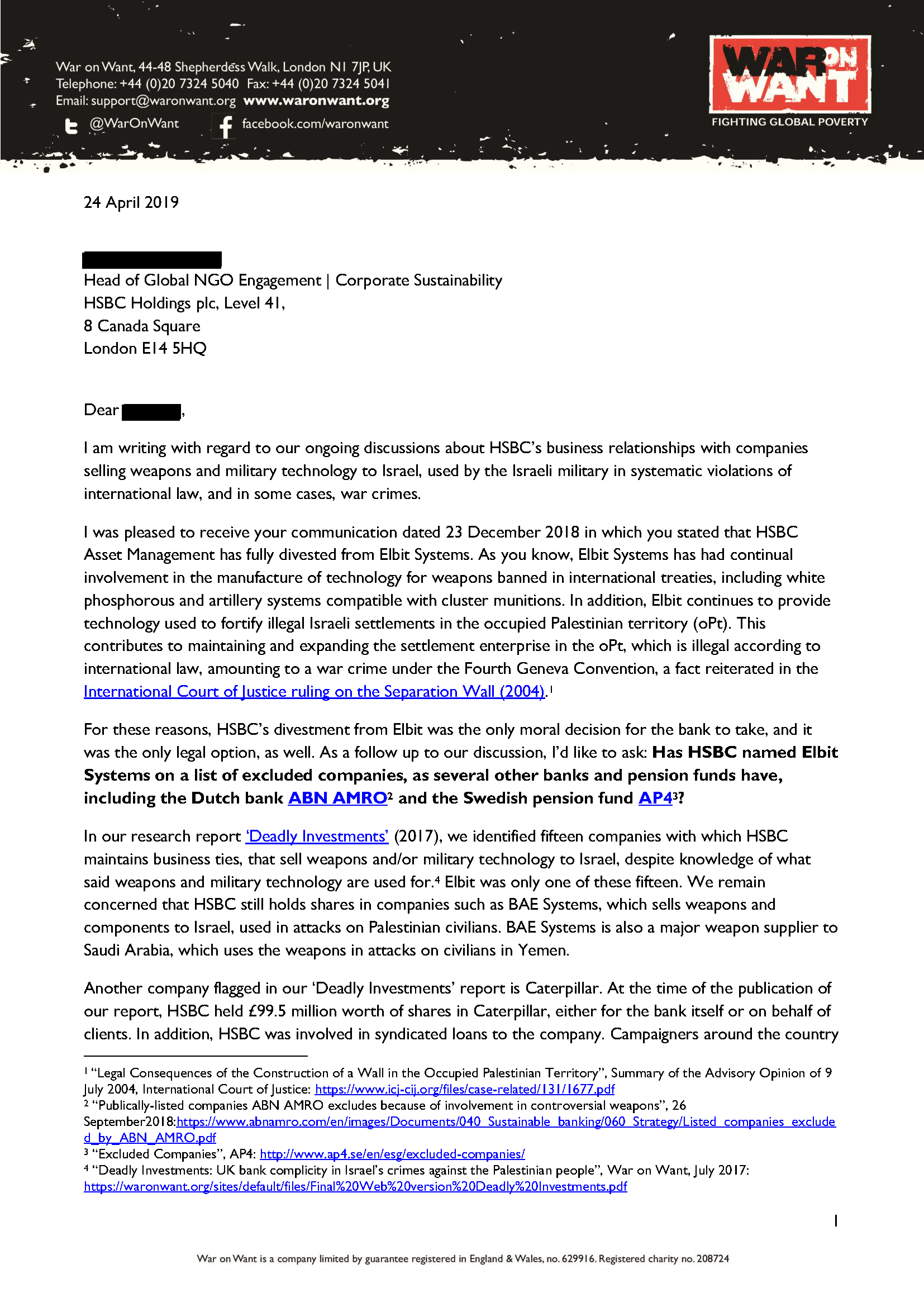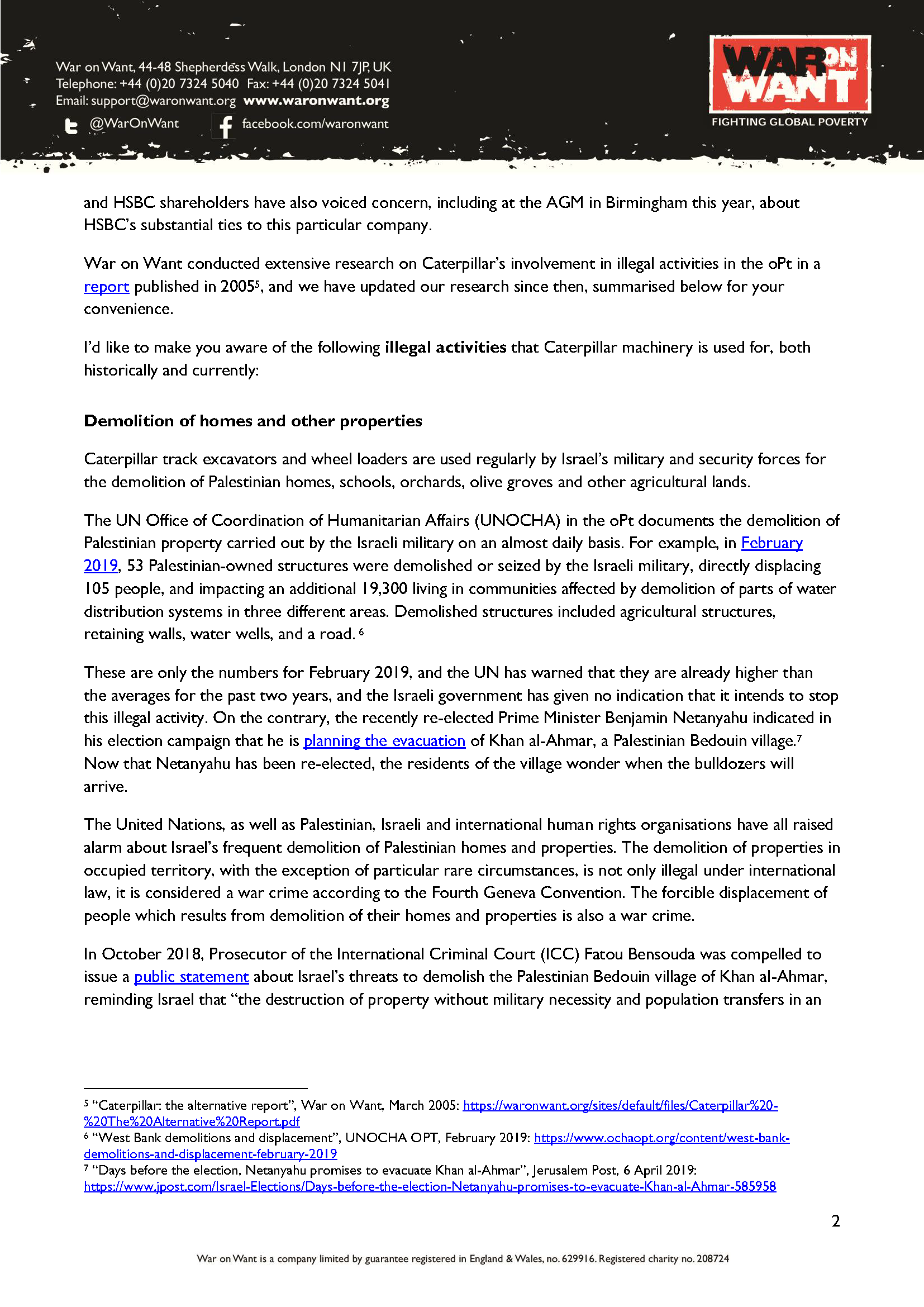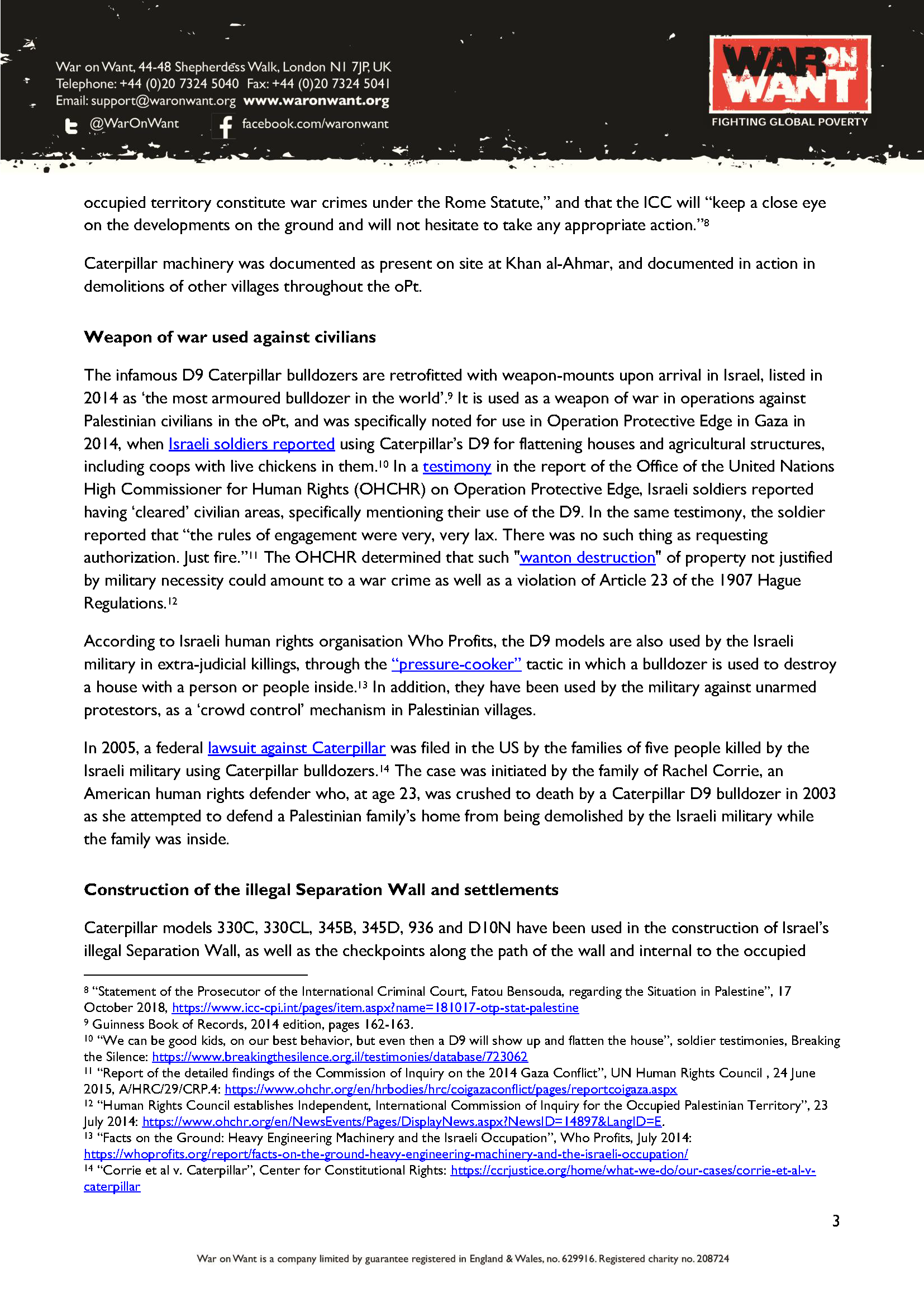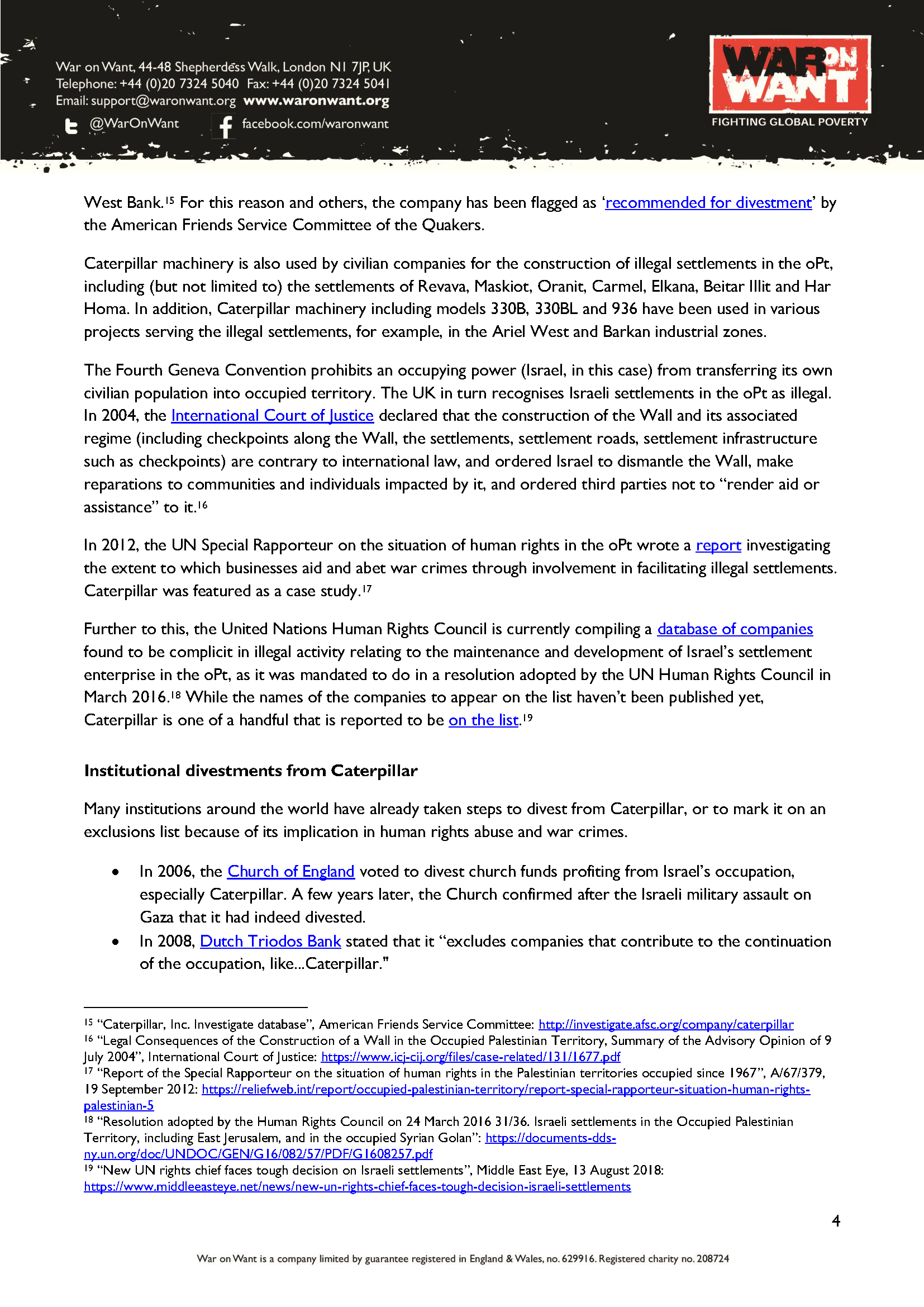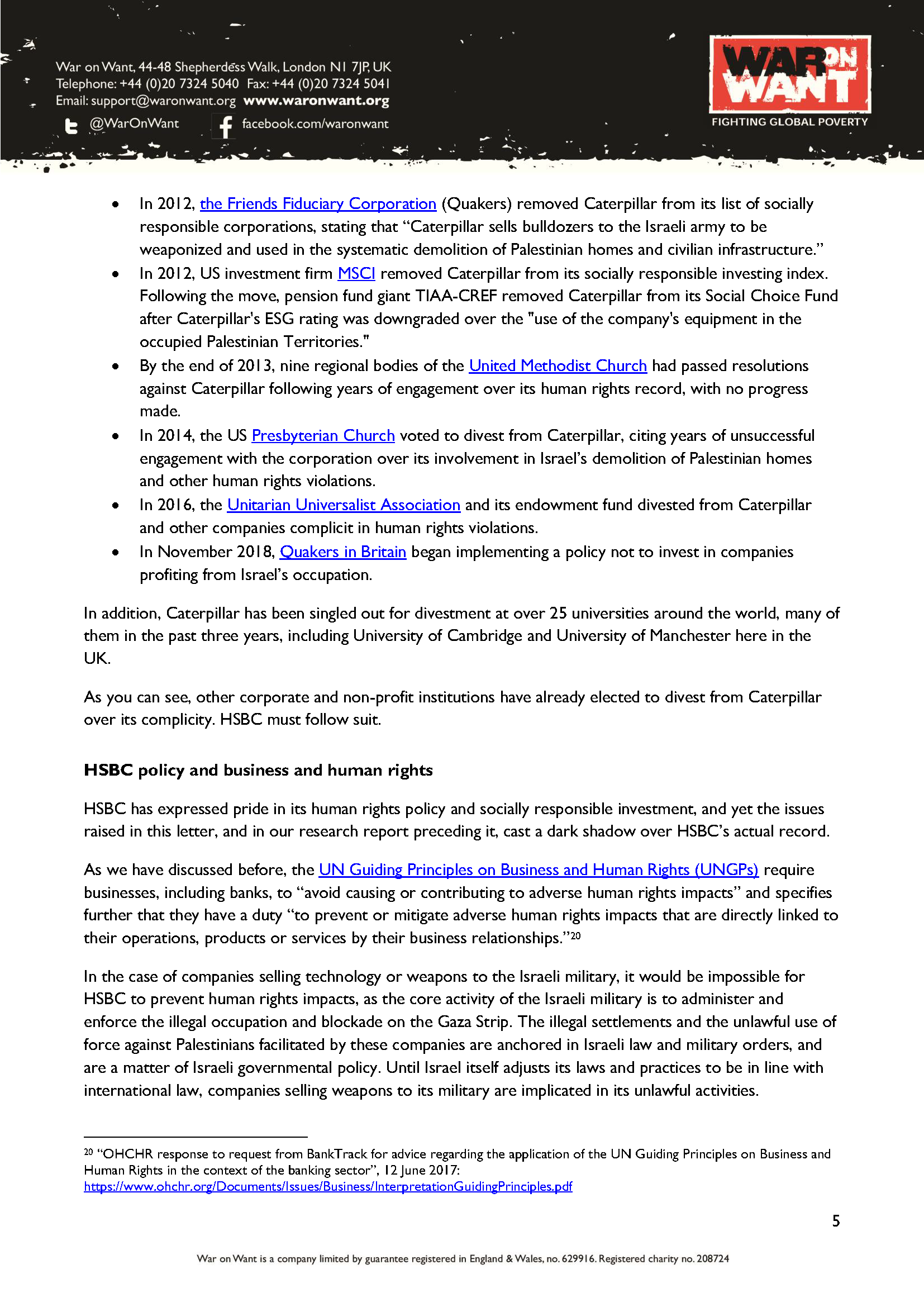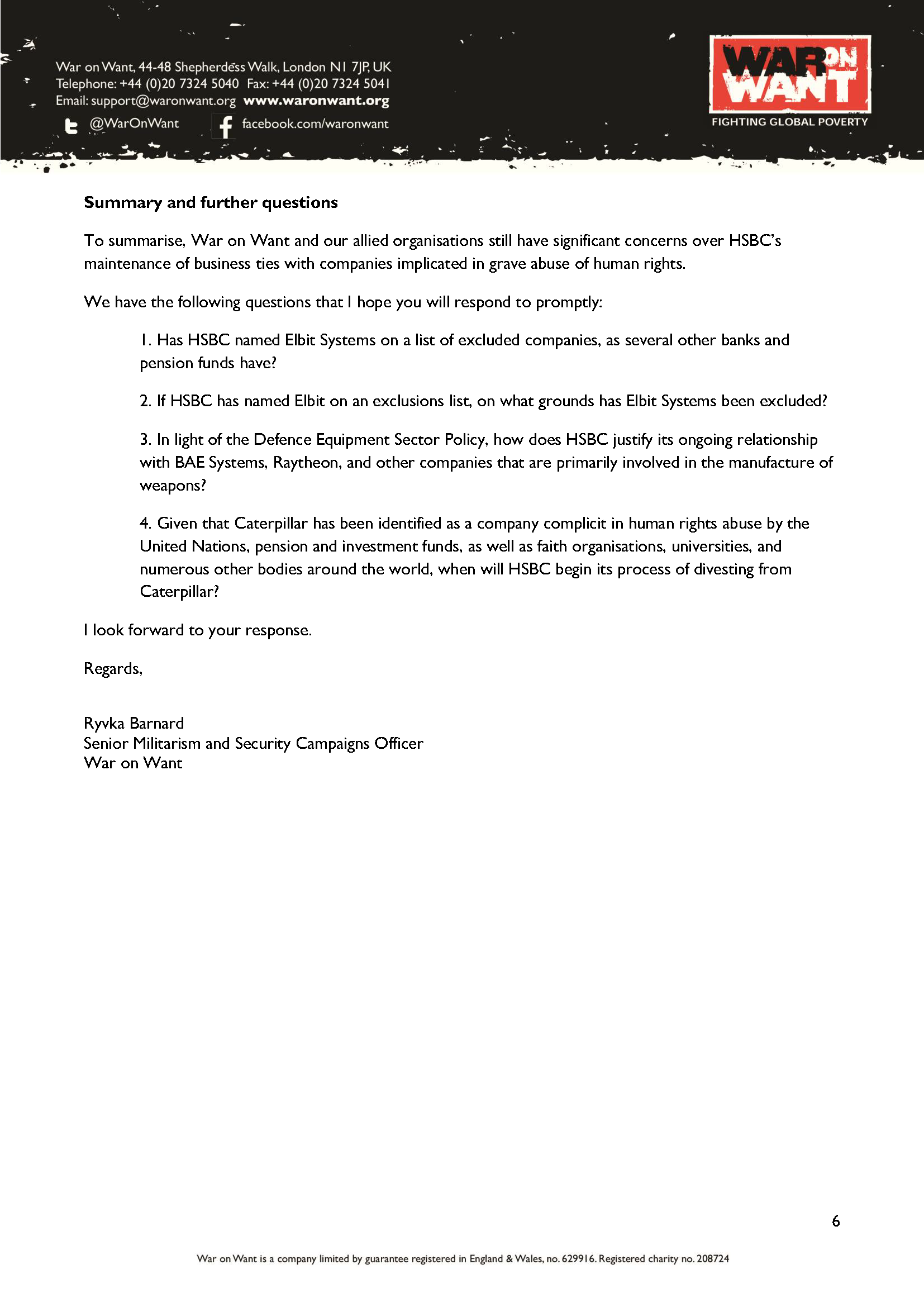 ---
You can download a copy of the letter from the link below:
Join the conversation
Funding settlements, as Abramovich has done, means the forcible transfer of Palestinians, which is a violation of i… https://t.co/9HM1hUsUQO
—
1 hour 12 min ago
'Reclaiming the Food System: The fight for the Right to Food' Catch @NnimmoB's speech on colonial agriculture,… https://t.co/7bjVU1BfTx
—
7 hours 48 min ago