'Decade zero' to stop millions more facing hunger and forced displacement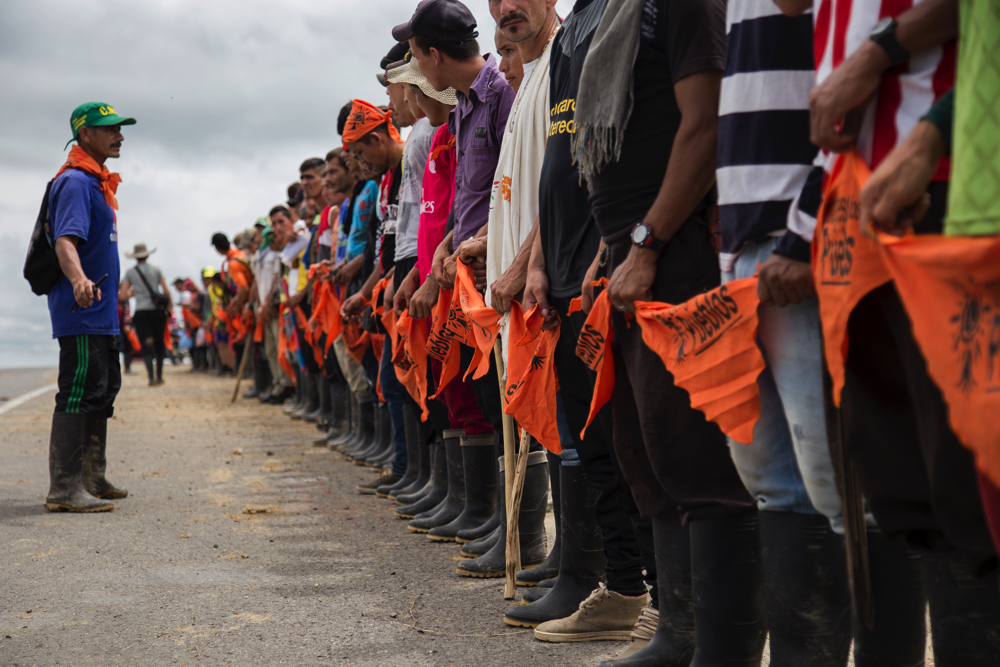 Photo: Congreso de los Pueblos
On Monday, October 8: Indigenous Peoples Day, the UN Intergovernmental Panel on Climate Change (IPCC) released a damming report warning that there are only a dozen years for global warming to be kept to a maximum of 1.5°C. Even half a degree beyond that will significantly worsen the risks of drought, floods, extreme heat and poverty for hundreds of millions of people, particularly in the global South.
Social movements in the global South have long been demanding that global temperature increases must be kept well below 1.5°C to prevent millions of people already facing economic and social injustice from facing climate catastrophe. Climate change simply fans every existing inequality in the world and will deepen global poverty and the forced displacement of millions more people from their homes.
Those in power have known that this is decade zero where every decision will determine how many poor, black and indigenous people in the global South will lose their lives, their homes and their livelihoods. Now climate scientists have issued a stark warning about the failure to act.
The solutions have long been apparent: we need to not only transform our energy and food systems out of the hands of big business and into the hands of people, but we also need land rights for indigenous peoples to prevent catastrophic climate change. But these changes can't take place within a neo-liberal economic system that puts profit before both people and planet
War on Want has stood shoulder to shoulder with our partners in the global South in their demands to movements in the global North that 'living within the system is only possible for the ones not dying from the system'. It's time to speak truth to power. Those most impacted by climate change are not those responsible for the crisis. Just 100 multinationals are responsible for 71% of global emissions, many of which are banks and multi-nationals based in the UK.  
Between 13–20 October, we will be joined by four environment and human rights defenders from the Americas who have taken on one such multinational: the world's biggest mining giant, BHP. Companies like BHP, which are the heart of the fossil fuel industry, have a record of forced displacement, dispossession and catastrophic environmental damage stretching back decades. It is so powerful that it is seldom held to account for this devastation, while indigenous, afro-descendant and peasant communities are hardest hit.
For decades fossil fuel corporations financed climate denialism and lobbied to prevent climate change policies being implemented. Now these very same corporations claim they hold the answers to the planetary crisis, with BHP presenting itself as the missing link in the transition from fossil fuels to renewable energies, vowing to invest in both 'oil and copper'.
The solutions for the multiple crises of climate change, inequality and injustice are only possible when those responsible are held to account for their actions. That's why we need binding legislation to put an end to corporate impunity worldwide. Join us in a week of action to go #BeyondBHP – and towards a just, equal and safer world for us all.
Join the conversation
RT @PACBI: Inspiring news! British Society for Middle East Studies endorses the Palestinian call to boycott complicit Israeli… https://t.co/JBVWqNHBP9
—
12 hours 30 min ago
34 European trade unions representing millions of workers across Europe wrote to the European Commission and Europe… https://t.co/yYYw0o1hw3
—
12 hours 32 min ago
Citizens of Abbruzzo in Italy stopped the Ombrina Mare oil project. But now, Big Oil is suing the Italian governmen… https://t.co/MRXgxIN2AB
—
12 hours 41 min ago