Liam Fox responds to War on Want trade democracy protest
Trade Secretary Liam Fox MP was so affronted by our calls for trade democracy that he wrote in the Independent on Wednesday to directly attack War on Want following our trade democracy protests with Global Justice Now this week. His comment piece contained a revisionist history of free trade, and a call for democracy – conveniently forgetting his own disdain for British democracy, seen so clearly in his disregard for a public 'consultation' on the trade bill, his intentional side-stepping of parliament over the controversial CETA deal, his commitment to keep ongoing US trade talks secret for four years, and his total lack of reply to a 265,000 signature petition on trade democracy.
This piece was originally published in the Independent, 8 February 2018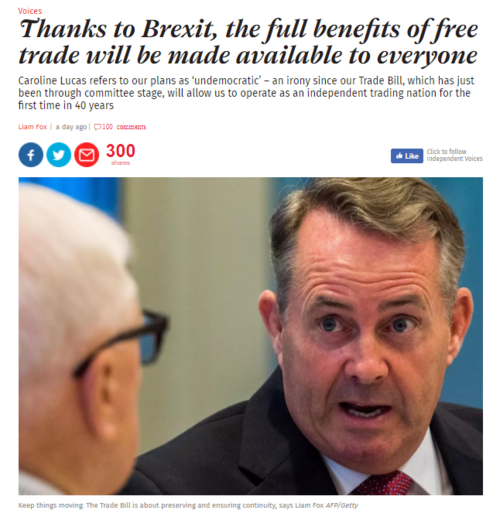 Thanks to Brexit, the full benefits of free trade will be made available to everyone
Caroline Lucas refers to our plans as 'undemocratic' – an irony since our Trade Bill, which has just been through committee stage, will allow us to operate as an independent trading nation for the first time in 40 years
On Monday night, Caroline Lucas joined forces with Barry Gardiner in a so-called progressive alliance against free trade at the War on Want event in Shoreditch, east London. 
Unfortunately there is nothing progressive about the Lucas/Gardiner double act, which seeks to deny the benefits of free trade to the very people they claim to represent.
Indeed it is ironic that the War on Want website asks members to "join forces with us against the root causes of global poverty".
Free trade creates prosperity, increases consumer choice and creates jobs.
It has acted as the greatest force for combatting global poverty in recent decades. With one billion people taken out of poverty in the past generation, we have a moral duty to ensure that the full benefits of free trade are made available to everyone in all parts of our country.
Lucas refers to our plans as "undemocratic" – again another irony since our Trade Bill, which has just been through committee stage, will allow us to operate as an independent trading nation for the first time in 40 years.
It will enable us to transition existing EU trade arrangements, providing continuity and certainty for businesses, and establishes a "Trade Remedies Authority" to deal with unfair trade practices and unforeseen surges of imports.
Lucas goes on to criticise our bill on the grounds that parliament would not get to vote on any future trade agreements. This appears to show a complete lack of understanding of the bill, which is not about those new relationships. Instead, it is about preserving and ensuring continuity. It does not legislate for powers that could be used when implementing new free trade agreements with countries with whom the EU does not have a free trade agreement before exit day. 
What it will enable us to do is transition existing EU trade arrangements to ensure we continue to benefit from those arrangements that the EU already has with other countries, so that we maintain full access in both directions when we leave. 
It is clearly in the interest of our country and our trading partners alike that these arrangements – which have already been scrutinised at an EU level and overseen in the UK by parliament's EU select committees – are transitioned quickly and smoothly.
Labour's approach to free policy generally, like Lucas's, is as incoherent as it is irrational. On the EU-Canadian deal (Comprehensive Economic and Trade Agreement) Labour split three ways, and now their trade policy – as with much of their policy across the board – has been taken over by the hard left. 
The consequences of anti-trade policies are rising prices, less quality and choice, and the threat of lost jobs.
We have seen throughout the passing of the Trade Bill that those on the anti-trade left will use every red herring to cover up what is an essentially anti-capitalist agenda, as we saw with the European left's opposition to a trade agreement as benign as that with Trudeau's Canada. 
They would cause damage at home too; anti-trade policies would push up costs to consumers in Britain, making it harder to make wages stretch and diminish living standards. 
In the EU referendum the British public voted to restore our sovereignty, and that will require the restoration of a rich tradition: to make Britain an independent global trading nation once again. 
For the first time in over 40 years, we are beginning to shape our own trade agenda and define our own trade policy – and I am determined that this will not only benefit businesses and consumers in the UK, but allow some of the world's most disadvantaged people to trade their way out of poverty.
Join the conversation
Aminatou Haidar, one of African's most prominent human rights activists speaking tonight about the ongoing Western… https://t.co/gR2jSHKBZ5
—
11 hours 23 min ago