Protest Lonmin's AGM: In solidarity with Marikana Miners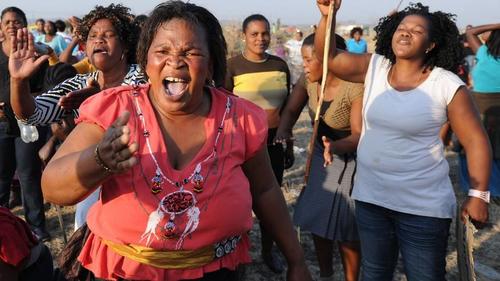 The fatal police shooting of 34 striking workers at Lonmin's Marikana platinum mine in August 2012 was the worst recorded instance of police violence in post-apartheid South Africa. Five years on, there have been no prosecutions and no real improvements – no compensation for the families living in grief and dire poverty. Since the massacre, Lonmin has been complicit in a process of intimidation and cover-ups, culminating in attempts to sell the company to avoid accountability altogether.
Protest Lonmin's AGM!
Lonmin's Annual General Meeting is in London on 15 March. Join us with the London Mining Network and frontline campaigners from South Africa at a protest to hold Lonmin to account for their complicity in this atrocity!
15 March at 9:30am–11:30am, Lincoln Centre, 18 Lincoln's Inn Fields, London WC2A 3ED
Sign up to the protest on Facebook >
London and the Marikana Massacre – Speaker Event
Hear from our visitors from South Africa at a special event in Brixton on the evening of Lonmin's AGM: "London and the Marikana Massacre: From the frontlines to the center of Extractive Imperialism".
15 March at 6:30pm, Karibu Education Centre, 7 Gresham Road, Brixton, London SW9 7PH
Speakers:
Jo Seoka, Bishop of Pretoria (now retired) has supported the Marikana workers and was the last person to speak with Mambush Noki, 'the man in the green blanket', before his death.
Thumeka Magwangqana is from the Marikana women's organisation Sikhala Sonke ("We cry together"), founded on the day of the massacre. Sikhala Sonke campaigns for better working and living conditions for mining-affected communities.
Andries Nkome is the attorney for 275 arrested and injured miners, and represents the sixteen mineworkers who still await trial for their actions during the strike. 
Join the conversation
"When we talk about how we tackle Islamophobia and fascism, we have to talk about how we make an anti-racist societ… https://t.co/yqImebF9z7
—
1 hour 35 min ago
McDonald's has a sexual harassment problem. But unionised workers are standing up to say #MeToo "McDonald's must re… https://t.co/ls52268SeM
—
4 hours 35 min ago