Comment: Supreme Court must find for worker's rights in gig economy case
20 February 2018 - 11:30am
Speaking ahead of the Supreme Court hearing on the 'Pimlico Plumbers' Gig Economy Case, Owen Espley Labour Rights campaigner at War on Want said:
"The supreme court case must confirm what many courts have already decided, that claiming these workers were self-employed is a ploy to dodge taxes and deny worker's rights, such as holiday and sick pay.
Many companies hide behind the notion of a Gig Economy, claiming that new technology is driving the rise of precarious contracts. But there is nothing modern about exploitation. This is the time old story of bosses putting profit above all else. Employers should be held accountable for exploitation. Yet time and again, the government fails to enforce the law, forcing people to fight for their rights.
Businesses are only able to impose bogus self-employed status onto their staff, because workers have so little power to challenge employers. Workers on precarious contracts live under constant fear of losing future work they depend on to survive. Those already marginalised, especially women, black and migrant workers, suffer the worst consequences. Meanwhile, the growing imbalance of power between bosses and workers drives down conditions for everyone."
Notes to editors:
For more information and interviews contact Marienna Pope-Weidemann on mweidemann@waronwant.org, +44 7380 194 788 or 020 7324 5060​
Gig economy case reaches Supreme Court: http://www.bbc.co.uk/news/business-43115219.
War on Want's Stand with Migrant Workers: End Precarious Contracts campaign seeks equal rights for migrant and precarious workers. It calls for the right to work regardless of immigration status, equal social and labour rights for all workers, and an end to precarious contracts.
For more info: www.waronwant.org/StandWithMigrantWorkers.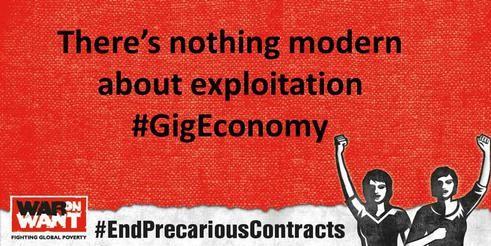 Join the conversation
"When we talk about how we tackle Islamophobia and fascism, we have to talk about how we make an anti-racist societ… https://t.co/yqImebF9z7
—
1 hour 31 min ago
McDonald's has a sexual harassment problem. But unionised workers are standing up to say #MeToo "McDonald's must re… https://t.co/ls52268SeM
—
4 hours 31 min ago