Parliament fails to win democratic oversight on trade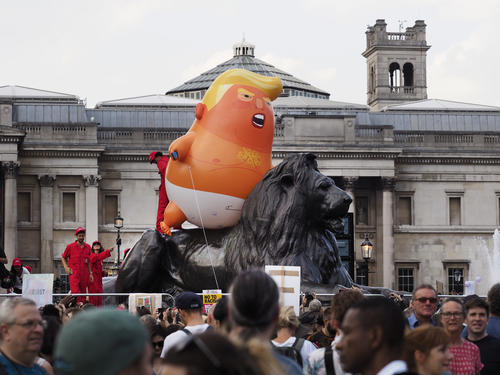 Responding to votes on scrutiny of trade agreements in the Trade Bill, senior trade campaigner at War on Want Jean Blaylock, says: "Democratic oversight of trade is not rocket science. MEPs in the European Parliament and members of Congress get an automatic vote on trade deals. Why shouldn't MPs?
By failing to secure democratic oversight today, Parliament leaves us with little protection against the enormous risks posed by dodgy trade deals written in the interests of multinational corporations instead of ordinary people. Modern trade deals can cut through the rules and standards of our society like a juggernaut. On the table could be the NHS, food standards and financial regulation to avoid a repeat of the financial crisis.
During his visit, we saw Trump throwing his weight around on trade, saying a deal is only possible with no 'restrictions' on US firms. His aggressive trade team already has a hefty list of regulations they want weakened or thrown out.
Similarly, there is no real accountability or oversight of our trade talks with countries in the global South. For all that we have to fear from a trade deal with the US, countries in the global South stand to lose – and have already lost – far more through trade deals with us. For decades, our approach to trade has undermined their right to invest in public services, improve access to medicines, take action for climate justice and determine their own futures.
Parliament needs a say in trade deals. We are disappointed that this was not achieved today, but applaud the many MPs who voted for trade democracy: 284 MPs from five different parties backed the amendment put down by Caroline Lucas MP that would have given Parliament a voice. We will continue to push for the Trade Bill to incorporate accountability and transparency fit for a democratic society."
Jean Blaylock is available for media interviews and further comment on request.
Press Contacts
Marienna Pope-Weidemann (Press & Communications Officer)
020 7324 5060 / 07983 550 728 / media@waronwant.org / @WarOnWant
Notes to Editors
War on Want, Global Justice Now and other organisations have been campaigning for trade democracy in the Trade Bill.
For more information see: Trade Bill: constitutional implications and recommendations
Join the conversation
"When we talk about how we tackle Islamophobia and fascism, we have to talk about how we make an anti-racist societ… https://t.co/yqImebF9z7
—
1 hour 29 min ago
McDonald's has a sexual harassment problem. But unionised workers are standing up to say #MeToo "McDonald's must re… https://t.co/ls52268SeM
—
4 hours 29 min ago