Reaction: parliament passes CETA as Labour abstains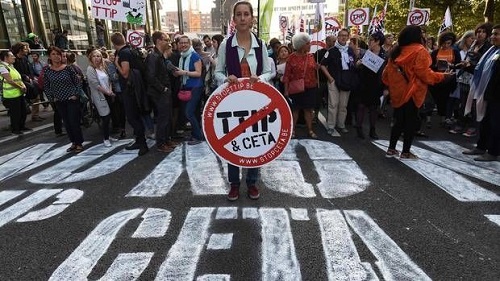 Responding to today's parliamentary debate and vote on the CETA trade deal, from which the Labour Party abstained, Jean Blaylock, senior trade campaigner at War on Want, says:
"Quite simply, CETA puts corporate power above democratic rule. It includes the notorious 'corporate courts' which give big business the power to sue countries for any policy they claim could affect their profits, even if it is vital to the public interest.
Labour explicitly opposed these courts in its manifesto and as recently as last week the opposition leader branded them 'dystopian' and spoke proudly about Labour's opposition to them. Yet today, the party took a step back. By abstaining from the vote, they have disappointed thousands of ordinary people who implored them to take a stand for trade justice."
Parliament has passed the Comprehensive Economic and Trade Agreement (CETA) between Canada and the EU by a vote of 315 to 36. 
Speaking ahead of the vote yesterday Asad Rehman, executive director of War on Want, said: "If CETA passes through parliament today, it will be a nail in the coffin of British democracy. Our message to MPs is clear: vote no to CETA. Do it for our public services, for our economy, so we can eat safe food and breathe clean air. That's what it means to take back control."
Asad and Jean are available for interviews and comment on request.
Earlier this week, War on Want signed a civil society statement calling on MPs to vote against CETA. The statement was co-signed by UNISON, Friends of the Earth and Global Justice Now! amongst others.
Press Contact
Marienna Pope-Weidemann
020 7324 5060
Notes to editors
It threatens our democracy by undermining the right of parliament and the public to decide on laws and policies in the public interest
It could introduce a system of secret 'corporate courts', giving big business the power to sue states for policies they say could affect their profits
Like TTIP, its failed US-EU counterpart, CETA would weaken social, health and environmental standards
CETA could make it impossible to re-nationalise privatised services like utilities and railways
Rejecting the deal would allow MPs to develop an alternative based on transparency, democracy and fairness
Joint statement calling on MPs to reject CETA
https://www.tjm.org.uk/blog/2018/civil-society-statement-against-ceta
Press release: Civil society asks MPs to defend democracy and reject CETA today
https://waronwant.org/media/mps-defend-democracy-reject-ceta-debate
Join the conversation
As we mark 53 years of Israel's occupation, stand against the ongoing dispossession of the Palestinian people. Tell… https://t.co/bJ5wAC22q4
—
5 hours 52 min ago