Reaction: Israeli military prepares demolition of Khan al Ahmar, despite warnings of war crimes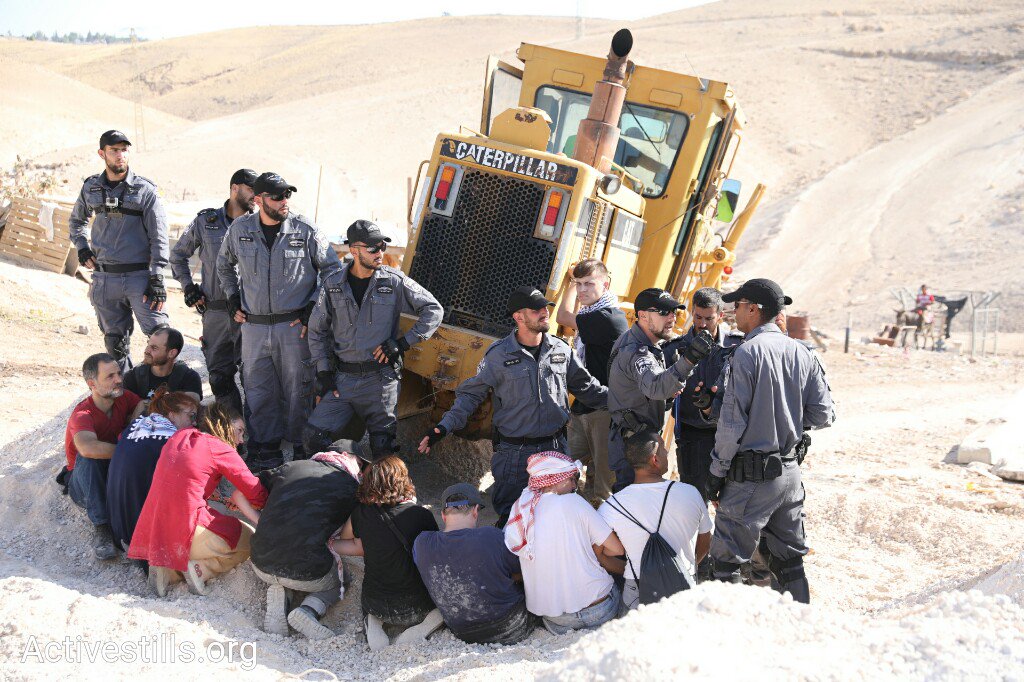 Responding to news that the Israeli military is preparing to demolish the Palestinian village of Khan al Ahmar in the occupied West Bank today, Ryvka Barnard, senior campaigner on militarism and security at War on Want, said:
​"Companies with headquarters in the UK are directly supporting the destruction of Palestinian homes and schools in Khan Al Ahmar and countless other villages. Companies like Caterpillar and JCB profit from illegal activity – and in this case, war crimes.
The UN Human Rights Council has repeatedly stated that companies must terminate all business involvement in Israel's illegal settlement activity. In 2016 it voted to create a database of companies that are involved in supporting and facilitating settlement activity. The likes of Caterpillar and JCB are already facing protests over their potential criminal liability in the expulsion of people from their lands to make way for illegal settlements. If they continue to do business with Israel's military, they are likely to face economic consequences as well.
The UK government itself is complicit in the destruction of Khan al Ahmar. While the UK government has made several statements condemning Israel's settlement expansion and house demolitions, it has failed to hold Israel to account over these illegal and immoral actions. Even worse, the UK government rewards Israel's war crimes by continuing to approve arms exports to the same military that is carrying them out.
It's time for the UK government to step up and hold complicit companies to account over their involvement and to end its own complicity in Israel's systematic violation of Palestinian rights."
Ryvka is available for interviews and further comment on request.
 
Press Contact
Ryvka Barnard: rbarnard@waronwant.org
 
Notes to Editors:
Could this be the last day of school in the West Bank's fated Khan al-Ahmar?: https://www.theguardian.com/global-development/2018/sep/30/could-this-be-the-last-day-of-school-west-bank-khan-al-ahmar
JCB, Caterpillar, and other companies' equipment has been photographed at the site of pending demolition: www.middleeasteye.net/news/palestinians-fear-demolition-bedouin-village-khan-al-ahmar-imminent-1901355710
MPs call for urgent action not words to stop impending demolition and forcible transfer of Khan al Ahmar: https://www.caabu.org/news/news/mps-call-urgent-action-not-words-stop-impending-demolition-and-forcible-transfer-khan-al-a
EU: Israel's planned demolition of Khan al-Ahmar would be a war crime: https://mondoweiss.net/2018/09/israels-planned-demolition/
Join the conversation
8. Palestinians have never stopped demanding their full political, civil, and human rights. Here in the UK, we have… https://t.co/9JdFMSA5kV
—
20 hours 52 min ago
7. Israel's apartheid rule is possible because of support from states and companies worldwide, including the UK – w… https://t.co/PnvJbxpnwx
—
21 hours 3 min ago
5. Palestinians in Gaza under full military blockade are still impacted by land grabs of the past: most are refugee… https://t.co/nOFpnvOBe7
—
21 hours 3 min ago