Report Back: Green Party Fringe Meeting: Living on the Margins
10 October 2017 - 12:00pm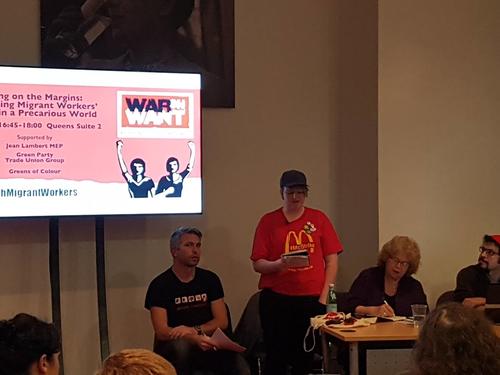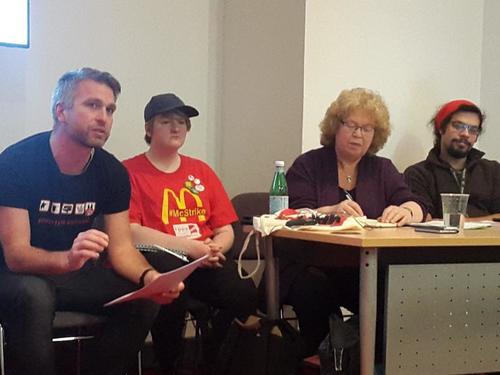 On Saturday 6 October 2017, War on Want together with Greens of Colour, Green party Trade Union Group and Jean Lambert MEP  organised a fringe meeting: Living on the Margins: Protecting Migrant Workers Rights in a Precarious World. 
The speakers were: 
Samir Jeraj - Greens of Colour (Chair)
Lauren McCourt - McStrike and BFAWU
Jean Lambert MEP - Green Party Spokesperson on Migration
Owen Espley - Senior Economic Justice Campaigner, War on Want 
Samir introduced the session recalling his own family's history of migration and the low quality work they had undertaken to provide for his family. 
Lauren McCourt talked about conditions in McDonald's where zero hour contracts are the norm. She explained how McDonald's was trying to claim it was offering all employees guaranteed hours, but most workers wouldn't qualify for hours. She explained how the pace of work, meant safety measures were routinely ignored with many workers suffering burns. She said migrant workers especially those with little English were often made to do the worst jobs. The green party activists in the audience listened carefully as she explained that workers like her had decided they had had enough and were organising into a union in order that they could work together for better conditions. She finished by explaining that solidarity by the wider community was important to campaigns like the McStrike as they gave workers confidence and ensured workers were not isolated. 
Jean Lambert MEP talked about her work in the European Parliament on the Economic & Social Affairs Committee which looked at legislation on labour standards across the EU. She explained how the UK had opted out of much of the EU's social chapter which was aimed to protect workers. She gave testimony to workers she had met, through London Citizens who were treated badly by Agencies because of their precarious immigration status. 
She also said: 
"It's devastating that so many migrant workers in the UK suffer as a result of these dodgy, dangerous employment practices. Nobody should find themselves in a position where they are forced to take on exploitative work, or fear the consequences of leaving an abusive employer. 
Since the Brexit vote, it's become increasingly clear that our Government doesn't care about migrant workers' rights – actively seeking to make life more difficult for these individuals, rather than helping them to feel safe and secure. If it took this issue seriously, it would ensure that everyone in the UK can work legally and report exploitation without fearing a knock on the door from the Home Office. It would give workers the tools they need to challenge abuse. And it would ensure that these protections can be enforced through employment tribunals and access to legal aid.
The Green Party and I will do all in our power to fight precarious work. Everyone deserves to be able to earn a decent living, without suffering from abuse or exploitation."
Owen Espley, explained how precarious contracts created a power imbalance between workers and the supervisors who decide which hours they work. He outlined the ways in which precarious contracts are both a cause and an effect of discrimination in the labour market. He criticised the hierarchy of rights, such as social rights, that precarious contracts create, which mirrors the hierarchy created by government plans for immigration after Brexit. He showed both precarious work and migration controls were means to reduce the rights that workers enjoy. 
He argued that all workers should have their basic rights at work respected, regardless of status and shared War on Want's work to mobilise the public in support of migrant and precarious workers. He gave examples of how migrant and precarious workers are winning fights against outsourcing and precarious work. He called on everyone to stand with migrant workers and work to end precarious contracts. 
He said:
"The fight against precarious contracts is a fight against racism, sexism and xenophobia. We cannot let the call to 'control our borders' be used to not only restrict freedom of movement but to weaken the rights of migrant workers. Only by protecting equal social and labour rights for everyone, can we stop a race to the bottom where employers drive down working conditions for everyone."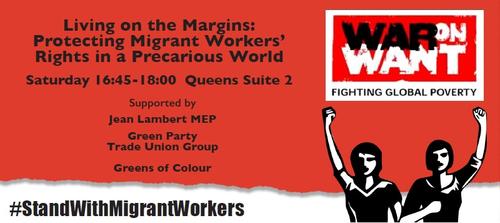 Join the conversation
Ending free movement suddenly could make any EU citizen who hasn't obtained settled status vulnerable to the… https://t.co/2YWMUGVCuy
—
10 hours 55 min ago
Emergency demo: The Armenian government gave the go-ahead for a toxic gold mine at Amulsar Mountain, caving to pres… https://t.co/ntEY1oR6cL
—
12 hours 19 min ago