Response from ATG Ceylon over workers' rights abuses
22 February 2019 - 3:30pm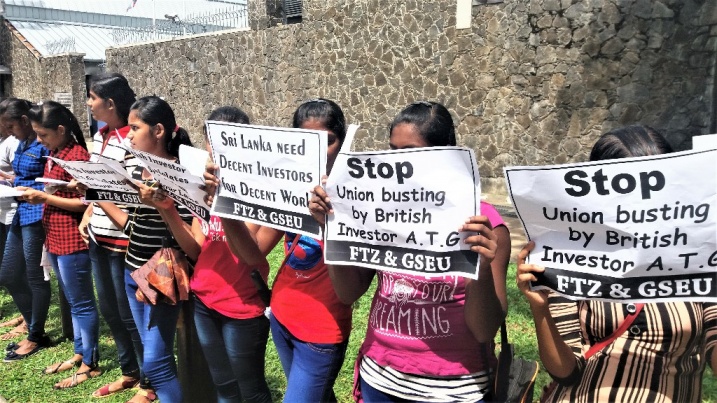 We sent a letter to Mr John Taylor, the British CEO of a company in Sri Lanka, ATG Ceylon (Pvt) Ltd. in response to a request from War on Want partners FTZ-GSEU. The letter was signed by trade unions here in the UK in a show of solidarity. We also asked members and supporters to email the company and over 3500 people took action!
This is a transcription of the response we received from Mr Taylor by fax:
30th January, 19.
Dear Sir, (sic)
ATG® categorically denies the allegations and fervently disagrees with the assertions made by the trade unions FTZ & GSE on labour relations of the company and factories. These allegations are patently false. It was only after sustained disruption at ATG Ceylon and an enquiry that lasted two and a half years that the 5 employees were dismissed. We understand that this came as a surprise to their fellow workers but their behavior didn't leave the management of ATG® any other choice.
ATG® will, as always, continue to reinforce the dialogue with workers and employee representatives through the workers' council and daily contacts on the shop floor. We will intensify these conversations to make it clear that ATG®'s priority is the wellbeing of our workers. Indeed, ATG® has always strived to create a fair work environment for employees at all levels not least the high highest (sic) paid workers and the highest 2019 salary increase in the Katunayake Zone and believes this passion is reflected in the products we produce and the high levels of staff retention.
Yours sincerely
John Taylor, Chairman
For and on behalf of the Board of Directors
ATG® Lanka Pvt Ltd
I'm sure you will agree that this is not the response we might have hoped for: ATG Ceylon continues to take no accountability for the toxic culture of harassment and discrimination their workers routinely face. You can still take action and write to Mr Taylor.
Join the conversation
Funding settlements, as Abramovich has done, means the forcible transfer of Palestinians, which is a violation of i… https://t.co/9HM1hUsUQO
—
1 hour 56 min ago
'Reclaiming the Food System: The fight for the Right to Food' Catch @NnimmoB's speech on colonial agriculture,… https://t.co/7bjVU1BfTx
—
8 hours 31 min ago