South African Environmental Human Rights Defender Nonhle Mbuthuma comes to London
15 October 2018 - 10:15am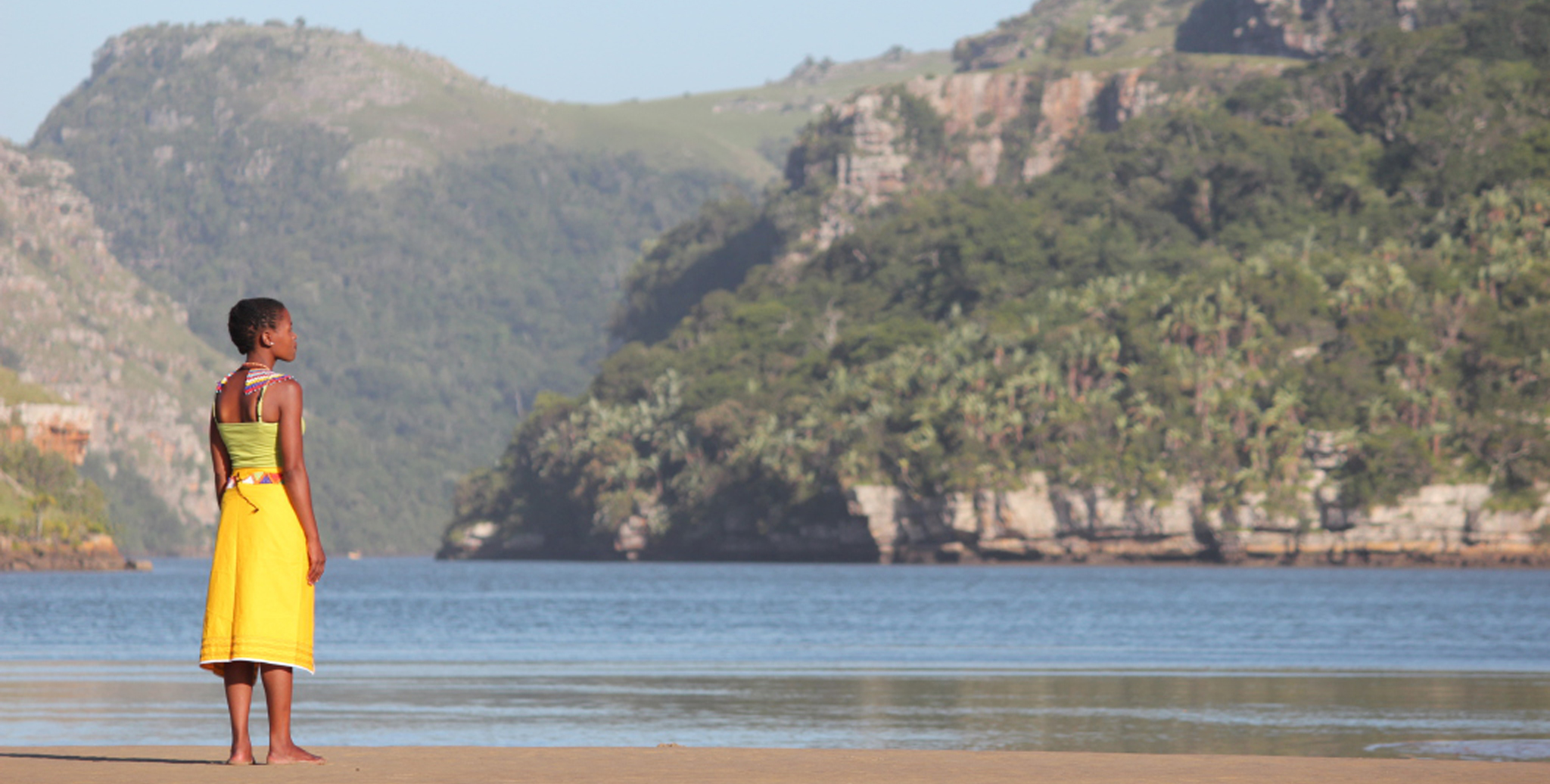 Nonhle Mbuthuma stands on the shores of her homeland. Source: The Shorebreak
From the 18–26 October, we will welcome South African Land Defender Nonhle Mbuthuma to the UK for a series of events highlighting her community's struggle to protect their lands and waters from a British-linked mining company.
Despite facing repression and deadly violence, Nonhle and her community are the forefront of a campaign uniting communities across Southern Africa to assert their Right to Say No to unwanted mining and other mega-infrastructure projects. They are also advancing their own, alternative plans for development, rooted in the wealth they already enjoy and new, non-extractive economic projects.
Join us at one of our events, co-organised with The Gaia Foundation and The Marikana Solidarity Collective in the coming week to hear Nonhle's story, and uncover the hidden links between London's money and mining on South Africa's Wild Coast.
---
Events:
We Feed the World- bringing the stories to life
Friday 19 October, 1pm–3pm
@Bargehouse Gallery, South Bank, London, SE1 9PH
On the Frontlines of Mining Conflict
Friday 19 October, 4pm–8pm
@ UCL, Institute of the Americas, University of London, WC1H 0PN
Extractivism: Resistance and Alternatives at We Feed The World
Saturday 20 October, 11am–5.30pm
@Bargehouse Gallery, South Bank, London, SE1 9PH
Nonhle Mbuthuma: The Right to Say NO to Mining
Thursday 25 October, 5pm-7pm
@SOAS, JCR, University of London, WC1H 0XG
Hands Off Amadiba! Public meeting with Nonhle Mbuthuma
Friday 26 October, 6.30pm–9pm
@336 Brixton Road, London, SW9 7DE
---
Read on to find out more about Nonhle and her community - their home, livelihoods and history of resistance.
Nonhle hails from Xolobeni, a collection of villages that lie along the cragged cliffs and white sand beaches of Pondoland, on South Africa's Wild Coast. Here the Indigenous Pondo People have lived for generations, farming their fertile soils, fishing the sea, collecting freshwater and firewood from nature. And here they have defended their lands from colonisation, apartheid and now, industrial-scale mining.
The mineral-rich sands of the Wild Coast have brought mining companies to Pondoland, among them Mineral's Resources Limited (MRC), a junior Australian mining company with major British investment. Despite declaring, in July 2016, that it would pull out of its Xolobeni mineral Sands Project due to escalating violence and public pressure in South Africa, the UK and Australia, MRC retains its interest in the project. It plans to gouge out dune sand rich in titanium over an area 22km long and 1.5km wide.
MRC's project would cut the villages of Xolobeni off from the sea, displace over 1,000 people from their homes and require ancestors to be dug from their graves and moved. Many Xolobeni residents perceive the project as an existential threat to their livelihoods, culture and spirituality- to their roots in the world. An overwhelming majority have opposed MRC's project from the start.
Nonhle has taken a lead role in this resistance as a spokesperson for the Amadiba Crisis Committee (ACC), formed in 2007 to oppose the mine. Her leadership, she says, has been inspired by her grandfather, who participated in the Pondoland Revolt against apartheid in the 1950s and 60s.
'He told me all the stories about how he used to fight and why. It was to keep the land and ensure the people are happy. Now he says it is up to me, that my decisions must not hurt the next generation', says Nonhle.
The ACC is asserting the right of communities in Pondoland and across South Africa to say no to mining. And, as it is for Earth Defenders around the planet, for Nonhle, her friends and family, the price of helping lead the defence of the Xolobeni Community's lands and water is high.
In addition to the beatings, death threats and abuse experienced by many local people, four vocal opponents of MRC's mine have been killed in recent years. The latest was Sikosiphi 'Bazooka' Rhadebe, Chairman of the ACC. In 2016, Rhadebe was shot eight times on his own doorstep. MRC denies any role in the murder and two years on Bazooka's killers are yet to be brought to justice.
Nonhle, too, has received death threats. At present, she is forced to live away from the community and under armed guard.  
'I wake up each morning and thank God I am still alive,' she says. 'My husband and my family and friends are worried. They tell me to go into hiding. But I can't do that. We want to keep our land and keep our lives and keep the way we have been living for generations. We don't want to lose our land.'
As well as opposing the mine and a related road-building project at great personal risk, Nonhle, the ACC and Xolobeni's residents are also actively building alternatives to so-called 'mining-led development'.
This has involved highlighting and consciously working with the existing riches – fertile soils and farming skills, good coastal fishing, clean fresh water – that Xolobeni's People currently enjoy, and which mining endangers. These are currently featured in The Gaia Foundation's We Feed the World photographic exhibition.
The ACC and others are also developing plans for eco-tourism in the area, as a source of additional income that respects local livelihoods and contributes to the protection of crucial ecosystems.
"When it comes to development, you have to be involved. You can't just think about now. You have to think about tomorrow," says Nonhle.
Join the conversation
RT @PACBI: Inspiring news! British Society for Middle East Studies endorses the Palestinian call to boycott complicit Israeli… https://t.co/JBVWqNHBP9
—
13 hours 23 min ago
34 European trade unions representing millions of workers across Europe wrote to the European Commission and Europe… https://t.co/yYYw0o1hw3
—
13 hours 24 min ago
Citizens of Abbruzzo in Italy stopped the Ombrina Mare oil project. But now, Big Oil is suing the Italian governmen… https://t.co/MRXgxIN2AB
—
13 hours 33 min ago