Stand With Migrant Workers: NHS In Crisis – Fix It Now Demonstration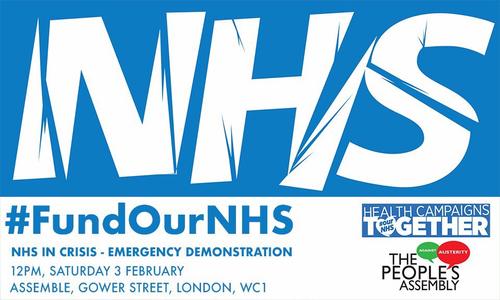 On Saturday 3 February, thousands will march on London to demand that the government ends the NHS winter crisis. It is time for the government to fully fund our health system and end the creeping privatisation, putting the NHS back into the hands of the public where it belongs.
During the NHS crisis, it is migrant workers who play a substantial role in keeping the NHS we love working, yet these workers are often on outsourced contracts with poor pay. Migrant workers have long made an essential contribution to our public services and the NHS has always depended on them to function. And yet migrants are blamed, scapegoated, for the problems the NHS faces. Doctors and nurses are being turned into border guards with the introduction of immigration checks into NHS services.  It is time to recognise that migration does not undermine public services – migration is not the cause of any public service crisis.
Privatisation of the NHS means big profits for some, but low wages and precarious contracts for many NHS workers. The government's agenda for trade deals after Brexit risks locking in privatisation and outsourcing in the NHS.
Under any US-UK deal, US big business will demand access to the tendering of health contracts, likely championed as worthy additional "investment" by the business-friendly UK government. We know that under TTIP, the UK chose to include the NHS and the government then refused to release legal advice it received on threats to the NHS from the deal.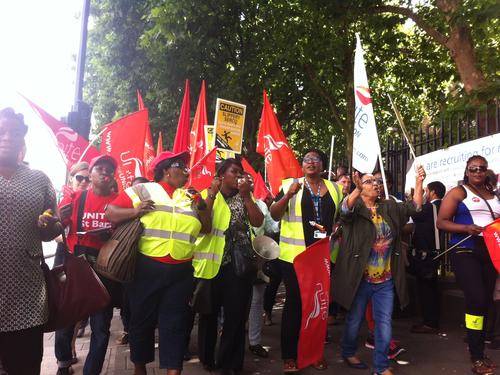 Profit hungry companies winning contracts increase proceeds by squeezing workers' wages. The last year has seen major strikes and demonstrations by NHS workers outsourced to giants such as ISS, SERCO and Carillion. Migrant workers and others on precarious contracts have fought back against unpredictable hours, low pay and zero-hours contracts, and stood up for their right to organise.
Outsourcing is both a cause and an effect of discrimination. The work most likely to be outsourced is often done by women, migrant and black workers, which means they are more likely to be on precarious contracts, and have low pay. Outsourcing creates more obstacles for women, migrant and black workers to fight for their rights, and this only reinforces structural discrimination in the labour market.
War on Want believes in decent work and a living wage for all, regardless of immigration status. The attacks on workers' rights by the privatisation on essential healthcare services, disproportionately affecting migrant workers, must end.
March on Saturday to protect #OurNHS, #StandWithMigrantWorkers and #EndPrecariousContracts.
Find out more about the march on the Facebook event page.
Read more about War on Want's 'Stand With Migrant Workers' campaign.
Join the conversation
Aminatou Haidar, one of African's most prominent human rights activists speaking tonight about the ongoing Western… https://t.co/gR2jSHKBZ5
—
7 hours 49 min ago