A Step Forward: Migrant Workers and the Right to Strike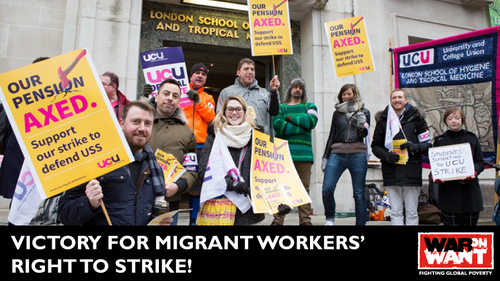 Monday 23 July 2018 There's been a step forward on the right to strike for migrant workers, but an immigration system based on "economic needs" risks entrenching exploitation writes Owen Espley for the Morning Star. 
Last week, in the face of public pressure, Sajid Javid gave much needed clarity that immigration rules would not be used to undermine migrant workers' (On Tier 2 Visas)right to strike. This is an important step forward, which shows that campaigning works – but a lot of work is still needed to prevent immigration rules from undermining workers' rights.
Sajid Javid was responding to pressure from thousands of War on Want supporters and University and College Union members who had written to their MPs. This shows that together we can push for an immigration system that respects migrants' rights. Without that clarification, when university staff went on strike earlier this year, some people were afraid that taking strike action might be used to deny them the right to remain in the UK. It was unclear whether days of strike action would count towards the 20-day annual limit on unpaid leave for workers on Tier 2 visas (Non-EEA Sponsored visas). Employers were expected to withdraw their sponsorship from any worker who exceeded the limit, and their right to remain could have been curtailed as a result.
Whilst this 'clarification' is welcome, it is only one small step in the right direction. The immigration system continues to undermine workers' rights, not least where workers' "Right to Remain" is dependent on their employer. This dependence creates a significant imbalance of power between workers and employers. Workers' rights should not be dependent on immigration status.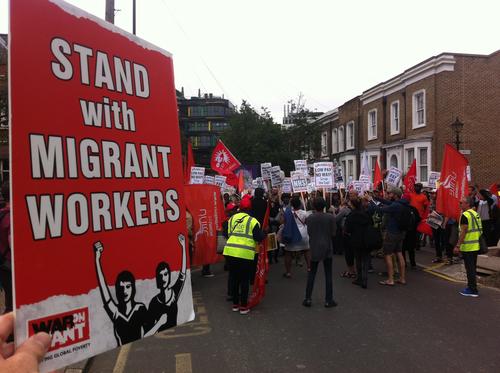 On 30 June, a young Sudanese man, Mustafa Dawood, died during an immigration raid on the car wash where he was working. This was a tragic reminder of how much needs to be done to guarantee the right to work for all. Mustafa was an asylum seeker. Asylum seekers are routinely denied the right to work, often leaving them in dire poverty. Ireland recently loosened its rules to allow some asylum seekers the ability to apply for the right to work. The UK should go further and give all asylum seekers the right to work.   
Without the right to work, migrant workers are often afraid to report exploitation to labour rights enforcement bodies* for fear they'll be arrested, detained, deported and treated as criminals. Work is an essential way of allowing people to provide for their own basic needs, and should never be crime. Labour rights enforcement bodies should enforce labour rights for all workers. A firewall between labour rights bodies* and immigration law enforcement is needed so all workers can report abuse without fear of arrest.
With Brexit, many more workers will be subject to UK immigration controls, as workers from the EU 27 will lose rights based upon EU rules on the free movement of labour. The current system is not fit for purpose and needs drastic change.
Whilst the consequences of Brexit become clearer, employers from many sectors are lobbying hard to ensure they can continue to recruit migrant workers, but their concern does not extend to workers' rights. An immigration system based solely on 'economic needs' risks restricting migrant workers' rights so they can be more easily exploited. This would entrench a two-tier workforce where different groups of workers have different sets of rights. Only by protecting equal social and labour rights for all workers can we prevent a race to the bottom that undermines the rights for everyone.
Despite the additional barriers faced, migrant and precarious workers are winning victories that show it's possible to challenge rising insecurity and low pay. Workers organised into trade unions are successfully tackling precarious work, outsourcing and privatisation: the real drivers of low pay and insecurity in the UK labour market. Despite facing stigmatisation by media that too often blame them for low pay and insecurity at work, they are standing up for themselves and winning. Their struggles tell an important story about how endemic low pay and insecurity can be overcome. This is why we must stand with migrant workers, and campaign to ensure all workers have their labour and social rights respected, regardless of immigration status. Join us.
*HMRC's National Minimum Wage enforcement team; Gangmasters and Labour Abuse Authority; Employment Agency Standards Inspectorate; Health and Safety Executive.
Owen Espley is Senior Economic Justice Campaigner at War on Want.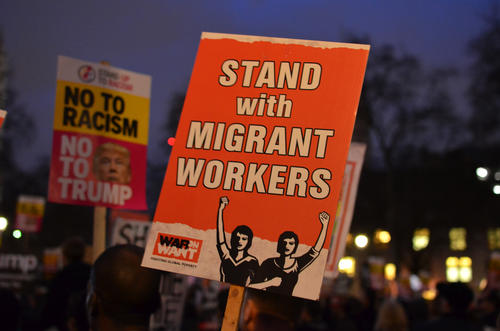 Join the conversation
"When we talk about how we tackle Islamophobia and fascism, we have to talk about how we make an anti-racist societ… https://t.co/yqImebF9z7
—
1 hour 39 min ago
McDonald's has a sexual harassment problem. But unionised workers are standing up to say #MeToo "McDonald's must re… https://t.co/ls52268SeM
—
4 hours 38 min ago