Top ten reasons to come Together Against Trump on 13 July and beyond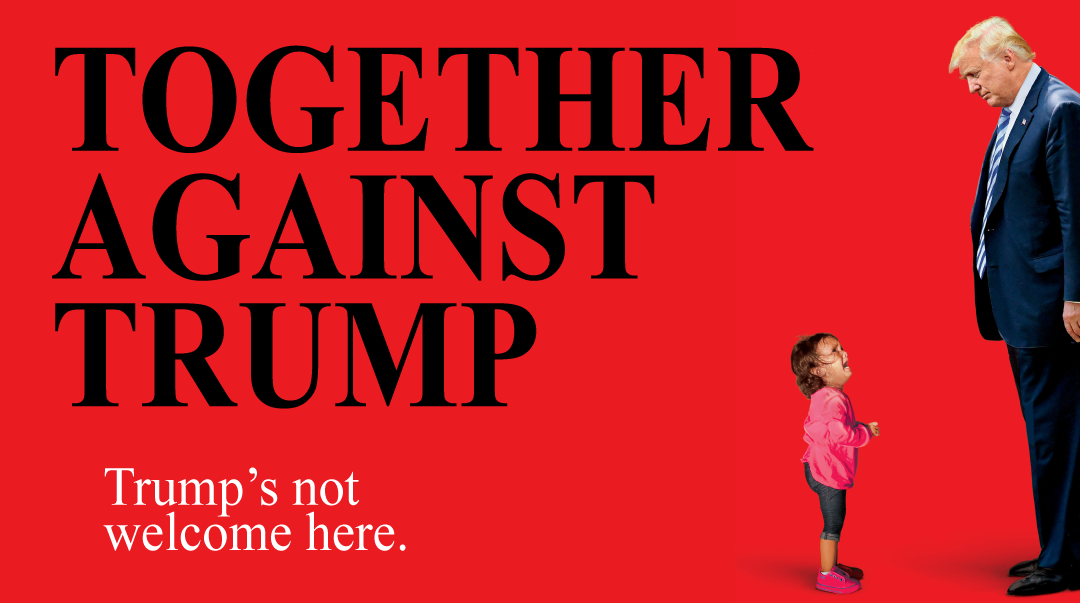 Top 10 reasons to stop Trump
Donald Trump's election to the Presidency of the USA triggered huge, spontaneous and diverse demonstrations because many feared that he was the personification of a dangerous and frightening resurgence of the far-right. Across Europe including in Hungary, Poland, Denmark, France, Austria, Italy and even here in the UK we have also witnessed an echo of the politics of bigotry and racism being normalised by politicians.
With Donald Trump heading to the UK, we came together to create a carnival of resistance and reject hate and bigotry. 250,000 people marched in London making it Britain's biggest weekday demonstration ever, and actions took place in more than 50 towns and cities nationwide.
The USA's so-called special relationship with Britain is an unequal one, pressuring the UK to follow where it leads. Instead, our special relationship must be with those in the USA who are on the frontline of defending human rights. 
Here are our top ten reasons to step out, step up and stop Trumpism in its tracks - something we need to keep doing after the visit is over. Trump may be gone, but Trumpist politics are still here, creating fertile ground for rising inequality and poverty, the division of communities and further attacks on human rights.
1. Human rights
Human rights are under attack in the USA, especially the rights of women, migrants, refugees and anyone who tries to hold the police accountable for abuse. On the international stage, the US quit the UN Human Rights Council, with Trump also claiming torture works and stating he wants to bring back waterboarding "and a hell of a lot worse".
Since 9/11, the UK - as the USA's junior intelligence partner - has been party to the so called 'War on Terror' and has been found to have been complicit in illegal rendition and torture. In the UK, many long-established rights are also under threat, from labour rights and social welfare to the Human Rights Act itself.
2. Attacks on Migrants and Refugees
In the USA, the 'war on migrants' has seen children caged and families separated with incredible violence, all for the crime of seeking safe haven and a dignified life. The US President insists "they're not people, they're animals."
The UK is also aggressively pushing an agenda of walls and fences, locking up people in immigration detention with no time limit and supporting policies that trap those forced to move in detention camps in countries like Turkey and Libya, where their human rights are systematically denied.
3. Women's Rights
In the USA women's rights are under attack and sexual violence is being normalised by the US President. While facing allegations of rape and sexual assault, Trump celebrates his misogyny and leads a systematic attack on reproductive rights.
In the UK less than one in 30 rape survivors is able to get justice in court and with many vital support services slashed, austerity cuts are hitting women hardest,. Women are now being turned away from shelters and onto the streets at a rate of 200 per day. Meanwhile, abortion law in Northern Ireland lags behind the rest of the UK, despite the Republic of Ireland enacting new legislation.
4. Corporate Power  
In the USA, big business is now at the centre of government and its leaders are ripping up social, labour and environmental protections. They have also rolled back financial regulations put in place to prevent another financial crisis caused by their speculative greed.
In the UK the revolving door between corporate lobbyists and government officials has resulted in policies that benefit big business through tax loopholes and secret tax havens at the expense of ordinary people. Even the money dedicated to helping impoverished communities in the global South is used to promote corporate interests abroad.
5. Racism
In the USA, Donald Trump openly makes racist remarks, routinely attacks communities of colour and has empowered white supremacist groups by refusing to condemn neo-Nazi violence and by mirroring many of their demands.
In the UK, Islamophobia has been so aggressively promoted by the mainstream media and politicians alike that extreme right wing groups are flourishing again. Racially motivated hate crime has soared following the Brexit referendum, which was mired in appeals to racism. The government's own anti-immigrant 'hostile environment' has increased racial profiling and resulted in the Windrush Scandal.
6. Climate Injustice
In the USA, Trump's planet wrecking policies have given the green light to dirty energy companies to extract even more polluting fossil fuels devastating the lives of   poor and black communities in the USA and across the world. The USA has also pulled out of the Paris Climate Agreement, refusing to do its fair share of effort to prevent catastrophic climate change.
In the UK, despite all the talk of tackling global warming, the government  continues to promote fracking and financing dirty energy that leaves the UK unable to meet its own meagre climate targets. Meanwhile, it continues to support UK banks and corporations to reap huge profits from exploiting fossil fuels around the world.
7. Poverty
In the USA today, more than one in eight Americans live in poverty, with half of those living in extreme poverty. Deep cuts in welfare have left millions without basic rights such as access to healthcare. $1.5 trillion in tax cuts have been handed to the rich.
In the UK after years of austerity, one in five people now live in poverty: that's 14 million people. Cuts have shredded our social safety net and hundreds of thousands of families have been forced back into 'Victorian-era' poverty, as a fall in real wages has produced the most sustained decline in our living standards since the 1870s.
8. Palestine
The US is Israel's main arms supplier, sending weapons that are routinely used to commit human rights violations. But under Trump the USA has gone further still, cutting $3 billion in aid for the education and health of Palestinian refugees. It is also blocking all attempts to investigate the killings of over 110 Palestinians, including children, medics and journalists, and the brutal repression of thousands of Palestinian protestors during the Great Return March.
The UK abstained from the UN Human Rights Council vote on launching an investigation into the killings. The UK also remains complicit in ongoing human rights violations as it refuses to stop arms sales to Israel, even though they breach its own human rights guidelines. UK banks and financial institutions also hold billions of pounds worth of shares in companies that sell weapons, military equipment and technology to Israel.
9. Trade
The USA has been the leading champion of a free-trade agenda of economic deregulation that puts corporate profit above human rights and allows rich countries to dominate and exploit poorer ones. Donald Trump's visit to the UK will focus on a trade agenda that pushes for even weaker regulations on rights, health and environmental protection.
The UK has been second behind the USA in promoting a free trade agenda that has helped impoverish much of the global South. It continues to champion secret trade deals which include corporate courts where big business can sue governments for decisions that threaten their profits. The UK Government refuses to rule out opening up our NHS and other public services for US corporations to profit from.
10. Imperialism
The US government has a long and brutal history of invading countries in the global South, deposing democratically elected governments and supporting dictators for its own political and economic interests. It continues to support undemocratic regimes such as Saudi Arabia, turning a blind eye to its human rights violations and actively supporting the bombing of Yemen, despite the humanitarian crisis.
The UK has a similar history of disastrous military interventions. Most recently it joined the USA in the War on Iraq, devastating the country and leaving up to a million civilians dead. The UK continues to roll out the red carpet for countries such as Saudi Arabia, Colombia, India and Turkey where human rights are violated on a daily basis.
March with us, Together Against Trump
By joining together in a Carnival of Resistance against his visit, we can show it's not just Trump we're stopping: it's the racism, misogyny and exploitation that he represents, which we will uproot from our streets.
Join us at the Carnival of Resistance.
SIGN UP AND SHARE ON FACEBOOK >
FIND DEMONSTRATIONS ACROSS THE UK >
Add your voice!
The Carnival of Resistance against Trump's UK visit is about all of us raising our voice. There are so many reasons to stop Trumpism in the UK – which one is closest to your heart? Will you speak out about it?
We want to hear from you, wherever and however you plan to take part. Record a 1 minute video and share it on Twitter with the hashtag #CarvnivalOfResistance.
Join the conversation
"People over profit!" Demand#JusticeForMarikana! Lonmin must be held accountable for the 35 workers massacred at it… https://t.co/H4Pl5nHYPJ
—
9 hours 13 min ago
Representatives of massacred workers & their families will protest #Lonmin's AGM on March 25, demanding… https://t.co/gv1g5JraFv
—
17 hours 12 min ago