Two things you can do right now to support Palestinian rights
8 December 2017 - 11:15am
Trump's announcement that the U.S. will "recognise" Jerusalem as Israel's capital is outrageous, but unfortunately not a surprise. It comes as a part of a package along with his misogynist, racist, xenophobic and Islamophobic statements and actions, not to mention his devastating policies targeting poor people and the planet.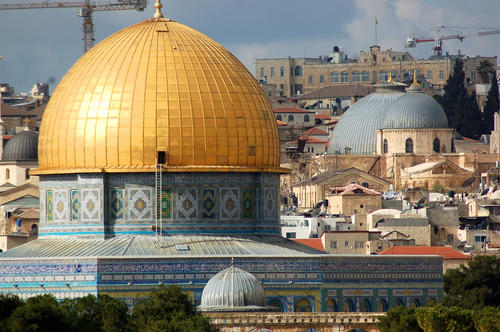 Photo: twiga_swala | CC 2.0
So it's no surprise that Palestinian rights are also expendable to Trump.
International law recognises that Jerusalem is an occupied city. Its Palestinian residents are subjected to systematic discrimination in an apartheid regime. Trump's announcement sends a message of approval for Israel's illegal annexation of Jerusalem and for the further displacement of Palestinians.
But this is not just about Trump, and it's not just about the U.S.
Israel's colonisation of Palestinian land long pre-dates Trump's tenure. And it is not just the U.S. that has lent Israel support for this destructive process. The UK government is also complicit, in particular through its arms trade with Israel, as are dozens of UK companies that profit from Israel's occupation and militarised repression of Palestinians.
In the face of such brutality and such hate, our response is to ramp up our solidarity with all those who are targeted by discrimination, apartheid and violence. We stand with the Palestinians of Jerusalem who will never give up their right to live in peace and with dignity in their beautiful city, and we stand with all the Palestinian people struggling for justice. And we commit to taking concrete action to translate our solidarity into effective campaigns for human rights and justice for all.
Here's what you can do now to support Palestinian rights:
1. Contact your MP and ask them to sign this Early Day Motion condemning Trump's decision.
2. Take action: get involved in our Stop Arming Israel campaign to end UK complicity in Israel's crimes against the Palestinian people.
Join the conversation
8. Palestinians have never stopped demanding their full political, civil, and human rights. Here in the UK, we have… https://t.co/9JdFMSA5kV
—
21 hours 13 min ago
7. Israel's apartheid rule is possible because of support from states and companies worldwide, including the UK – w… https://t.co/PnvJbxpnwx
—
21 hours 24 min ago
5. Palestinians in Gaza under full military blockade are still impacted by land grabs of the past: most are refugee… https://t.co/nOFpnvOBe7
—
21 hours 24 min ago