UK government must end its material support for Israel's unlawful violence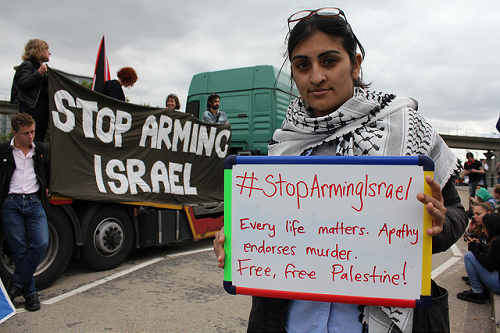 The U.S. government moves its embassy in Israel to Jerusalem today, lending support to Israel's illegal annexation of the occupied city by recognising it as Israel's capital. The move comes at an incendiary time. Over the past seven weeks, Israeli security forces have opened fire on unarmed Palestinian protesters in the Gaza Strip, killing at least 55 and injuring thousands. War on Want calls on the UK government to stand up for Palestinian rights in accordance with its obligations under international law and to implement an immediate two-way arms embargo on Israel.
International law and consensus recognise Jerusalem as a city under military occupation. Its Palestinian residents are subjected to systematic discrimination in an apartheid regime. The U.S. embassy move sends a message of approval for Israel's illegal annexation of Jerusalem and for the further displacement of Palestinians.
Ryvka Barnard, War on Want's senior campaigner on militarism and security, says: "Israel's colonisation of Palestinian land long pre-dates Trump's tenure and it is not just the U.S. that has lent Israel support for this destructive and illegal process. The UK government is also complicit, in particular through its arms trade with Israel.
"The killing today of at least 28 unarmed Palestinians, in addition to the 40 killed and thousands injured over the last few weeks, is just one more episode in a long history violating the human rights of the Palestinian people. This is not an intractable conflict between two equal sides, but an illegal occupation by a powerful military state, armed and supported by the West, against an impoverished, stateless and displaced people.
"Since 2014, the UK government has approved export licences for over £490 million worth of arms to Israel, despite knowing that these weapons could be used for internal repression and to commit human rights violations. Just last year, the UK government approved exports to Israel including millions of pounds worth of repressive technologies, such as sniper rifles, assault rifles, exploding grenade ammunition, combat helicopters, surveillance and armed drones. These are precisely the types of weapons being used by Israeli security forces right now to kill and injure unarmed Palestinian protesters.
MPs across the political spectrum, as well as international human rights groups like Amnesty International have called for at least a review, if not a complete suspension of UK arms exports to Israel. We call on the UK government to stop lending material support for Israel's unlawful violence and systematic abuse of Palestinian rights, by ending its arms trade with Israel."
Ryvka is available for interviews and comment on request.
Press Contacts
Marienna Pope-Weidemann, Press & Communications Officer, War on Want
media@waronwant.org 020 7324 5060 / 07380 194 788
Ryvka Barnard, Senior Campaigner – Militarism & Security, War on Want
rbarnard@waronwant.org
 
Join the conversation
Aminatou Haidar, one of African's most prominent human rights activists speaking tonight about the ongoing Western… https://t.co/gR2jSHKBZ5
—
11 hours 48 min ago