War on Want was proud to join the TUC march on 12 May to demand a new deal for workers
Last Saturday tens of thousands of people joined the TUC to march through London demanding a new deal for working people.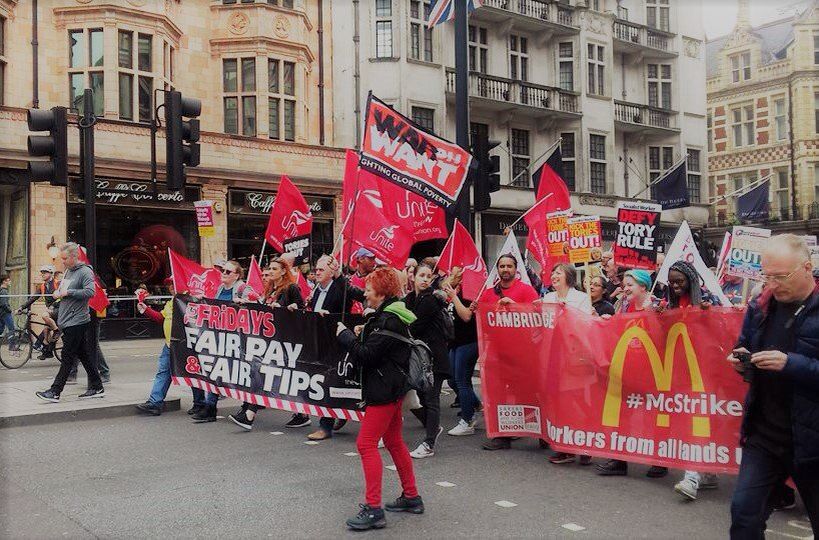 After the financial crash of 2008 the government chose to make ordinary people pick up the bill for the recklessness and greed of the financial sector, War on Want stood shoulder to shoulder in solidarity with all those who joined the union-led rally demanding  a 'future that works'. Since then, what we have seen is a future that works only for the few, not the many.
At the time, we asked people from the trade unions to put down in words why they were marching. War on Want patron Sally Hunt, General Secretary of UCU said: that she would be there because 'poverty happens when we stay silent'. In 2018, at a time of great political and economic insecurity, those words perhaps ring even more true today. We all must break that silence.
Now, despite low unemployment, we still have rising levels of poverty. This is hardly surprising, given that by the end of 2017 the number of people on a zero-hour contract as their main job was creeping towards one million. If we add to that those who find themselves in agency work and bogus self-employment, the figure is closer to three million. Meanwhile, real wages are still lower than they were before the crash in 2008.
With apparently no sense of irony, this weekend also saw the publication of the Sunday Times Rich List. At a time when,  'hardworking public servants haven't had a proper pay rise for eight years, our NHS is at breaking point, and years of cuts have led to poverty, homelessness and despair for too many' (TUC), the 2018 list revealed that the richest 1,000 people and families hold a record total wealth of £658 billion - up 14 per cent on last year.
We support the TUC demands to crack down on tax dodging; having campaigned for more than three years with trade unions across Europe to bring an end to tax avoidance. We know that reducing tax avoidance, evasion and debt could significantly increase government income and undermine the argument that there is no alternative to austerity. Yet despite some reduction in his fortunes, serial tax dodger Sir Philip Green is still on the Rich List.
War on Want wants to see an end to zero hour contracts. Mostly, it's young workers, migrant workers and women who bear the brunt of abuse and exploitation. We stand with them and support their fight to bring an end to the culture of precarious work.
We've collaborated with the unions to support workers challenging precarious contracts and poor working conditions, like Unite Community at Sports Direct and GMB at Asos. We have supported the Ritzy workers and are standing behind the TGI Friday workers in their campaign with Unite for fair tips. We have joined forces with the Bakers' Union and Fast Food Rights to support the McStrikers' fight for £10 an hour and the right to join a union. Last year, McDonald's was shaken by the resolve of young workers who walked out at two stores. On 1 May 2018, the strike spread to five stores including Watford and Manchester.
This incredible energy shows that despite a climate of intimidation, workers are prepared to organise for their rights. While those in power would have us believe that it's 'back to the drawing board' for organised labour, that couldn't be further from the truth. While the' factory gate' ways of traditional union recruitment might be different now, unions are getting out there and recruiting new members - not just in the workplace, but in the community too. Trade unions recognise that they need to embrace digital technology, making them fit for the future and able to meet the expectations of this new union membership.
For over sixty years, War on Want has fought for workers' rights in partnership with trade unions and associations of working people across the world. We have seen first-hand that organising and collective bargaining means empowerment for workers. We know that a strong union movement is the best response to the rise in insecure work, zero hour contracts and bogus self-employment. And that is why we marched on 12 May for a new deal for workers.
Join the conversation
Aminatou Haidar, one of African's most prominent human rights activists speaking tonight about the ongoing Western… https://t.co/gR2jSHKBZ5
—
11 hours 14 min ago