Water, Land, Life: celebrating Cajamarca's true treasures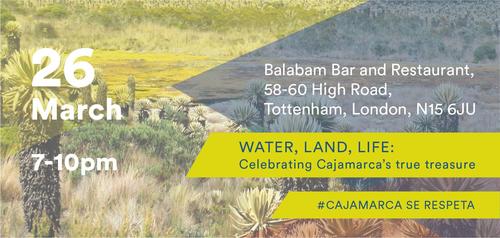 Join inspiring visitors from Colombia to celebrate the courage and creativity of Cajamarca – the Colombian municipality that stopped a mega mine and is pioneering alternatives to extractivism – with a night of storytelling, music and food!
After a campaign of over 10 years, on 26 March 2017 the people of Cajamarca voted with a 98% majority to say NO to AngloGold Ashanti's 'La Colosa' gold mine.
We will hear from:
Mariana Gomez Soto, Colombian environmental and human rights campaigner deeply involved in organising successful popular consultations in Colombia, and Latin America Regional Coordinator for the Yes to Life, No to Minign Network.
Ricardo de la Pava, ethno-botanical expert and coordinator of Crepes & Waffles Sustainability Team, working alongside peasant farmers in Cajamarca and across Colombia to strengthen agroecological practices.
Felipe Macia, Director of Sustainability at Crepes & Waffles, one of Colombia's biggest family restaurant businesses, which is starting new relationships with food growers in the region.
Featuring music from Afro-Andean-Latin-Funk quartet, Lokandes, talks from our visitors and other and plenty of time to relax and discuss, this event will be a chance to celebrate and strengthen bonds of Colombia-UK solidarity one year on from Cajamarca's landmark victory.
26 March at 19:00–22:00, Balabamm, 58-60 High Road, tottenham, N15 6JU London, United Kingdom
Sign up to the event on Facebook >
This event is being organised by The Gaia Foundation, Comite Ambiental en Defensa de la Vida, Colombia Solidarity Campaign, London Mining Network, Yes to Life, No to Mining, War on Want and ABColombia, with support from Sahara.