A Week Volunteering in the Office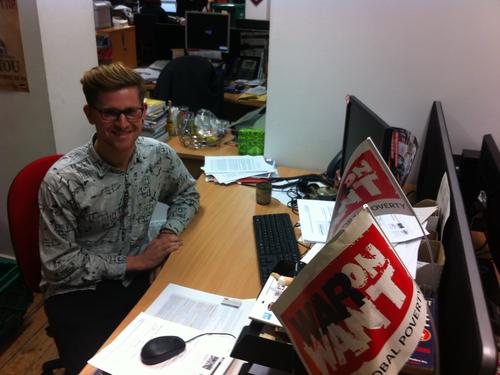 Tom Simpson is a 2nd year undergraduate at the University of Manchester, studying Management with Sustainability. On his university break, he volunteered in the War on Want office, helping Owen Espley, Senior Economic Justice Campaigner, with the Stand With Migrant Workers campaign. His work focused on preparations for One Day Without Us - a national day of action to celebrate the contribution of migrants called for 20 February 2017.
Reflecting on his time at War on Want, Tom said:
"War on Want has provided me with an invaluable insight into the world of campaigning. Through helping Owen with the Migrant Workers campaign I've been able to learn how organisations like this plan, execute and review many aspects of their work. Everyone in the office has been extremely friendly and made me feel like a part of team. They allowed me to engage in the discussions around their projects while at the same time educating me on the practical solutions to the issues at hand. I've been able to attend and take part in meetings, both internal and external, which has given me the confidence to apply my ideas to real-world situations. Hopefully this is the just the beginning! Thanks for all the support, Tom."
Join the conversation
bombs falling again on people of #Gaza already facing a lack of clean water, electricity, adequate health & extreme… https://t.co/pRfh86z8ri
—
2 hours 41 min ago
Another step forward in a long but necessary struggle to hold big business accountable for their activities & actio… https://t.co/5HHZ3TWJO6
—
13 hours 58 min ago