The Women of Marikana Rise
The 16th August 2017 marks the 5th anniversary of the Marikana mining massacre. On that day, 34 striking miners were shot down by the South Africa police. To date, despite investigations and hearing of evidence at the Farlam Commission, no one has been held accounatble for the deaths of the miners and families are yet to receive compensation. 
War on Want, Marikana Miners Solidarity Campaign, the Pan-Afrikan Society Community Forum, London Mining Network and Uhuru productions will be hosting Primrose Sonti and Thumeka Magwangqana from Sikhala Sonke - a community movement set up by the women of Marikana - from the 12 - 21 August 2017. 
Primrose and Thumeka will be in the UK to share the story of their struggle to hold British mining company, Lonmin, to account for their human and labour rights abuses. A documentary, Strike a Rock, has been produced which traces the fight against Lonmin, the police and the government as told through the friendship between Primrose and Thumeka. This is a story of sisterhood - women leading the struggle, supporting each other and taking on capitalist patriarchy in South Africa. Primrose and Thumeka are bringing this fight to the UK and right to the door of Lonmin.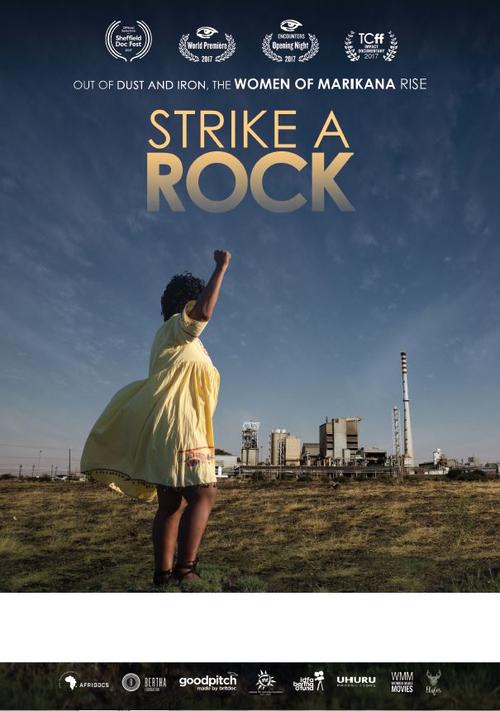 Join us for this fight and show your solidarity by attending the following events and actions.
Public film screenings:
Sheffield, 6pm on the 14 August 2017: Showroom & Workstation, 15 Paternoster Row, Sheffield, S1 2BX. Book your ticket here 
London, 6pm on the 15 August 2017 (The Discus Room, UNITE The Union, 128 Theobald Road,London, WC1X 8TN. Book your ticket here 
War on Want Film Club screening, 6:30pm on the 17 August 2017: 44-48 Shepherdess Walk, London, N1 7JP 
Brixton, 7pm on the 18 August 2017: 336 Brixton Rd, London SW9 7AA (organised by PACSF and Marikana Miners Solidarity Campaign) 
Primrose, Thumeka and film maker, Aliki Saragas, will be in attendance at all the screenings and there will be time after the screenings for discussions. 
Protest actions, organised by the PACSF and Marikana Miners Solidarity Campaign will be held on the 16 August 2017, to commemorate the anniversary of the Marikana mining massacre.
1 - 2pm outside Lonmin's headquarters, Connaught House, 1-3 Mount Street, W1K 3N
4:30 - 7pm outside the South African High Commission, South Africa House, Trafalgar Square, London WC2N 5DP
Please join us to show your solidarity and support the women of Sikhala Sonke.