Worker exploitation behind Spice Girls t-shirts unsurprising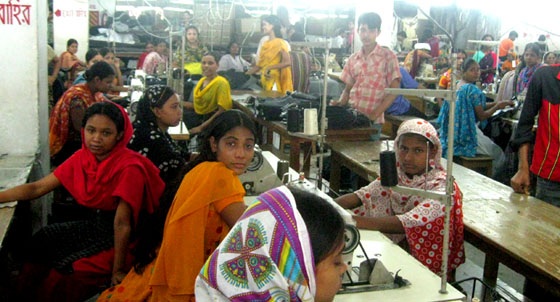 Responding to reports of worker exploitation behind the production of Comic Relief and Spice Girls t-shirts, War on Want's Executive Director, Asad Rehman, said:
"Unfortunately, it is unsurprising that research has uncovered extreme low-pay and inhumane conditions for women working in the supply chain of t-shirts destined for UK charity fundraising. That these t-shirts carry a gender justice slogan is shockingly ironic.
Poverty pay, 16 hour days, harassment and abuse is the reality for millions of women garment workers. From Bangladesh to Cambodia, China to Sri Lanka, they are fighting for their basic rights to a fair living wage and better conditions at work, paying a high price to produce cheap clothes for the UK high street.
Only last week tens of thousands of Bangladeshi garment workers took strike action demanding an increase in the minimum wage, up to the amount needed to survive. The strike was met with violent repression. Whilst the Employers Federation is attacking even the Bangladesh Safety Accord, agreed between the garment sector, multi-national retailers, and the Bangladesh government, after the horror of the Rana Plaza disaster of 2013, when in 90 seconds, a garment factory collapsed killing 1,134 workers.
This is a global story of corporations exploiting every angle they can to squeeze as much profit as they can, treating their workers as commodities and hiding behind the complex web of lengthy supply chains. Yet it is women garment workers who are at the forefront of the struggle for corporate accountability and human rights, risking their lives and livelihoods to expose the conditions they are working in. The most tangible improvements in factory conditions have been fought for and won by workers themselves.
With countries such as Bangladesh dependent on the 80% of their export earnings from the garment industry alone, there is a race to the bottom as supply chains seek to prevent any cuts to their profit margins by shifting production to countries with even less regulation.
Organisations like trade unions are crucial in the work they do to organise, support and empower workers like those in garment factories to fight for their rights. But more effective and legally binding measures to hold companies to account are also long overdue. As it is, far too much power still sits in the hands of those company owners who need to urgently end the trail of human rights abuses against the workers who make their clothes."
Asad Rehman is available for interview on request. Contact War on Want media at media@waronwant.org or 07983 550 728.