Resource
Working on the Margins - Informal Economy Workers in Africa Briefing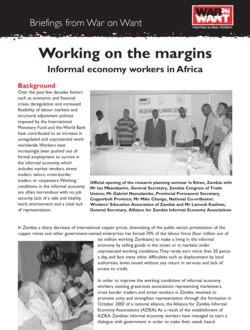 Outline of the research project launched by War on Want and its Zambian partner organisations. The project aims to promote effective participation of associations in policy formulation processes.

workers_margins_briefing.pdf
Join the conversation
"A person is a person is a person anywhere. No person can be illegal. Only acts can be illegal." - @firozem #TWT2018 #WoWTWT
—
11 min 58 sec ago
"it is in the profane zones that the struggles will come..."
—
12 min 46 sec ago