Reaction: Fortress EU is creating conditions for exploitation of migrant workers
Responding to the release of Verisk Maplecroft Modern Slavery Index that exposes modern slavery increasing across the EU, Owen Espley, Labour Rights campaigner at War on Want said:
"The rise in modern slavery and extreme exploitation of migrants across the EU is an inevitable consequence of "Fortress Europe". Irregular workers are often afraid to approach the authorities to complain about exploitation through fear they'll be detained or deported, and treated as criminals.
"Harsh immigration controls, complex supply chains, weak labour rights enforcement and the rise of precarious contracts across the EU are creating conditions where the exploitation of migrant workers is inevitable. This is creating a race to the bottom that will harm everyone.  
"Labour rights enforcement must be separated from immigration control. Politicians must defend labour rights for everyone whatever their immigration status."
Thulsi Narayanasamy, Senior Programmes Officer (Asia and the Pacific) added:
"For much of the world the line between slavery and employment has long been blurred. The modern slavery index has helped highlight the most extreme forms of slavery – child labour, bonded labour, forced servitude – but it would be a mistake for us to take our eyes off the daily exploitation within international supply chains which continues to rely on a fundamentally unjust international division of labour.
"Farmers who grow our food, garment workers who make our clothes, are in a critical situation every day, of working in difficult or dangerous conditions and are not earning enough to feed themselves. If garment workers – overwhelmingly women and people of colour – are struggling with malnutrition while working 13 hour days 7 days a week for Zara or GAP, we must acknowledge that the problem is systemic. Change cannot come until those who drive and disproportionately benefit from the system – big business – can be held accountable for their complicity in labour exploitation."
Notes to editors:
For more information and interviews contact Marienna Pope-Weidemann on +44 7983 550 728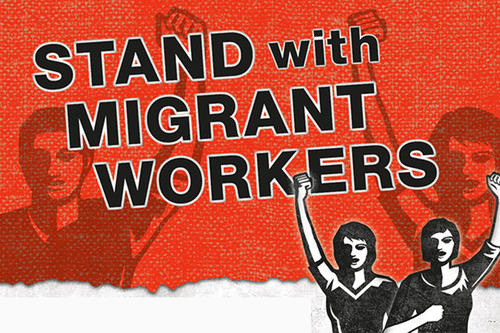 Join the conversation
Aminatou Haidar, one of African's most prominent human rights activists speaking tonight about the ongoing Western… https://t.co/gR2jSHKBZ5
—
11 hours 19 min ago