#FastFoodGlobal - The #McStrike & Day of Action Against McDonalds
EVENT DATE:     All day, Monday 4 September 2017
LOCATION:        Global
WHAT:                 Day of Action
**Breaking: the Bakers' Union (BFAWU) has confirmed that UK McDonalds workers in Cambridge and Crayford (SE London) are going to strike on Monday 4 September**  
Read ten ways you can show 'McSolidarity' here.
The #McStrike Is Coming!
This August, fast food workers are making history by balloting to strike at McDonalds, a first in UK history. They are demanding an end to precarious contracts, £10 per hour and respect for their right to join a union. The workers want an end to bullying made possible by precarious contracts which mean they live under constant fear of losing future work.  They are standing up for dignity and respect at work.
#FastFoodGlobal
On Monday 4 September, fast food workers across the world will be taking action. The #FastFoodGlobal campaign, spearheaded by the 'US Fight for $15' strike movement, has sparked inspiration all around the world. Hundreds of thousands of fast food and other low waged workers have struck back against exploitation, taking on the plight of poverty pay and lack of respect at work.
Shen Batmaz, a McDonald's worker at the Crayford (Greater London) store said:
 
"In spite of being a global giant and a household name, the conditions McDonald's
workers are subjected to across the world are simply not up to scratch. This strike in the
UK is part of a global movement advocating for fair salaries and decent working
conditions. McDonald's should listen to all its employees around the world, and take
immediate action."
The #FastFoodGlobal campaign has been spearheaded by the US Fight for $15 movement. Fight for 15 has already won pay increases for 22 million people across the US – including 10 million who are on their way to $15/hr – all because workers came together and acted like a union.
Owen Espley, Labour rights campaigner, at War on Want said:
"For too long, workers in the fast food industry have faced exploitation, while the likes of McDonald's dodge their taxes and profit from the misery of working people. As McDonald's siphons off its profits to tax havens, its workers are paid poverty wages and forced to tolerate the uncertainty of zero-hour contracts.
It's time to put workers' rights on the menu at McDonald's."
Show your solidarity with McDonalds Workers on Monday 4 September
Find out if there's an action planned near you here:
https://fastfoodrights.wordpress.com/2017/08/21/its-on-get-behind-the-4-...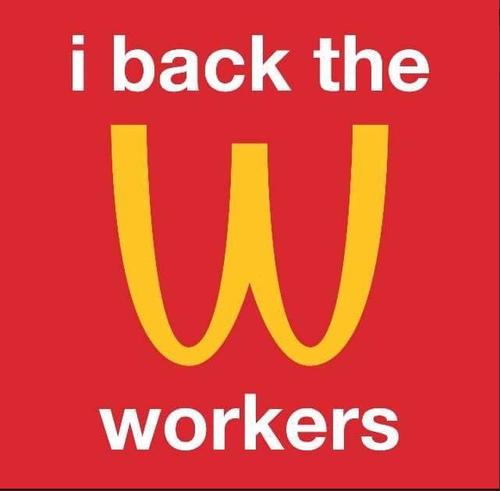 Join the conversation
As we mark 53 years of Israel's occupation, stand against the ongoing dispossession of the Palestinian people. Tell… https://t.co/bJ5wAC22q4
—
4 hours 55 min ago