Two Days of Events: Resistance and Social Justice Struggles in the Maghreb
27 September 2017 - 1:00pm
FIRST EVENT: Friday 29th September. 18:30-20:00
WHAT: Panel discussion with activists from the Maghreb
TITLE: The Maghreb - A Boiling Site of Resistance to Neoliberalism
LOCATION: Khalili Lecture Theatre, SOAS. London, WC1H 0XG
SECOND EVENT: Saturday 30th September. 15:00-19:00
WHAT: Two documentary screenings + Q&A with directors
TITLE: Struggles for Land and Food Sovereignty in Tunisia and Morocco. Screening of "Couscous: Seeds of Dignity" and "Landless Moroccans".
LOCATION: Rich Mix, 35-47 Bethnal Green Rd, London. E1 6LA (Venue 2)
Get your free tickets for the screenings here: https://www.eventbrite.com/e/two-documentary-screenings-qa-couscous-and-landless-moroccans-tickets-37683766159
Please see more details below.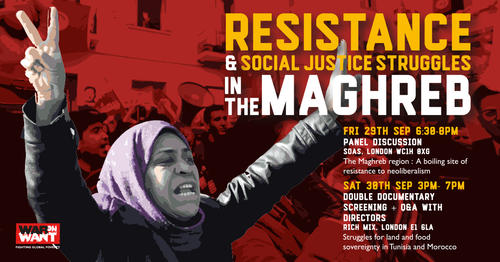 Details of Events:
Event 1
PANEL DISCUSSION : THE MAGHREB - A BOILING SITE OF RESISTANCE TO NEOLIBERALISM
Date: Friday 29th September, 18:30-20:00.
Location: SOAS, London. WC1H 0XG. (Khalili Lecture Theatre)
More than six years ago, the Arab uprisings ignited historic upheavals in North Africa and West Asia. These momentous events opened up new horizons for people to express their discontent and demand radical change, forcing almost every government in the region to concede on certain issues at the political and economic levels.
Despite the setbacks, the revolutionary fervour is still alive in the Maghreb region and the yearning for transformative change and justice can be felt in the struggles and resistance of its marginalised people. The demands of the 2011 uprisings, demands of dignity, bread, social justice, freedom and national sovereignty are still relevant as ever.
In Tunisia: social movements are still resisting the neoliberal assault on their revolution, reiterating their demands for a just redistribution of wealth. Recently, Tunisians took to the street to protest against the reconciliation law that is planning to whitewash corruption and embezzlement under Ben Ali.
In Morocco: on October 2016, Mohcine Fikri, a fishmonger from the northern region of Morocco was crushed in a garbage truck while trying to retrieve his confiscated merchandise. Since then, the Rif has witnessed a protracted mass struggle demanding social justice, local development and accountability. 
In the last few years, Algeria has seen big protests of the unemployed movement in the Sahara and an anti-fracking uprising in the South demanding justice, employment and the protection of their resources including water.
However, these struggles and demands come up against the interests of domestic neoliberal elites and big capital, the hegemony of International Financial Institutions (IFIs), as well as the dominance of empire, all intent on putting the brakes on the potential radicalisation of demands from below and thus maintain an oppressive status quo. 
To discuss all of this, activists from Tunisia, Algeria and Morocco will be present with us to offer their insight and analysis:
Soraya El Kahlaoui: Soraya is an academic and activist. She is also the coordinator of the committee in Solidarity with Hirak political prisoners in Casablanca. 
Chafik Ben Rouine: President and co-founder of the Tunisian Observatory of Economy (TOE), an organisation that works around economic justice, the role of IFIs as well as sovereignty on natural resources.
Hamza Hamouchene: co-founder of Algeria Solidarity Campaign (ASC) and Senior Programme Officer - North Africa and West Asia at War on Want.
Event 2
Screening of two documentaries around struggles for land and food sovereignty in Tunisia and Morocco + Q&A with Directors
Date: Saturday 30th September. 15:00-19:00. 
Location: Rich Mix, 35-47 Bethnal Green Rd, London. E1 6LA (Venue 2)
Get your free tickets for the screenings here: https://www.eventbrite.com/e/two-documentary-screenings-qa-couscous-and-landless-moroccans-tickets-37683766159
The screenings will be followed by a Q&A with the directors: Soraya El Kahlaoui and Habib Ayeb.
15:00 - Introduction
15:10 - Screening of "Landless Moroccans"
16:20 - Coffee/Tea Break
16:45 - Screening of "Couscous: Seeds of Dignity"
17:45 - Q&A with Directors
"Landless Moroccans": A powerful documentary by Soraya El Kahlaoui about the resistance of Douar Ouled Dlim's residents to their evictions from their homes and land that are situated at the heart of a chic neighbourhood in Rabat. Their struggle against the land grab and the greed of real-estate developers continues today.
Trailer: https://www.youtube.com/watch?v=_BeWIy5qEOo
"Couscous: Seeds of Dignity": Almost self-sufficient in grains until the beginning of the 20th century, Tunisia now imports more than half of its food needs as dependency increases from one year to the next. Habib Ayeb's documentary focuses on the conditions of cereal and couscous production and demonstrates how the food question is in fact at the heart of human dignity and food sovereignty.
Trailer: https://vimeo.com/219816447
Directors' Bios
Soraya El Kahlaoui is currently a doctoral student in sociology at l'Ecole des Hautes Etudes en Sciences Sociales' in Paris. her doctoral research aims to analyze the forms of appropriation of public space within the framework of the democratization process that has emerged in Morocco since 2011. She is also an activist and has been coordinating solidarity campaigns with prisoners of the Hirak movements in the Rif, Northern Morocco.
Dr Habib Ayeb: born in Tunisia, Habib is a social geographer, activist and filmmaker. He is also a researcher and Associate Professor at the University of Paris 8 in Saint Denis (France). His domains of research are: competition over resources in rural and agricultural areas; poverty and marginalization dynamics and processes; and food sovereignty. He also made other documentaries such as "Gabes Labess" in 2014.
Join the conversation
As we mark 53 years of Israel's occupation, stand against the ongoing dispossession of the Palestinian people. Tell… https://t.co/bJ5wAC22q4
—
4 hours 34 min ago