Buenaventura after the Civic Strike: What Next in the Resistance?
20 September 2017 - 12:15pm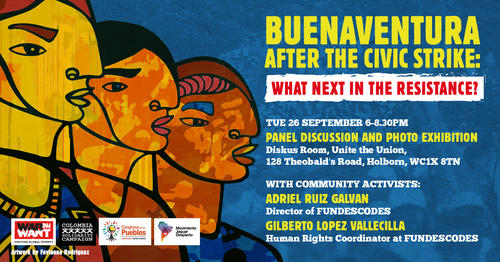 Earlier this year, historic mobilisations led by Afro-Colombians and indigenous communities swept the ancestral river city of Buenaventura for three weeks. They brought the city to a standstill and forced the government to sign an agreement on June 6th, which promises to address centuries of state neglect and structural racism.
Join us for a panel discussion to hear directly from Adriel Ruiz Galvan and Gilberto Lopez Vallecilla, two frontline community activists who were at the heart of the mobilisations and have travelled to Europe to raise awareness about the ongoing human rights abuses and the UK and Europe's 'Free-Trade' connection to the city's violence.
You can also join our visitors at the following events: 
1) Ayotzinapa 3 Year Anniversary: Stop Disappearances in Mexico (hosted by London Mexico Solidarity)
Date and Time: Tuesday 26th September 2017, 5.30-7pm
Place: Mexican Embassy in London, 16 St. George Street, W1S 1FD
Before our event at Unite the Union, we will be at the Mexican Embassy in London with London Mexico Solidarity to stand in solidarity with the families and friends of the 43 disappeared students of Ayotzinapa, as they continue to search tirelessly for the truth, for their loved ones and for justice. We will never forget and we will not stop until we know where the 43 are. 
2) Is Colombia now a post-conflict society? The case of Buenaventura (hosted by Children Change Colombia)
Date and Time: Wednesday 27th September 2017, 6.30-8pm 
Place: Development House, 56-64 Leonard St, London EC2A 4LT
This discussion will focus on Colombia's transition to a 'post-conflict' society after the signing of the Peace Accords with the FARC last year, while still experiencing ongoing conflict with the ELN guerrilla group and other illegal armed groups, including those linked to former paramilitaries.This will be a great chance to learn more about what Fundescodes is doing to enable young people to make their voices heard in the post-accord process, to resist the violence that has permeated their neighbourhoods and to work with community leaders to build communities that are safer for everyone.
BUENAVENTURA:
Buenaventura – a city whose people are predominantly of African descent - is Colombia's most important port city, where 70% of the country's imports and exports pass through. Yet, it is a city with some of the lowest and most shocking social standards in the whole country.
The city's afro-descendant and indigenous populations, who have been placed at the bottom of every imaginable pile, have had to face violent displacement and a series of concerted attacks designed to drive them from their homes to make way for port expansions; tourist boulevards; resource-storage facilities – capitalist development in the context of a drug-war fuelled by the country's armed conflict, this is neo-colonialism in practice.
War on Want and our partners NOMADESC and PCN have closely followed the human rights situation in Buenaventura and we've frequently denounced abuses, threats and heavy militarisation from a range of different actors. We monitored the strike closely and urged authorities, including the Colombian embassy in the UK, to respect protestors rights and listen to their demands. 
----
FUNDESCODES is a community-based organisation founded in 2007. It works to create safer communities, where children and young people are protected from threats such as forced recruitment, violence and discrimination. It does this through community mobilisation and the rebuilding of a protective community, proven to be an effective way to reduce violence in Buenaventura.
Our thanks to United Migrant Workers Education Project (UMWEP) and to Unite the Union for their support with the venue.
Join the conversation
Aminatou Haidar, one of African's most prominent human rights activists speaking tonight about the ongoing Western… https://t.co/gR2jSHKBZ5
—
12 hours 27 min ago