Precarious Labour is on the March
27 September 2017 - 3:30pm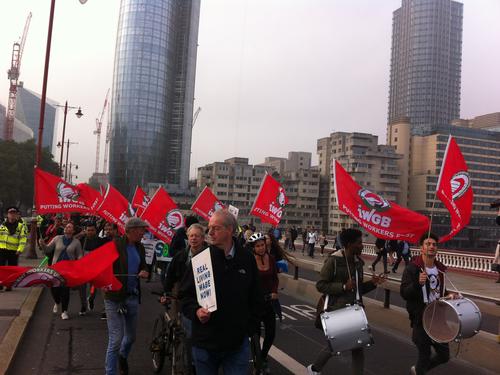 Today, Wednesday 27 September, War on Want joined precarious workers to march together with workers from Deliveroo, Uber, McStrikers,  precarious University teaching staff, Picture House staff, BA Mixed Fleet crew and many others.
This was the first ever demonstration against precarious contracts in the UK. The lively march organised by the Independent Workers' Union of Great Britain (IWGB) went from TFL (which recently revoked Uber's license to operate) in Southwark;  via the Employment Appeals Tribunal where Uber's appeal against the case which granted worker status to its drivers is being heard;  to the University of London where outsourced staff are striking to be brought in-house and to have equal terms and conditions.
Recent victories of cleaners at LSE, organised in the United Voices of the World Union, have recently been brought in-house; cleaners and security guards at SOAS University have also been brought in-house; together with workers at McDonald's who recently went on strike for the first time in the UK; and migrant workers at Barts' Hospital Trust (East London) who are seeking an increase of only 30p/hour from their employer Serco; showed how precarious and migrant workers are at the front and centre of the fight against the UK's low pay economy, where respect is in short supply.
Owen Espley, Labour Rights campaigner said:
"Today migrant and precarious workers are showing immense bravery in taking on largely multinational companies to say that every worker deserves equality, security, a living wage and basic rights at work. They are at the centre of the fight back against precarious contracts and low pay"
"Precarious contracts and outsourcing are both a cause and an effect of discrimination in the UK's labour market. They are an effect of discrimination because Black, migrant and women workers are more likely to be outsourced and put on precarious contracts. They are a cause because when you are on a precarious contract the constant threat of losing future work makes challenging your conditions even harder. The racial and gendered workplace segregation it creates provides the perfect conditions for severe bullying and undermining the respect at work every worker deserves. Every worker has the right to their basic rights at work to be respected."
More info on the demonstration here: http://www.waronwant.org/media/precarious-labour-strikes-back
Join the conversation
Aminatou Haidar, one of African's most prominent human rights activists speaking tonight about the ongoing Western… https://t.co/gR2jSHKBZ5
—
11 hours 41 min ago