Living on the margins: protecting migrant workers' rights in a precarious world (with War on Want & Jean Lambert MEP)
EVENT DATE: 16:45 -18:00, Saturday 07 October 2017
LOCATION: Queens Suite 2, Harrogate Convention Centre,
WHAT: Green Party Fringe Event 
NB As this event is part of the Green Party Conference, you will need a ticket to the conference to attend. 
With Brexit, the call to 'control our borders' risks being used to not only restrict freedom of movement but to undermine the rights of migrant workers. The rise of precarious work has coincided with an increase of migrant workers in the labour force. Migrant workers have often been wrongly blamed for deteriorating working conditions brought about by flexible working, outsourcing and privatisation. In reality, migrant workers have suffered its worst consequences. With the Governments Taylor Review failing to mark a shift away from a low pay insecure economy, and migrant workers' rights under threat, how do we protect freedom of movement and the rights of migrant workers.
Supported by War on Want, Jean Lambert MEP, Greens of Colour, Green Party Trade Union Group.
Speakers:
Shaka Lish  - Greens of Colour  (Chair)
Lauren McCourt McDonald's Worker and Bakers Food and Allied Workers Union (BFAWU)
Jean Lambert MEP
Owen Espley – War on Want
·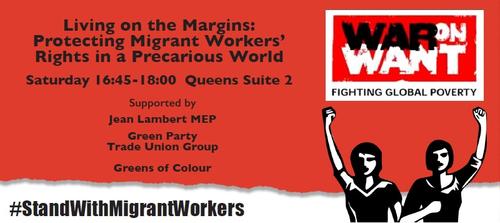 Join the conversation
Aminatou Haidar, one of African's most prominent human rights activists speaking tonight about the ongoing Western… https://t.co/gR2jSHKBZ5
—
12 hours 19 min ago