7 October 2017 World Day for Decent Work
The World Day for Decent Work (WDDW) celebrated its 10th anniversary on 7 October. This year, the global focus was on the world struggle for a living minimum wage and a pay rise for all workers.
A global workplace where workers are exploited and can be paid less than even a minimum wage, has led to a culture of precarious work where zero hours contracts are the norm. When workers have precarious contracts and face the threat of losing their job, abuse is difficult to challenge. It is no coincidence that the workers facing these conditions are often migrant and women workers. War on Want is campaigning to stand with migrant workers and end precarious contracts.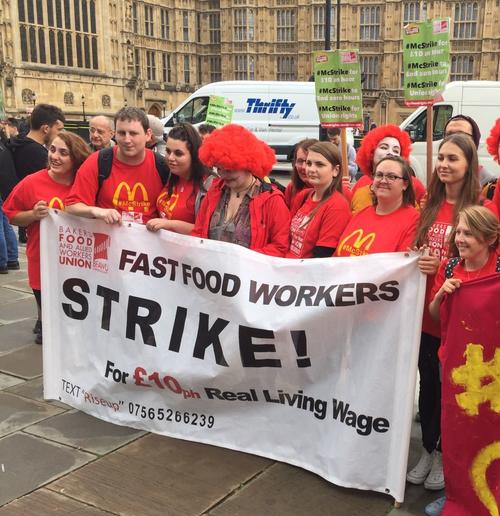 As the McDonald's workers have shown, going on strike for the first time ever, the best protection for workers is the protection of a trade union. However, precarious contracts allow employers to fire any worker who tries to organise into a trade union. Despite these pressures unions are continuing to organise all workers.
In celebration of World Day for Decent Work 2017, we are asking you to support our three basic demands:
The right to work for all
Everyone in the UK must have the right to work to provide for their basic needs. When someone doesn't have the right to work legally, they often face no real choice but to work illegally. Migration controls make workers vulnerable to extreme exploitation including modern forms of slavery. Irregular workers are often afraid to approach the authorities to complain about exploitation through fear they will be detained or deported, and treated as criminals.
Equal social and labour protection
Restrictions on social protections such as access to benefits, health care and education opportunities weaken the ability of workers to demand better conditions. The risks associated with losing future work are higher when workers challenge exploitative bosses without a safety net. The Brexit negotiations risk further restricting EU workers' rights to social protection.
 An end to precarious contracts
Precarious contracts mean workers face the constant threat of losing future work, as well as having to make themselves available with no guarantee of hours. Employers are given the power to withdraw workers' livelihoods without accountability. Faced with this imbalance of power, workers are less able to challenge abuse. New Zealand has passed legislation which ends zero-hour contracts, meaning workers have to be reasonably compensated when they are available for shifts. The same kind of law should be passed in the UK.
We stand in solidarity with trades unions both in the UK and globally and we are delighted to promote the amazing materials, infographics and content which have been produced by the ITUC. All the materials can be downloaded in different languages from the World Day for Decent Work web page www.wddw.org If you have any pictures from actions you took for this year's WDDW, please do send them to us.
We all know that the fight for decent work and decent pay did not stop on 7 October.
On Tuesday 17 October, War on Want will be joining the TUC and the unions in the 'Britain Deserves a Pay Rise' demonstration and rally in London to demand an end to the unfair real terms pay cuts for public service workers.
We hope you can join us - look out for the War on Want banners! If you can't make the rally in London, don't worry! There are events happening around the country. 
#EndPrecariousContracts
#StandWIthMigrantWorkers
Join the conversation
Aminatou Haidar, one of African's most prominent human rights activists speaking tonight about the ongoing Western… https://t.co/gR2jSHKBZ5
—
11 hours 27 min ago