The fight against Big Oil continues
10 November 2017 - 2:15pm
Today we remember the lives of the Ogoni Nine: Ken Saro-Wiwa, Saturday Dobee, Nordu Eawo, Daniel Gbooko, Paul Levera, Felix Nuate, Baribor Bera, Barinem Kiobel and John Kpuine. On 10 November 1995, the Nigerian government executed these nine leaders of the Movement for the Survival of the Ogoni People (MOSOP) on trumped up murder charges. Ken Saro-Wiwa and his comrades were on the frontline of a struggle against Big Oil in the Niger Delta, in this case, it was Shell – assisted by the Nigerian government.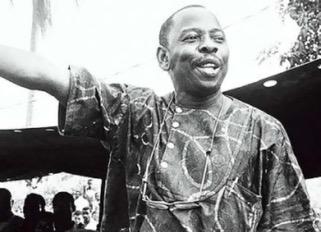 Shell's operations caused irreparable damage in Ogoniland - to its people, their land, their precious water sources and the environment. Fourteen years after the killing of Ken Saro Wiwa and the community leaders in Nigeria, Shell agreed to compensate the families of the murdered leaders, but as is often the case, Big Oil companies like Shell seem more than happy to simply foot the bill of its damage while i continues to act in destructive and harmful ways with impunity. Shell - a UK-Dutch company - still operates in 70 countries worldwide, and it's still responsible for continued environmental degradation, including oil spills; allegations of human rights abuses, not to mention the catastrophic contribution of fossil fuel extraction to our planet's ecological crisis.
The global plunder of natural wealth is still devastating communities and our environment, nowhere more so than in the global South. Stories of corporations taking over water, oil, gas and mineral deposits, and grabbing land in countries displacing thousands, have played out time and again, violating communities' rights in favour of further extraction and profit. While the world's leaders meet once again in Bonn, for COP23, let's remember that everyday there are people – like Ken Saro-Wiwa and the Ogoni Nine - on the frontline of the struggles for #OilJustice. Our task is to continue to demand accountability, reparations and justice.
On Monday, November 13th we will be hosting a special event to highlight our work with communities affected by oil companies in Colombia. Join us to learn about what you can do to stop corporate impunity and to hold 'Big Oil' to account. 
Join the conversation
"The recommendations do nothing to tackle the fundamental imbalance of power that comes about when workers live und… https://t.co/pMMBjBC3NN
—
1 day 10 hours ago
As Amazon grows and grows the only things standing between us and future dystopia are the actions we take. If we do… https://t.co/OyrkEqbGjY
—
1 day 11 hours ago