Shack fires are political: Abahlali baseMjondolo mourn the death of a baby
13 November 2017 - 10:45am
Yesterday, at around 1:30 am a fire broke out in the Foreman Road Settlement in Clare Estate, Durban (South Africa). The fire started when a candle fell, setting the Xulu family home on fire.The familiy lost their two year old child and other members of the family are in a critical condition at King Dinizulu Hospital. The fire razed through the settlement affecting about 800 other families.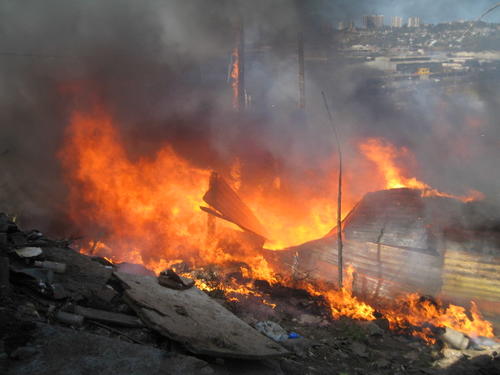 Abahlali baseMjondolo, the shack dweller movement in South Africa, has been struggling to politicise shack fires for more than ten years; organising, mobilising and building alliances to fight against the structures that create oppressive conditions that cause shack fires.  Shack fires are a result of the unequal distribution of urban land, the failure to provide basic services like water and electricity to people and the inhumane conditions in which people are forced to live, including shack settlements that are forced to be made of salvaged and highly flammable materials, built closely together because of the shortage of available land. Without electricity, people who live in shacks are forced to use candles, paraffin lamps and stoves as alternative fuel sources. The highly flammable materials that shacks are made of and the fact that they built closely together means that shack setlements ignite like tinderboxes when a fire breaks out. When this happens there is no water to put them out. 
People living in the Foreman Road shack settlement have suffered numerous fires in the past ten years. This is the very same community where two week old baby Jaden Khoza was killed as a result of inhaling the teargas from the police during a protest in May this year. On that day the community was protesting to demand that electricity be provided in the settlement. If free and safe electricity had been provided this fire would not have happened.
According to Thapelo Mohabi, a member of Abahlali, "We are left to burn because our lives count for nothing in this society. A society that does not recognise our lives as human lives, as lives that must count the same as all other lives, is an oppressive society that must be replaced."
War on Want supports Abahlali baseMjondolo in their struggle for radical land reform, including in the cities, that puts the social value of land before its commercial value; their struggle for services and decent housing for all; and in their struggle for a society in which every human life counts as a human life.
Join the conversation
"The recommendations do nothing to tackle the fundamental imbalance of power that comes about when workers live und… https://t.co/pMMBjBC3NN
—
1 day 11 hours ago
As Amazon grows and grows the only things standing between us and future dystopia are the actions we take. If we do… https://t.co/OyrkEqbGjY
—
1 day 11 hours ago