UK demands secrecy in Brexit trade talks with the US leaving Parliament in the dark
21 December 2017 - 12:45pm
There needs to be total transparency rather than 'total secrecy'
Responding to the news of the British Government demanding 'total secrecy' in its free trade talks with the US for a post-Brexit deal, War on Want Senior Trade Campaigner Mark Dearn said:
"Despite what he says, Liam Fox seems intent on repeating the mistakes of TTIP – a secretly negotiated deal in which our government sought to unpick regulations and lock the NHS into privatisation while showing disdain for any degree of public or parliamentary scrutiny.
"It is critical that parliament and the British public are not kept in the dark over a trade deal which could affect everything from climate change rules, to how we regulate the big banks, and whether or not we can renationalise our public services without being sued in secret courts for doing so.
"Trade deals affect every area of the lives of ordinary working people. Instead of Liam Fox being allowed to negotiate in secret with Trump's trade team, there must be full transparency and accountability so that parliament and the British people know exactly what we might be trading away to the USA."
Mark Dearn is available for further comment and interviews.
Press contacts
Notes to Editors
War on Want's 07/11/2017 release on this story: UK Trade Bill launched hours of public 'consultation' closing
War on Want has a long history of working on trade, with a particular focus on how trade policies can reproduce poverty and inequality both in the UK and globally. Most recently, we actively campaigned against European Union (EU) trade deals the Transatlantic Trade and Investment Partnership (TTIP) and the Comprehensive Economic and Trade Agreement (CETA), due to our belief that the deals were negotiated in an anti-democratic manner and risked widespread job losses; that they threatened the deregulation of social, health and environmental standards; that they locked in public services to privatisation; and that they granted big business new powers to sue the UK government under investor-state dispute settlement provisions.
Latest Coverage on secrecy talks:
UK demands secrecy in Brexit trade talks with the US: https://inews.co.uk/news/exclusive-uk-demands-secrecy-brexit-trade-talks-us/amp/
TTIP a risk to the NHS: https://www.theguardian.com/business/2016/feb/22/ttip-deal-real-serious-risk-nhs-leading-qc
Government blocks FoI on TTIP and the NHS: https://www.theguardian.com/business/2016/jan/26/anger-government-blocks-ttip-legal-documents-nhs-health-service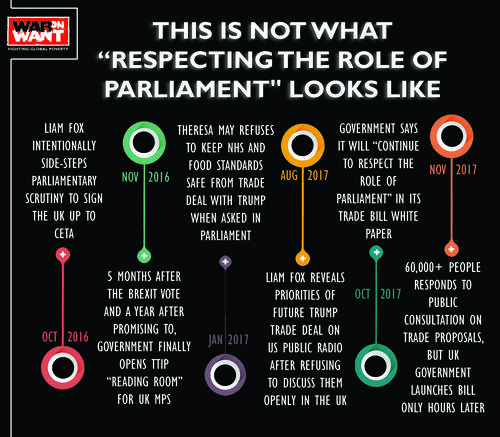 Join the conversation
Aminatou Haidar, one of African's most prominent human rights activists speaking tonight about the ongoing Western… https://t.co/gR2jSHKBZ5
—
12 hours 14 min ago