Sign the petition to Stop ISDS!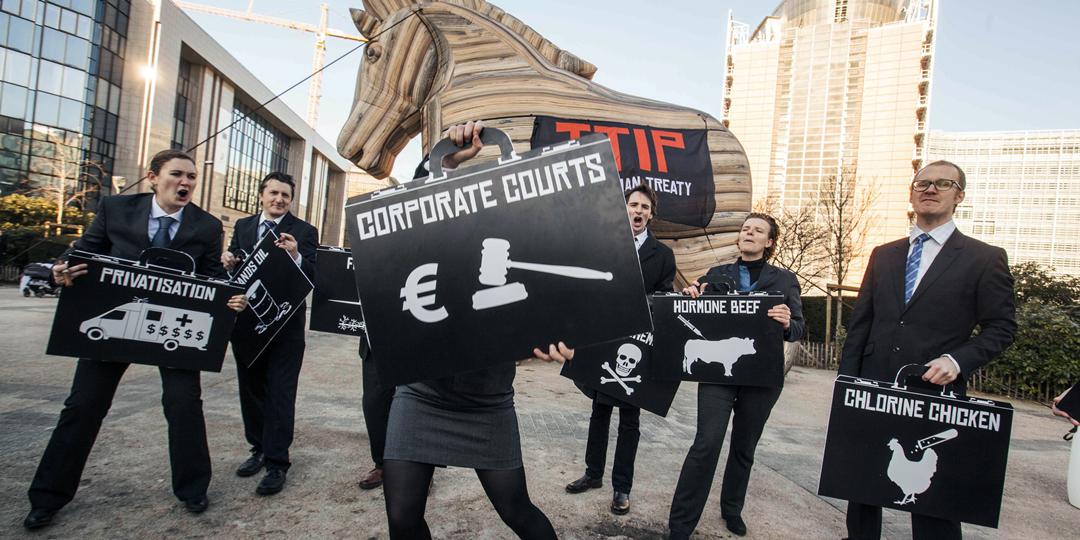 Photo: Friends of the Earth Europe/Lode Saidane
All the signs are that the UK government is planning to include one of the most dangerous things in trade deals in its post-Brexit trade policy: corporate courts.
We need to tell the government that corporate courts should have no place in UK trade and investment deals.
Corporate courts, formally known as ISDS (investor-state dispute settlement), are an obscure parallel legal system only accessible to the super-rich. They allow transnational corporations to sue governments outside the national justice system, for amounts into the billions, over decisions the companies think might affect their profits.
Health warnings on cigarette packets, raising the minimum wage and protecting the environment from mining are just some of the laws big business has challenged in corporate courts. Even the threat of a case can be used to bully governments into backing down.
The fightback has begun. Across the world, countries have been rejecting ISDS: South Africa, India, Ecuador, Tanzania, Indonesia and New Zealand. Here in the UK and across Europe, our movement against TTIP and CETA has exposed its illegitimacy. The system is vulnerable.
We're at a tipping point, and if enough of us come together, we could bring ISDS down altogether. Can you sign the petition today and join the movement to end corporate courts?
Join the conversation
Israel's detention of Palestinian political prisoners has always been unjust and illegal, and now Covid-19 poses an… https://t.co/EDGX81TMHD
—
1 day 8 hours ago
RT @WarOnWant: The city authorities in Durban are violently and illegally evicting people during the Covid-19 pandemic. Take actio… https://t.co/OzmcQwnljy
—
2 days 10 hours ago
Tell hospitality and fast food companies to stand with their workers during the Covid-19 crisis. Workers deserve… https://t.co/oC21ooaVPa
—
3 days 8 hours ago