Rise, Resist, Renew: Alternatives to Mines & Money
20 November 2017 - 4:30pm
This November, nearly 2,000 mining company representatives, investors and financiers will meet at London's Mines and Money Conference. Deals struck here - with the help of so-called 'thought leaders' like Nigel Farage - will fuel projects around the planet that threaten life, land, water and frontline communities, while locking us into a path towards ecological disaster.
As the extractive and finance sectors unite in London, so will those who oppose them- thoughtful leaders resisting mining on the frontlines and showing the way to a life-sustaining future beyond extractivism.
These activities will take place in London, a global centre for mining finance. Most of the world's biggest mining companies, and many smaller mining companies, are listed on the London Stock Exchange, and on its Alternative Investment Market (AIM). The UK Government often gives UK-based mining companies diplomatic support overseas, even when their activities are opposed by local people.
In a week of creative action and resistance War on Want, the London Mining Network and The Gaia Foundation will host community representatives from Uganda, the Philippines and Colombia who are successfully resisting the operations of UK-linked mining companies. 
These representatives will share their stories of resistance, success and alternatives with the British public, following the money to draw out the links between British cash, over-consumption and global mining destruction. They will also link up with UK-based activists to strengthen international solidarity.
We invite you to join us as we collectively contest, reimagine and reclaim a just future freed from the interests of mines and money.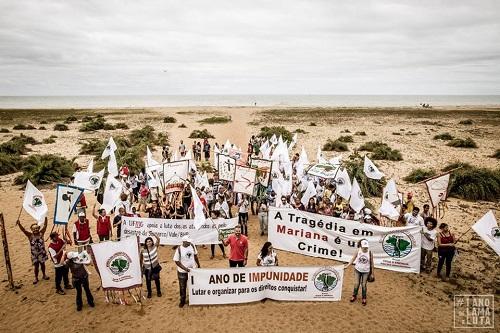 Our partner MAB in Regencia, South West Brazil Credit: MAB
Activities
1. Frontline Voices: Alternatives to Mining from the Global Majority Saturday 25th November 9:30 to 5pm
Resource for London. Holloway Road, N7 6PA
Come to hear from frontline community representatives about their struggles, their resistance and alternatives. This is open to everyone interested in transnational solidarity and movement building. Would like to run a workshop? Get in touch with us.
Get your free tickets here.
2. Protesting Mines and Money: Lunch with Farage! Tuesday 28th November 12-1pm
Join us for a demo outside the Mines & Money Conference to coincide with a keynote address by Nigel Farage and Brexit financier Arron Banks,
3.Mines and Money Toxic Tour Demo Tuesday 28th November 2.30pm-4pm
Business Design Centre. Islington, N1 0Q
Join us for an educational "Toxic tour' through the heart of London's finance and mining district. More details will be shared on the Facebook event nearer the date. 
3. Mines and Money Closing Gala Demo Thursday 30th November 6.30pm-8pm
Grand Sheraton, Park Lane, W1J 7BX
Evening demo coinciding with the Mines & Money Gala Dinner. As investors and company reps celebrate deals, we'll affirm our commitment to defend land, water and life. More details will be shared on the facebook event nearer the date. 
4. Fundraising Fiesta for Mexico Friday 1st December 7.30pm-1am
Following the two major earthquakes that hit Mexico earlier this year, Movimientos is organising a fundraiser party to support the victims and the rebuilding process. Our visitor from Colombia, Maria Camila Mendez will be participating in this event, talking about the struggle of communities to come together when faced with human and ecological disasters. Get your tickets here. 
5. Latin America Conference 2017 Saturday 2nd December 9.15am-5pm
War on Want will join an amazing line up of activists, trade unionists and leading political thinkers from the UK and Latin America at this year's Latin America Conference. We will be running a panel discussion on trade. And with the World Trade Organisation's 2017ministerial conference - accompanied by a major gathering of trade activists from across the world - taking place only a few days later in Buenos Aires, Argentina, the timing couldn't be better.
Please put these dates in your diaries. We hope to see you there!

'Yes to Life, no to the Mine' in Colombia Credit: Comite Ambiental en Defensa de la Vida 
Join the conversation
"When we talk about how we tackle Islamophobia and fascism, we have to talk about how we make an anti-racist societ… https://t.co/yqImebF9z7
—
1 hour 17 min ago
McDonald's has a sexual harassment problem. But unionised workers are standing up to say #MeToo "McDonald's must re… https://t.co/ls52268SeM
—
4 hours 16 min ago