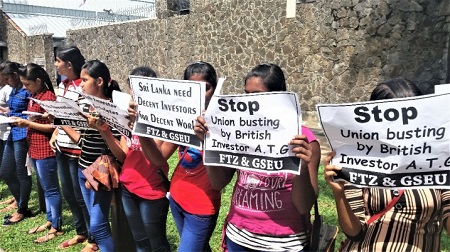 TAKE ACTION FOR WORKERS IN THEIR URGENT FIGHT FOR JUSTICE
Will you sign our petition calling on the Sri Lankan High Commission to hold ATG Ceylon accountable over their long list of workers' rights violations?
In Sri Lanka, one of the world's biggest clothing and garment producers, many workers are found in factories located in fenced off free trade zones across the country.
The ongoing work of War on Want's partner, Free Trade Zones & General Services Employees Union (FTZ&GSEU) has been vital in raising awareness of workers' rights, enabling them to come together and fight for better working conditions.Thanks to training, workers are now refusing to accept unsafe working conditions or abuse by their bosses.
Now we are asking our supporters to take urgent action in solidarity with members of FTZ&GSEU as they face intimidation, harassment, and unfair dismissals from bosses at industrial glove manufacturing company ATG Ceylon.
ATG Ceylon has a long history of abuse against its employees including:
Intimidating workers to resign from the Union
refusing leave for branch leaders to hold meetings
cases of suspensions and unfair dismissals
refusing to follow agreed regulations for calculating pay, resulting in loss of pay for their workers
Following the most recent unlawful firing of 5 employees (all union members and leaders in their factory), over 500 workers are now on strike, and they urgently need your solidarity.
Thousands of you already wrote to John Taylor, the company Chair of ATG Ceylon and a British national, and told him to end the toxic culture of harassment and discrimination against ATG employees who are Union members. They are still refusing to engage with the union, so we are ramping up the pressure and writing to the Sri Lankan government. Will you add your name?
Join the conversation
Aminatou Haidar, one of African's most prominent human rights activists speaking tonight about the ongoing Western… https://t.co/gR2jSHKBZ5
—
7 hours 58 min ago