Tax justice now!
Tax plays a vital role in society in every country, redistributing wealth from corporations and rich individuals, funding vital public services and tackling poverty. Instead multinational companies dodge billions of pounds of tax every year, acting as giant corporate parasites on the countries they operate in, sucking profits out and leaving the rest of society paying the price.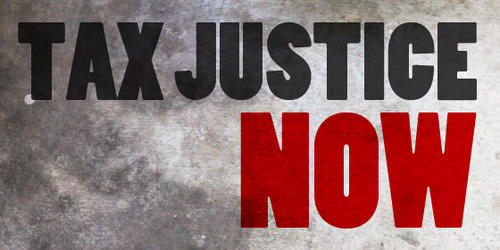 Taxation can do a huge number of positive things in any society, allowing governments to raise money to fund public services like healthcare and education, redistributing income and wealth to tackle poverty and inequality. Yet as recent scandals involving Amazon, Google and Starbucks have shown, for the world's biggest companies paying tax is all too often only a matter of choice.
The UK plays a central role in the 'offshore' system that allows multinational companies to dodge tax, through its own global network of tax havens. It is estimated that around £2 billion worth of assets are held through secretive trusts in the UK-linked tax haven of Jersey alone.
However, the government is refusing to act to stop the UK being used to fuel tax avoidance around the world, even though the UK loses billions of pounds every year to corporate tax avoiders. Instead the UK government is giving a green light to companies to avoid tax, changing the UK's tax laws so that companies pay less – and leaving society to pay the price.
War on Want has campaigned for a number of years on the negative impact of tax avoidance by multinational companies on the economies of developing countries. We are demanding that the UK's tax laws are changed and the UK's tax havens are abolished, so the UK can no longer feed the corporate tax dodgers sucking profits of countries around the world. In 2012, with funding from the EU, we began a three-year programme with European trade unions with the aim of tackling tax injustice. The project's full title is: Global Learning: building awareness of tax justice and the MDGs in sub-Saharan Africa among EU public service workers. The partners in this project are PCS (UK), EPSU (Belgium), ST (Sweden) and CPSU in Ireland. Find out more about the corporate parasites and the EU programme.
Tax justice is not just about ending tax avoidance and evasion; it is about a building a democratic tax system, based on ability to pay and spent according to need. That is why War on Want is also a supporter of the Robin Hood Tax campaign for a small tax on bank transactions which would raise tens of billions to fund vital public services and tackling poverty, both in the UK and in the global South.
Join the conversation
In the fifth richest economy in the world, years of austerity, poverty wages and welfare cuts have left the poorest… https://t.co/7LqXTlHrzS
—
2 hours 37 min ago
The movement of Indian farmers has vowed to continue their protests. They're organised and ready with rations for m… https://t.co/Zw3Xqr1OaH
—
3 hours 19 min ago
On Black Friday, a planetary movement was born. From Dhaka to Berlin to São Paulo, millions of workers and activist… https://t.co/dZL4QulpXx
—
3 hours 50 min ago