Exist! Resist! Return!
This article was published on
| News and analysis
Image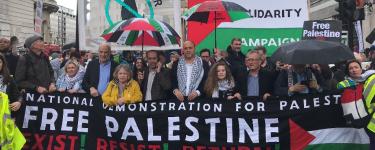 Ryvka Barnard, War on Want's Senior Campaigns Officer – Militarism and Security, speaks at the National Demonstration for Palestine:
This time last year, Jared Kushner and his friends in the Israeli government were installing the illegal U.S. embassy in occupied Jerusalem, while just a few kilometers away, Israeli military snipers were taking shots at Palestinians in Gaza peacefully protesting for their rights.
And now a year later, the attacks against Palestinians have not ceased. Hundreds have been killed, tens of thousands injured, and hundreds are political prisoners held in arbitrary detention.
But against incredible odds, Palestinians haven't backed down, and they won't do until their rights and just demands are respected, including their right to return to their original homes, a right that is guaranteed to them and enshrined in international law. That's why todays slogan: 'Exist, Resist, Return' is so important. Resistance and return have always been hallmarks of the Palestinian movement for self-determination, and Palestinians have shown the world in the Great Return March how peaceful resistance can shine through as a ray of light through the darkness and despair of siege, occupation, and oppression.
There's a key role for us to play here in the UK to support this Palestinian freedom movement.
First of all, we have to hold our own government and institutions to account. Over the past five years, the UK Government has approved over £500 million worth of arms exports to Israel, despite knowing that those weapons are used by Israel to besiege and attack Palestinians, in violation of international law and the UK's own policy on arms exports.
We have to pressure the UK government to end its complicity, to #StopArmingRepression and #StopArmingIsrael. Calling for an end to the killing is not enough – we have to call for our government to stop sending over the weapons used in that killing.
But there's another role for solidarity movements that is equally as important: We need to make sure we are taking our lead from the Palestinian people and centering their voices in our solidarity efforts. Palestinians are not hapless victims waiting to be saved by charitable souls, they have been waging their own peaceful struggle for freedom and self-determination for decades.
Palestinians have always resisted their oppression from day one, and always in broad coalition as well. Just as Israel's regime is a part of the newest coalition of far-right forces, from Netanyahu, to MBS in Saudi Arabia, to Bolsonaro in Brazil, to Modi in India, to Trump in the U.S.; just as Israel is a part of the larger picture of repression, Palestinians and the solidarity movement are key to efforts around the world fighting back against it.
And Palestinians are a part of and have helped build so many progressive movements here in the UK too. They've said:
If you are fighting racism in the UK, then our struggles are connected. If you are fighting inequality, then we're comrades in that fight. If you oppose xenophobia, and racist migration policies, and arbitrary detention whether it's in Israeli prisons or here in the UK, then we're in this together.
If you're committed to internationalism, then we're a part of the same growing and beautiful global movement.
The numbers out on the march today show that we're on the right track, so let this be the start of our solidarity movement's regeneration. It's wonderful to see you all today, and we'll see you on the streets in June when we come out again to Stop Trump's politics of bigotry and hatred.