Global Green New Deal
The world is in crisis. Climate catastrophe, unprecedented global inequality and the Covid-19 pandemic are ravaging the lives and lands of the world's poorest and most marginalised communities.
This is a watershed moment. How we respond will determine how the world is shaped for generations. At a time when global transformation is more urgently needed than ever, we must create a collective plan to build people power and challenge the status quo. This plan must draw together a plurality of experiences, visions and solutions from the Global South and North to bring about justice for all.
War on Want and the Leap are bringing together multiple voices to create a Global Green New Deal for people and planet. Together, we will create a people's plan to build a resilient global economy, based on the principles of a just transition and recovery, which guarantees the right to a dignified life for all.
Take action today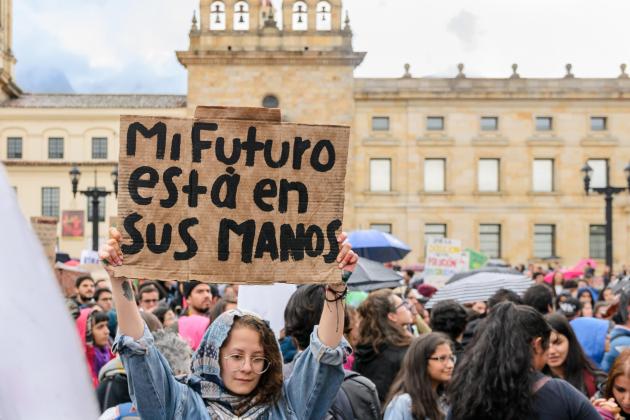 Join us in calling for a Global Green New Deal
Add your name to our call to put people and planet first.
Add your name
Partners
Action for Ecology and People's Emancipation (AEER), Indonesia
Action for Ecology and People's Emancipation (AEER) is an environmental NGO that struggles for improvements in the management of natural resources to help build sustainable relationships between communities and their environment. It undertakes research and defends the rights of communities negatively impacted by extractivist policies and companies.
Association for Social Research and Action (Nomadesc), Colombia
In Colombia, more than five million people have been forced from their homes by violence and extreme poverty, made refugees in their own country. Rural Colombians have lost huge swathes of land. This humanitarian crisis and the needs of displaced people are well known in Colombia. The Social Research and Action Association (Asociacion para la investigacion y la accion social – Nomadesc) works to fix this massive disadvantage. By bringing these vulnerable groups together, Nomadesc unites and raises the voices of these communities. By strengthening the ties between the groups and giving them the tools to defend their human rights, communities are better able to protect themselves from violence and displacement. War on Want has supported Nomadesc in their work investigating violations of human rights and working to strengthen social movements through popular education initiatives.