Francia Marquez awarded Goldman Environmental Prize
This article was published on
| News and analysis
Image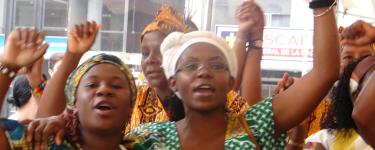 Francia Marquez of the Process of Black Communities, a long-standing partner of NOMADESC and War on Want, has this week been awarded the world renowned Goldman Environmental Prize for her courageous work defending the ancestral land and human rights of her community in La Toma, Colombia.
I am part of a process of struggle and resistance. It began when my ancestors were brought to Colombia as slaves. I am part of the struggle against structural racism, part of the ongoing fight for freedom and justice."
All of us here at War on Want are thrilled to congratulate our long-standing partner Francia Márquez of the Process of Black Communities, who has won this year's world famous Goldman Environmental Prize for Central and South America.
Francia has been fighting for her community's rights since her teenage years. She put herself through college, studying law to learn how to protect her people's rights to their land in the face of corporate interests seeking to force them out and clear the land for industrial agriculture and mining. Descended from Africans forced into slavery, Francia's community has maintained a fiercely independent existence in La Toma; an existence intricately connected to the river, where they have fished, farmed and panned for gold for over 300 years
In 2015, Francia led a group of 22 Afro-Colombian women who occupied the Colombian interior ministry for five days. The women marched for 10 days and over 300 miles from La Toma, in Cauca's south west region, to the capital Bogotá to highlight the violence and environmental destruction linked to gold mining in their territory.
The Suarez river, which runs through La Toma, had been poisoned by toxic mercury and cyanide generated by gold mining activities and intensive deforestation left the land barren. The impact of this on the community was devastating. 
The march shone a spotlight on the government's drive to open up the country's natural resources to multinational companies, as well as the explosion of illegal mining by armed groups in rural territories across Colombia – at a time when the government was negotiating an end to the 50-year armed conflict with the FARC guerrillas.
They successfully pressured the government into committing to eradicate illegal gold mining in their territory. Since then, the Suarez river has run more free and clean; the forests are beginning to recover; and communities are being reconstructed without the threat of illegal mining.
Colombia is the most dangerous country in the world to be a land defender. For their courageous work despite repeated threats against their lives, the women of La Toma have been an inspiration to Afro-Colombian and indigenous communities defending their territories throughout the region. However, despite the signing of the peace agreement between the FARC and the Colombian government, Afro-Colombian women's lives and bodies remain a battleground for repression and militarisation.
As Francia received her prize, she joined our shared partner NOMADESC  to denounce the wave of targeted and arbitrary arrests directed at human rights defenders and social leaders - including two Afro-Colombian women leaders who organised with her.These attacks are overwhelmingly carried out by Colombian state security forces across southwest Colombia, where Francia is from: a strategy Francia and NOMADESC claim is designed to repress and persecute social leaders.
Francia dedicated her award to the struggles of all Afro-descendant and indigenous peoples, which represent spaces of life, in the middle of a dirty war which has seen over 200 social justice leaders murdered since the signing of the peace process. Critically, Francia called on the Colombian government to reconsider its relationship to the earth and those communities who depend on it. She called for an end to the dominant development model, based on unfettered mining and corporate profit, and called instead for one that respects life.
"We are taught that you cannot put a price on dignity; that to resist is not to endure; to love and value our land and to fight for it, even if it means putting our lives at risk."
War on Want congratulates Francia and the Process of Black Communities for their ongoing defence of territory and their concerted struggle for racial and social justice in Colombia and beyond.