Israel is deliberately starving Palestinians
This article was published on
| News and analysis
Image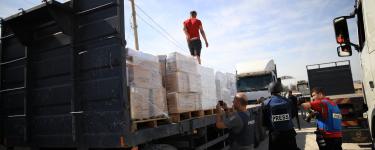 The right to food is an internationally recognised human right. But for Palestinians, this right is under attack by Israel's apartheid and occupation regime.
For Palestinians living in the Gaza Strip, access to food was already extremely limited and tightly controlled by Israel's 16-year blockade. It is now (October 30 2023) at a critical stage, as Israel's intense military bombing and siege ramps up — cutting off food, water, medicine and fuel supplies, and blocking access for humanitarian aid.
Israel is subjecting the Palestinian people to collective punishment, which is a violation of international law. An immediate ceasefire and full humanitarian access to the Gaza Strip is urgently needed. 
Limiting or cutting off access to food — weaponising hunger — is a time-old tactic used to oppress populations in wars and military occupations — and it is being used by Israel on the Palestinian people. Starving a civilian population as a method of warfare is a war crime under international humanitarian law.1  
In the Gaza Strip, blackouts caused by Israel's continuous bombardment are disrupting food refrigeration, farmers' crops are being destroyed, and Palestinian access to the sea for fishing has been cut off by the Israeli military. 
Palestinians' access to clean, safe water has been dramatically reduced, and bottled water is largely unavailable and unaffordable for most families. Both the immediate and longer-term implications of Israel's actions are devastating. Palestinians in Gaza warn that even if they survive Israel's bombing, they will die of thirst or starvation.  
On 18 October 2023, the United Nations Office for the Coordination of Humanitarian Affairs (UNOCHA) reported that "stocks of essential food commodities are sufficient for only two weeks, but these are stored in warehouses in Gaza city, which are difficult to access, while there are only four or five days of stocks left in shops".2
Despite the desperate warnings about this humanitarian catastrophe, the UN and world leaders are failing to enforce international law and ensure humanitarian access to the Gaza Strip. On 21 October 2023, a handful of lorries carrying humanitarian aid were allowed to enter the Gaza Strip from Egypt. However, the Under-Secretary-General at UNOCHA, Martin Griffiths, said on 24 October 2023 in a social media post that "the aid delivered to Gaza so far is barely making a dent". 
However, Israel's weaponisation of hunger is not new. The Palestinian people's right to food and water has been under attack in the Gaza Strip by Israel well before the current escalation3 , with around 65% of the population classified as 'food insecure' according to the Union of Agricultural Work Committees (UAWC) in Palestine,4 and more than  46% of agricultural land is inaccessible.5
Now, Israel is deliberately starving the Gaza Strip by controlling the access of aid.
Human-made famine and starvation are war crimes under international law. Swift and decisive action from the international community to uphold international humanitarian law — and hold Israel to account for its collective punishment of the Palestinian people — is urgently needed to stop the situation from deteriorating in the coming weeks. 
The Palestinian people have made it clear: international support means demanding an immediate ceasefire, humanitarian access for vital aid — including food, water, medicine and fuel — and an immediate end to Israel's siege of the Gaza Strip.